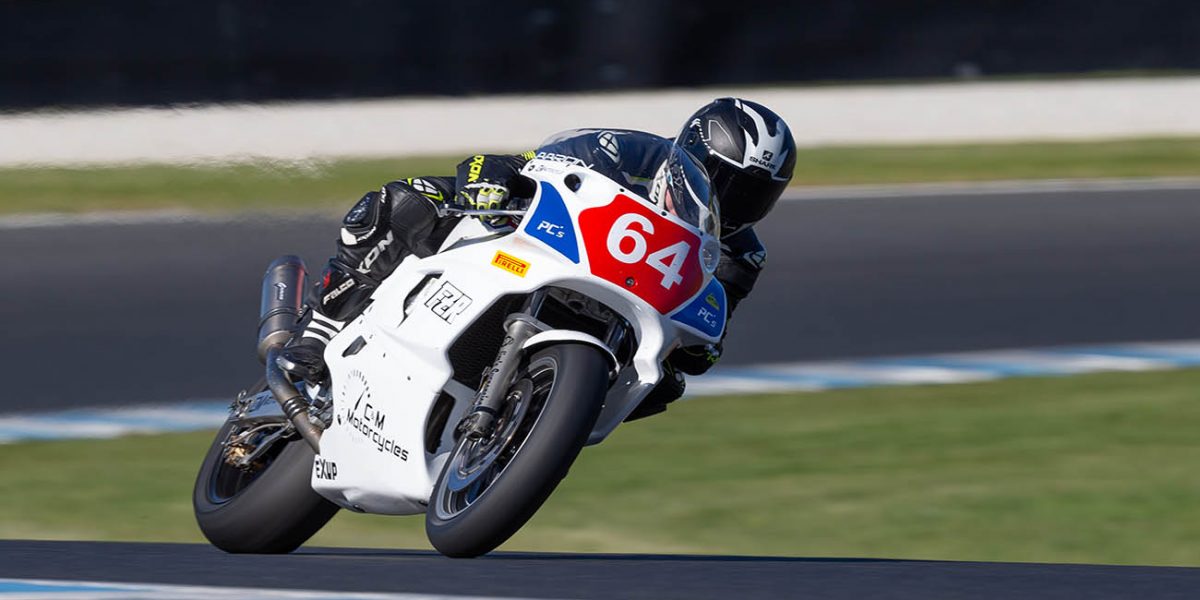 Aaron Morris Sets Front Running pace for Superbike Masters
It was fantastic to see the 'Superbike Masters' historic machines out there for Friday practice with many classic machines roaring to life. This support class will be racing here at the Spokes.com.au presents Round 7 Phillip Island Grand Prix circuit and without a doubt will draw more fans to the Yamaha Motor Finance Australian Superbike Championship presented by Motul Pirelli (ASBK).
Lodging the fastest overall practice time of the day was Aaron Morris (C & M Motorcycles, Yamaha FZR 1043). His pace around the track was far superior to his rivals but expect the times to close as we reach qualifying and racing tomorrow.
Second fastest was Beau Beaton (K.H. Equipment PL, Irving Vincent P5 1300) on the beautiful black and gold Irving Vincent. This bike certainly turns a lot of heads and the noise it produces is glorious.
Jason Cullen (Shock Treatment, Yamaha FZR 1000) impressed on his classic FZR and has put forward his credentials for challenging for podiums and wins.
Fellow competitors Scott Webster (Harris Suzuki 1200) and Steven Kairl (C & M Motorcycles, Yamaha FZR 1040) completed the top five positions, albeit significantly slower than the fastest times being set for the day.
If you're a fan of historic machinery, make sure to come out to hear and smell these classics in action at Phillip Island over the weekend!
Stay tuned to ASBK.com.au live timing to see who comes out on top for qualifying and race one at 3:40pm.
Superbike Masters Friday Practice Provisional Results
1. Aaron MORRIS (C & M Motorcycles, Yamaha FZR 1043) 1:38.084
2. Beau BEATON (K.H. Equipment PL, Irving Vincent P5 1300) 1:39.502
3. Jason CULLEN (Shock Treatment, Yamaha FZR 1000) 1:40.614
4. Scott WEBSTER (Harris Suzuki 1200) 1:45.760
5. Stephen KAIRL (C & M Motorcycles, Yamaha FZR 1040) 1:46.723
6. Adrian DIGIANDOMENICO (Wurth Australia, Yamaha FZR 1000) 1:47.365
7. Lachlan HILL (Yamaha TZ 750) 1:47.683
8. John ALLEN (Custom Coatings & Maintenance, Yamaha OW31 750) 1:48.123
9. Justin MELLERICK (Mellerick Drainage, Honda CBR 1200) 1:48.742
10. Albert TEHENNEPE (AT Racing Harris, F1 1200) 1:48.941
See the ASBK action Live Trackside!! Buy Your ASBK Round 7 Tickets Here 
Stay up to date with all the latest news and updates from ASBK by liking ASBK on Facebook, following the @asbk on Instagram and checking out the ASBK website here. To purchase your tickets for ASBK head to asbk.com.au.
Remaining 2018 ASBK Calendar Rounds
Round 7- Phillip Island Grand Prix Circuit, VIC                                  October 12 – 14
Photos courtesy of Andrew Gosling – tbg sport