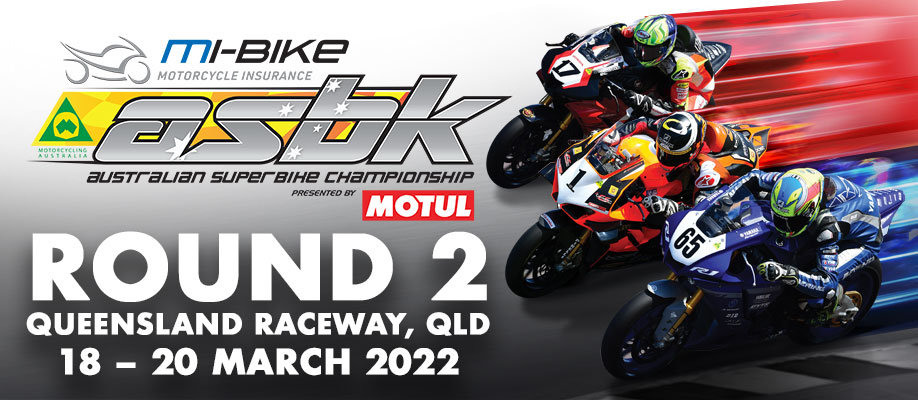 ASBK '22: Queensland Raceway tickets on sale, we're gearing up!

With round two of the mi-bike Motorcycle Insurance Australian Superbike Championship presented by Motul (ASBK) season 2022 approaching – it seems only yesterday we were counting down to round one-  we thought we'd outline some of the essentials ahead of our return to the (in) famous "Paperclip" that is Queensland Raceway.
While new-ish owner Tony Quinn hasn't quite had time to make an indelible mark on the circuit, it's clear he will be making changes as time progresses and we look forward to seeing this play out.
Some links, facts and data:
Queensland Raceway
Length: 3.12 Km
Corners: 6
Address: Queensland Raceway
133 Champions Way, Willowbank QLD 4306
The Program
Lap records.
Expect to see the Alpinestars Superbike record tumble out of sight and perhaps the top 5-7 dip under the old record.
Superbike LAP RECORD Glenn Allerton (NSW) BMW S RR 1:08.531 16-Jun-13
Pole record Glenn Allerton (NSW) BMW S RR 1:08.183 14-Jun-13
Supersport LAP RECORD Jamie Stauffer (NSW) Yamaha YZF-R6 1:11.212 13-Jul-08
Pole record Jamie Stauffer (NSW) Yamaha YZF-R6 1:11.340 30-May-09
Pro-stock 1000 LAP RECORD Sean Condon (NSW) Kawasaki ZX10R 1:09.955 15-Jun-13
Pole record Linden Magee (Qld) BMW S 1000 RR 1:10.362 15-Sep-12
Superstock 600 LAP RECORD Daniel Falzon (SA) Yamaha YZF-R6 1:12.833 16-Sep-12
Pole record Daniel Falzon (SA) Yamaha YZF-R6 1:12.939 14-Sep-12
125cc Grand Prix LAP RECORD Josh Brookes (NSW) Honda RS 125 1:16.983 4-Jun-00
Pole record (2005 – 11 only) Blake Leigh-Smith Honda RS 125 1:16.954 11-Jul-08
Moto 3 LAP RECORD Corey Turner (Qld) Honda NSF 250 1:18.084 16-Sep-12
Pole record Corey Turner (Qld) Honda NSF 250 1:18.555 15-Sep-12
250cc Production LAP RECORD Brandon Demmery (NSW) Kawasaki Ninja 1:29.283 15-Jun-13
Pole record Luke Burgess (Qld) Kawasaki Ninja 1:29.249 15-Jun-13