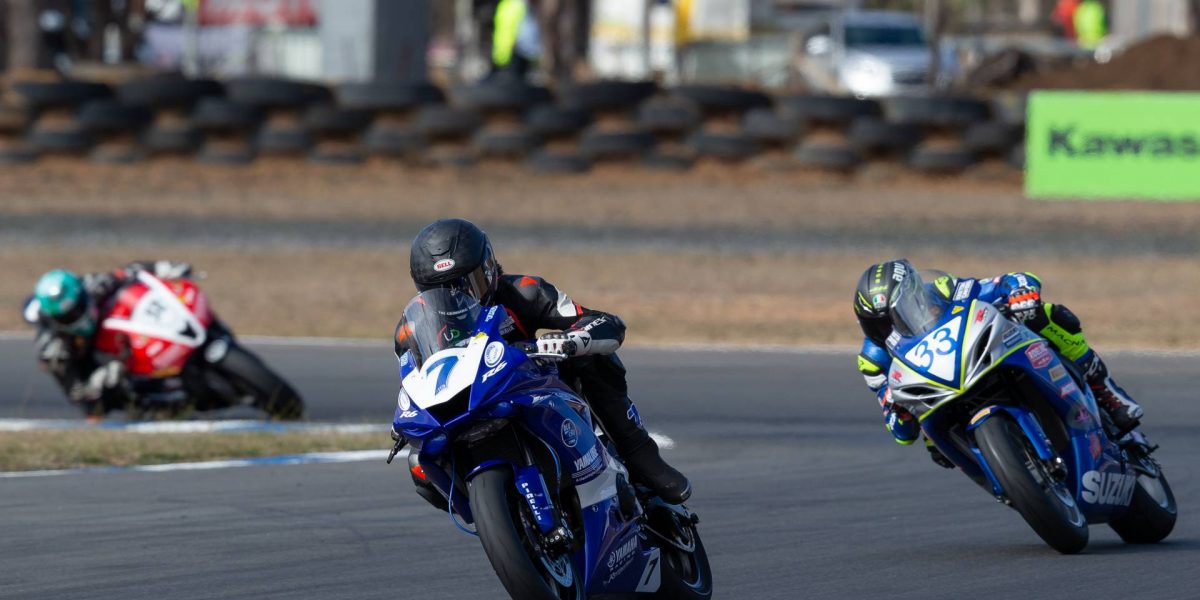 Clean Sweep For Toparis At Morgan Park
Tom Toparis (Leda Nutrition, Yamaha YZF R6) has resumed his position at the top of the Motorsports TV Supersport class, with another clean sweep of wins at Round 4 of the 2019 Motul Pirelli Australian Superbike Championship from Morgan Park Raceway in Queensland to cement his championship lead ahead of Nic Liminton (Yamaha Australia, Yamaha YZF R6) and Broc Pearson (City2Surf Locksmith, Yamaha YZF R6)
Race 1
Off the start it was polesitter Liminton who got away the best, with third-placed Reid Battye (Team Suzuki ECSTAR Australia, Suzuki GSX R) jumping Toparis for second spot. Toparis himself lost a little ground to the front two trying to hold off Callum Spriggs (Allsite Concrete Cutting, Yamaha YZF R6) for third, but soon enough the front four was setting up for a battle royale at the head of the field. Locals Corey Turner (52 Motorsports, Honda BR 600) and Oli Bayliss (Cube Racing, Yamaha YZF R6) made up the next two spots.
Battye had a huge wobble on lap three into the fast Turn 8 but managed to shake it off and somehow emerge ahead of Liminton and take the lead, with Toparis also getting past the polesitter and sending him back to third, with Turner behind threatening. Toparis and Battye were threatening to check out at the front, while Liminton continued his downwards slide losing out to Turner and Bayliss and having some work to do in fifth.
Battye was working hard to keep Toparis behind him, but Toparis used all his racing nous acquired in Germany with the IDM over the mid-season break to pile on the pressure, eventually sliding past at Turn 6 on lap six. Battye, however, wasn't done with yet and looked to return serve, but Toparis headed him off and got cracking in building up a buffer to those behind. Further back, Liminton, Turner and Bayliss were having a terrific scrap as they fought for the last podium spot. It unfortunately ended in tears, with Turner and Bayliss making side to side contact sending Bayliss into the gravel and relegating Turner to sixth behind Liminton, Spriggs and Pearson.
On lap 12, disaster. Battye was off and in the gravel, having crashed at Turn 2 and promoting Liminton back to second, Spriggs to third and Pearson applying the blowtorch to Spriggs for the final podium spot.

As the chequered flag came out, Toparis crossed the line seven and a half seconds clear of Spriggs and Pearson.
To view the Race 1 results, please click here.

Race 2
Battye led them into Turn 1 ahead of Toparis and Liminton in a relatively uneventful start, and that's how they stayed for the opening stanza of the race with Turner, Bayliss and Spriggs folowing a few tenths further back. Battye and Toparis started to battle amongst themselves, with Battye forced into devensive lines as he tried to contain the New south Welshman. But to no avail, as Toparis slithered up the inside of Turn 6 on lap three. Again, Battye tried to hang onto his rear wheel, but he fell further into the clutches of the pursuing Liminton.
The field began to settle themselves down as they moved into the middle part of the race, and with half the race to go it was Toparis out in front by eight tenths ahead of Battye, Liminton, Spriggs and Bayliss. Battye, Liminton and Spriggs, who was setting fastest laps to join the back of the lead train.
The gap to Toparis closed to as little as half a second, but as the pursuing pack battled amongst themselves, he could get clear to claim the victory ahead of Spriggs, Bayliss, Pearson and Turner. It was a disappointing end result Battye, who fell back through the field to sixth, and for Liminton who ran wide into the gravel at Turn 1 in the closing laps, rejoining to finish eighth.
"What a day" exclaimed Toparis. "Yesterday was a tough one but to come out today and come away with double wins reminds me of when I won in 2019 on my 300 first the time! It was such a good job by my Landbridge Yamaha team all weekend. We didn't test here at Morgan Park all weekend and were on the back foot, but we just kept at it. I think my experience from overseas has definitely helped me here today! But today I rode my own races today and I think we did a good job."

To view Race 2 results, please click here.
The ASBK heads South to Winton Motor Raceway for Round 5 of the 2019 season, from 6-8 September. For further information on the 2019 season, head to ASBK.com.au.
For more from the ASBK, follow us on Facebook and Instagram
Images courtesy of Andrew Gosling – tbg sport