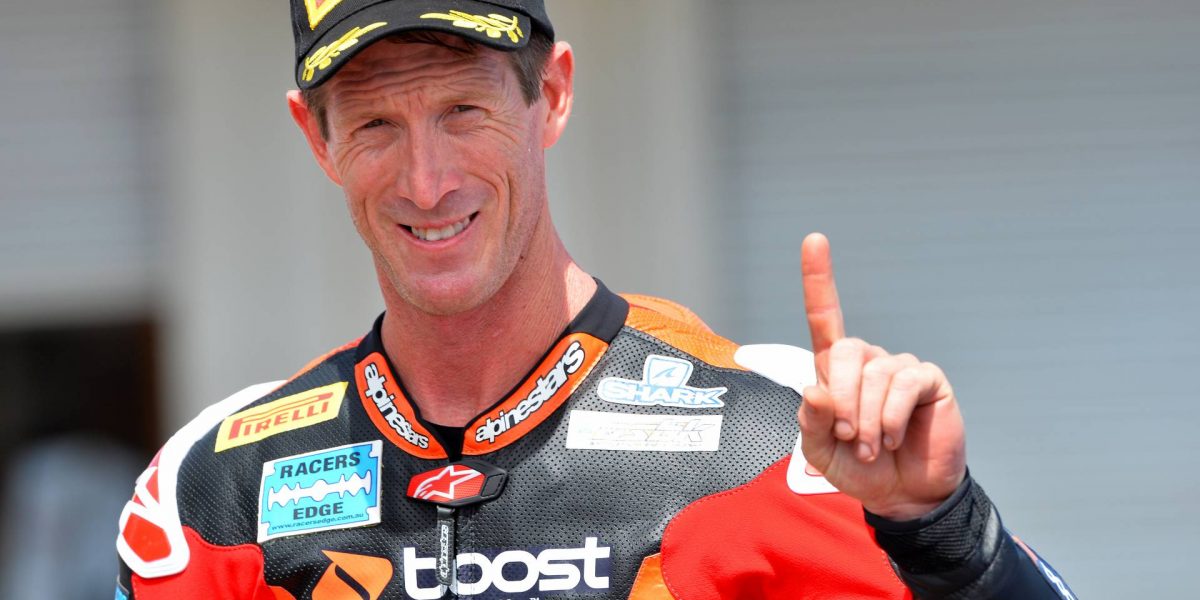 Elbows Will Be Out This Weekend For The mi-bike Motorcycle Insurance Australian Superbike Championship
Just over 12 months ago, the Australian Superbike Championship exploded at Phillip Island when privateer Aiden Wagner upset the favoured factory teams to take the round one win, but with elbows out he also took out championship contender and factory Suzuki rider Wayne Maxwell on the final turn.
Maxwell exploded after the race warning he had a long memory and fans salivated at the possibility of a season of tension and fireworks both within the paddock and on the track.
Weeks later however at Wakefield, Wagner would crash ending his season.
Fast forward 12 months to this weekend's round one of the mi-bike Motorcycle Insurance Australian Superbike Championship, presented by Motul, and the tables have turned with Wagner now a factory rider on the Yamaha Racing Team and Maxwell a Ducati privateer back by Boost Mobile.
Maxwell at last month's Official ASBK Test set the fastest ever ASBK Superbike time at the Island and yesterday put his himself on pole for today's race setting the scene for tantalising first round.
While both riders claim last year's race incident is now brushed under the rug, come this Saturday for the first race, they agree it will be elbows out as both believe they can take the round one win and will fight hard for the 2020 mi-bike Motorcycle Insurance Australian Superbike Championship, presented by Motul title.
"It was a little bit heated after the (2019 first round) race of course but that was just the race face talking but by the next day we were all good and that has been swept under the rug now," said Wagner.
"All-in-all the boys have the (2020 Yamaha) bike dialled in and we will be there in the mix and ready to put the elbows out again," said Wagner.
"I think we will be up there for fights for the race win that's for sure, the biggest thing is fighting these Ducati's at the Island.
"In a race situation we will be very strong and right there in the mix for sure. I think it will be Troy Herfoss, Wayne Maxwelll and Mike Jones as my main competition and there are other riders there that have good race pace.
"I think we've got the package, as I rode the 2020 bike for the first time at Wakefield a couple of weeks ago and it was really good, and I was really happy with the updates Yamaha had made to the bike.
"I think to get a bit more horsepower and chase along the back of the Ducati's along the straight is going to be good for us."
Maxwell is also confident leading into this weekend's race having adapted to his new bike and team.
"I can't focus on what happened in the past, and what I learnt last year is I have to attack from the start of the year, but I had a fairly new injured collarbone and didn't want any further injuries but that backfired on me so it will be all guns blazing for the first race Saturday morning," he said.
"I'm reasonably confident as we had a really good test with the Boost Mobile Ducati at Phillip Island.
"It's been fantastic to make the transition from the get-go, and the guys in the team have done a fantastic job with the package and make me feel comfortable.
Maxwell is confident about a possible championship win but believes Penrite Honda's Troy Herfoss, 2019 ASBK Champion Desmosport Ducati Mike Jones and Wagner will be his biggest threats to the title.
"I feel really positive about that, we've definitely put ourselves in a great position to try and win the first round, the other tracks are an unknown, but I feel reasonably confident."
Maxwell wants motorcycle fans to turn up in their thousands this weekend.
"My advice to fans at home come down and catch the atmosphere as last year in the third race there was seven bikes within just over a second and some of the best racing we have seen.
"Come down and we can show them we can put ASBK on a pedestal like we do the World Championship guys."
Superbike action kicks off today at 11.05am.
2020 ASBK Calendar
Round 1: WorldSBK – Phillip Island, VIC February 27-March 1
Round 2: Wakefield Park, NSW March 27-29
Round 3: The Bend, SA May 7-10
Round 4: Barbagallo Raceway, WA May 15-17
Official ASBK Test – Morgan Park, QLD July 28-29
Round 5: Morgan Park, QLD August 7-9
Round 6: Winton, VIC September 11-13
Round 7: Phillip Island GP Circuit, VIC October 2-4

Head to www.asbk.com.au for more info about the mi-bike Motorcycle Insurance Australian Superbike Championship, presented by Motul. For the latest updates from the ASBK, follow us on Facebookand Instagram.
Photos by Russell Colvin