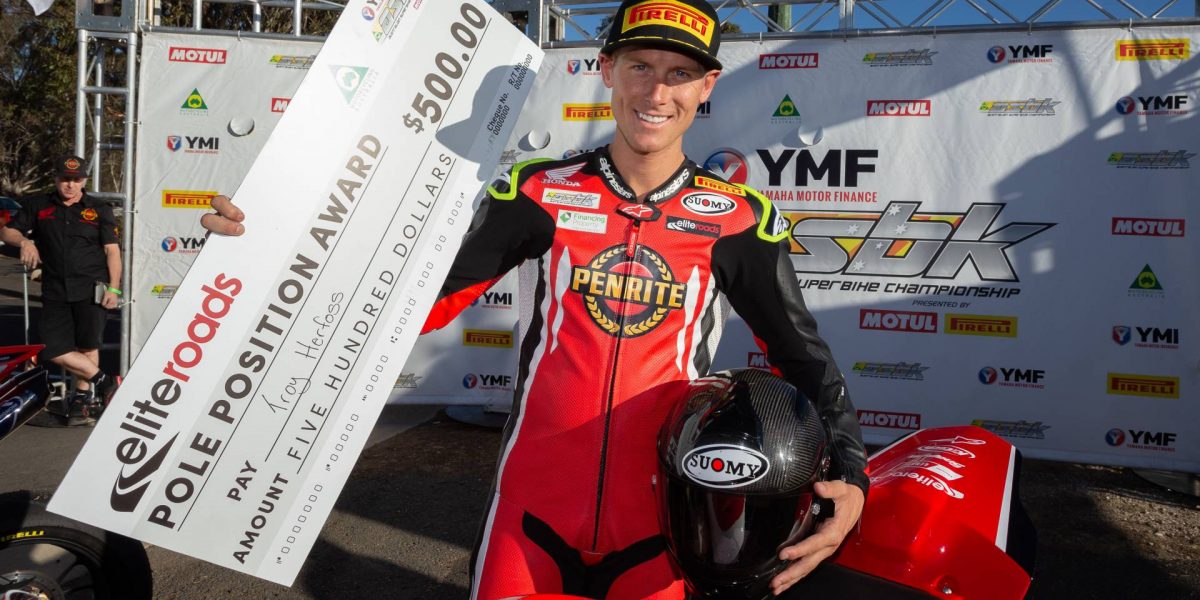 Elite Roads ASBK Superbike Pole Position Award Returns in 2019
The Motul Pirelli Australian Superbike Championship (ASBK) is thrilled to announce the Elite Roads Superbike Pole Position Award will return for the second year running in 2019, with the ASBK's Superbike riders battling it out for cash and bragging rights during Rounds 2 to 7. In addition to the normal privilege of starting from the number one grid slot, the rider who clocks the fastest Qualifying time for Kawasaki Superbike will take home the Elite Roads Pole Position award and a cheque for $500 AUD.
Based on the thrilling results from Round 1 at the Phillip Island Grand Prix Circuit in February, there seems to be no shortage of riders capable of leaping to the top of the timesheet in qualifying, meaning competition for the award is sure to be intense. Round 1 polesitter and overall victor Aiden Wagner (Yamaha) will be looking to continue his good qualifying form shown at the Island, while Troy Herfoss (Penrite Honda Racing, Honda) will be hopeful of a good performance at home.
Director of Elite Roads, Deon Coote, couldn't be happier with Elite Roads' continued relationship with ASBK. "Elite Roads is thrilled to continue supporting the healthy competition in the Kawasaki Superbike class" he said. "When the original concept was devised, Elite Roads were looking to add an extra challenge to Saturday's Qualifier, in an effort to encourage riders to put everything they had on the line.
"The relationship with ASBK has undoubtedly brought more attention to Elite Roads, strengthening our brand awareness both in Victoria and nationwide. The world class line-up set for Wakefield Park will make it all the more exciting to see who comes out on top to take home the first 2019 cheque."
The first Elite Roads Pole Position Award for 2019 will be up for grabs in Round 2 at Wakefield Park, NSW from 22-24 March.
Elite Roads is a full-service road construction company which specialises in civil contracting, road rehabilitation, profiling and the supply and lay of asphalt. For further information on Elite Roads and their services, head to Elite Roads.
2019 Motul Pirelli Australian Superbike Championship Season Calendar
Round 2- Wakefield Park Raceway – Goulburn NSW March 22 – 24
Round 3- The Bend Motorsport Park – Tailem Bend, SA April 26 – 28
Round 4- Morgan Park Raceway – Warwick, QLD July 5 – 7
Round 5- Winton Motor Raceway – Benalla, VIC September 6 – 8
Round 6- Phillip Island Grand Prix Circuit, VIC October 4 – 6
Round 7- Sydney Motorsport Park – Eastern Creek, NSW November 1 – 3
Stay updated on all the action and rivalries by visiting ASBK.com.au, or following the ASBK on Facebook and Instagram.
Images courtesy of Andrew Gosling – tbg sport