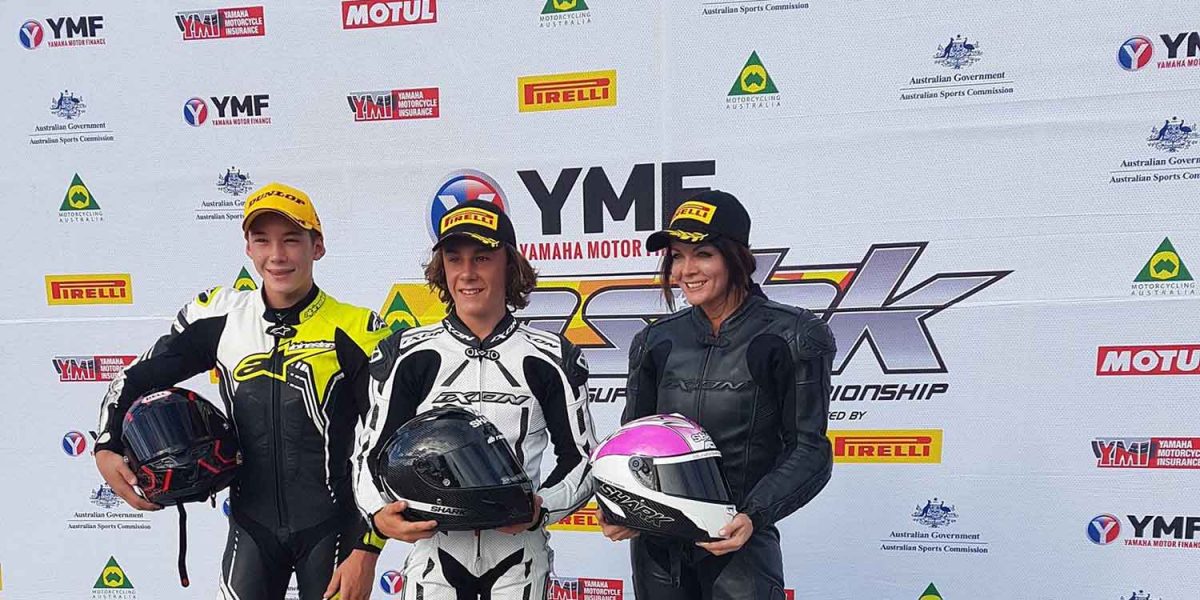 Laura Brown catches the attention of the ASBK paddock
Laura Brown is taking the fight to the boys in the Yamaha Motor Finance Australian Superbike Championship Presented by Motul Pirelli (ASBK) Supersport 300 class after a scintillating performance at Round One, Phillip Island Grand Prix Circuit. 
Sydney-sider Laura Brown (Shelk, IXON, Fako, WNR, Draggin Team) felt she could have performed at an even higher level at Round One but is satisfied with the outcome of a hard fought weekend to now reside in fifth position in the championship standings. Brown qualified in a superb third position and narrowly missed out on a fourth place finish with an impressive showing in Race Two; "I got a ten second penalty for a jumpstart, which would have been fourth place, it's so frustrating but that's racing!" Brown stated. Despite missing out on that dream result, Brown is looking towards future races to achieve better results.
The success at Phillip Island Grand Prix Circuit has given her a newfound confidence. With only three years of motorcycle racing experience, Brown has caught the attention of the paddock with her improvement. She encountered a difficult year in 2016 when she broke her femur, Brown added "The injury set me back significantly and she still feels pain around left hand corners".
A friend first implored Brown to give racing a go, as she looked a natural talent on her 250-road bike. She accepted the challenge to race and with the help of her friend, installed fairings to the bike; "The bike looked horrible but I completed my first club race and I was hooked, then I bought a 300 a few weeks later!"
Motorcycle racing has traditionally been thought of as a male dominated sport but that stereotype won't stand in the way of Brown achieving her dreams. When asked if competing in a male centric environment fazed her; "Not at all, if anything it makes me try harder because I want to beat all the boys!" she remarked.
Her team boss, Two-Time World Endurance Champion Warwick Nowland, has been a mentor and inspiration to Brown; "He has been awesome and a great coach" according to Brown. With Nowland's vast experience and knowledge, there is no doubt the duo have formed a formidable team.
After completing a successful test at Wakefield Park Raceway, Brown is looking forward to Round 2 at Wakefield Park Raceway from 17 – 19 March to build momentum and maintain her competitiveness. Be sure to attend or watch the action at Round Two to witness how Laura Brown goes, it's sure to be a thriller!
Don't forget to tune into SBS this Sunday from 2 – 4pm to check out the ASBK Round One Phillip Island Grand Prix Circuit highlights package.
Round 2 Wakefield Park Raceway, NSW                  17-19 March
Round 3 Winton Motor Raceway, VIC                       28-30 April
Round 4  (TBC)                                                           TBC
Round 5 Morgan Park Raceway, Warick, QLD         25-27 August
Round 6 SMP Eastern Creek, NSW                           8- 10 September  
Round 7 Phillip Island Circuit, VIC                            6-10 October
Stay up to date with all the latest news and updates from the ASBK by liking ASBK on Facebook, following the @asbk on Instagram and checking out the ASBK website here.
Pictured Tom Edwards, Reid Battye, Laura Brown. At Phillip Island Qualifying Podium.
ENDS
Media Contact:
Max Rogers
Media and Public Relations Assistant
p: 03 9684 0526
[email protected]