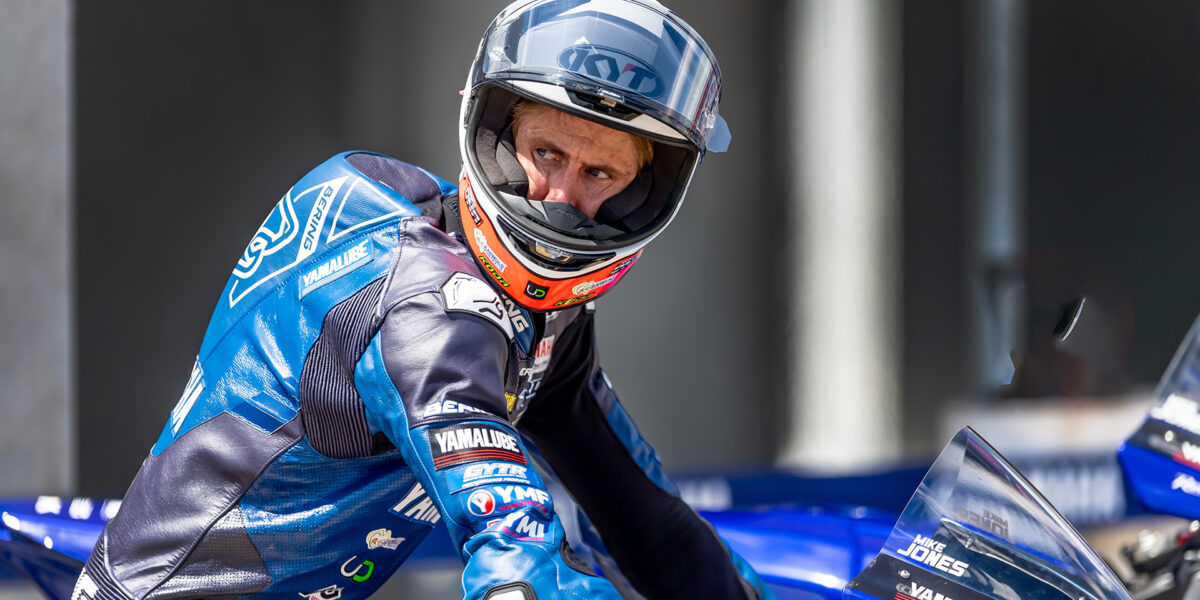 Mike Strikes to take pole at Queensland Raceway
Hometown hero, Mike Jones has taken pole position for Round Two of the mi-bike Motorcycle Insurance Australian Superbike Championship presented by Motul (ASBK) at Queensland Raceway.
Practice form certainly dictated the outcome, with Jones' time of 1:07.673 enjoying a two-tenths margin over Staring, but for the first time this weekend – after much speculation – the top three riders finally dropped into the 1:07's.
In the post-qualifying press conference, Jones was simply happy to tick the first box for the weekend.
"Track knowledge is a key part of being able to go fast around here and being able to refine each corner to the absolute maximum," said Jones.
"I just need to make a good start, get my head down and put in some quick lap times and see what happens towards the end of the race."
Starting from P2 tomorrow, Bryan Staring would not be drawn on being the top Ducati on the day – ahead of Wayne Maxwell. "That's fine, it's not a big deal to me. I'm really happy with that qualifying session- to be back on the front row- I actually don't know the last time I was on the front row.
"It's all about getting a good start for the two races tomorrow…"
For Wayne Maxwell, P3 was a good outcome, but there's work to be done if the 2021 Champion is going to claw back from seventh in the title chase."Look, it's been a bit of a struggle. We're on the back foot compared to these guys… we'll try to make some more improvements to the bike overnight and come out tomorrow and try to close that last bit of the gap. We'll just do our thing tomorrow."
In Q1, Jed Metcher, Aiden Wagner and Mark Chiodo progressed to the final stage of Superbike qualifying, while in Q2, Troy Herfoss would run into technical issues, forcing him to swap onto his second bike with five minutes remaining in the session.
After a close-fought qualifying, Tom Edwards (Yamaha YZF-R6) took the Michelin Supersport pole after securing a time of 1:11.180 – pipping Friday Practice fast man John Lytras (Yamaha YZF-R6) by two-tenths of a second, with Olly Simpson (Yamaha YZF-R6) a further three-tenths adrift.
Until he put the bike on pole, Edwards had not topped the timesheets in any session but knew the incremental improvements the team had made was heading the bike in the right direction.
"I'm really happy with qualifying- I picked up a heap of time just in qualifying. I just went out there to do a race simulation and I just got quicker and quicker – every lap I do here I learn
more.
Edwards wrapped up his press conference while sounding an ominous warning to fellow Michelin Supersport competitors: "I still think there's definitely more to come tomorrow…"
Glenn Nelson (Yamaha YZF-R3) edged Cameron Dunker (Yamaha YZF-R3) by a tenth of a second to take pole for Dunlop Supersport 300, with Henry Snell (Yamaha YZF-R3) rounding out the top three. After starting from fifth of the grid, James Jacobs (Kawasaki Ninja) edged his way into the lead, taking out Race One ahead of Cameron Dunker and Taiyo Aksu (Yamaha YZF-R3) in a typically exciting and varied Dunlop Supersport 300 race.
The Yamaha Finance R3 Cup grid was the first to get locked away just after lunch, with Cameron Dunker (Yamaha YZF-R3) taking pole with a 1.21:916 – half a second ahead of Glenn Nelson (Yamaha YZF-R3) and Marcus Hamod (Yamaha YZF-R3).
In Race One, Dunker would lead from lights to flag ahead of runner-up Nelson, with Aksu rounding out the top three. A crash at Turn 3 saw Henry Snell walk away unscathed but out of contention.
It was going to be a tight bLU cRU Oceania Junior Cup with Levi Russo (Yamaha YZF-15) just edging Hudson Thompson (Yamaha YZF-15) in Q1 by just 2-hundredths of a second and Hunter Corney (Yamaha YZF-15) a further tenth away.
In Race One, Ryan Larkin would vault from sixth place on the grid to take the lead with four laps remaining. After a close dice with Hunter Corney and Cameron Rende, it was Hudson Thompson who would prevail from Corney and Rende with just four-tenths of a second covering the top five riders at the flag.
Phillip Underwood and Tristan Vercoe (Suzuki LCR 1000) laid down a hot time to take pole position for the Horsell Sidecar Championship ahead of Jamie and Shelby Turner (Suzuki LCR 1000), with Howard Ford and Corey Blackman (Suzuki RHR 1000) rounding out the top three.
Underwood and Vercoe went on to claim Race One victory, with Ford and Blackman edging Des Harvey and Stephen Marshall (Kawasaki RHR 1000) for the final podium spots.
In Race 2, Underwood and Vercoe would go the double, with the Turners again taking the runner-up spot ahead of Jeff Brown and Paris Halsey (Suzuki JBR 1000).
All the action from the mi-bike Motorcycle Insurance Australian Superbike Championship presented by Motul (ASBK) continues with more racing tomorrow from Queensland Raceway. Follow official live timing from Computime at https://www.computime.com.au/
---
Post qualifying in both the Alpinestars Superbike and Michelin Supersport, the top three in SBK – Mike Jones, Bryan Staring and Wayne Maxwell and top Supersport qualifier Tom Edwards joined us in the ASBK media room for the Saturday afternoon press conference.