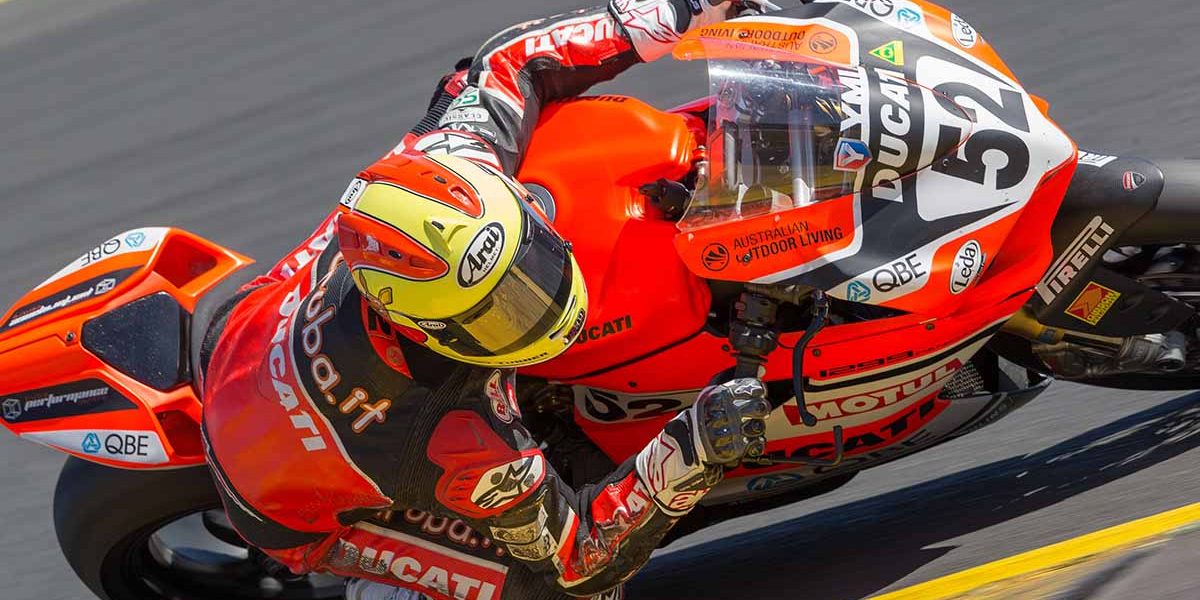 Strong Weekend at SMSP for Turner in Battle For SHARK Helmets Rookie of the Year Award
Corey Turner (Desmosport Ducati, 1299 Panigale) after a very productive weekend scored the most points for Round 6 Sydney Motorsport Park within the Yamaha Motor Finance Australian Superbike Championship presented by Motul Pirelli (ASBK), earning him 'Rookie of the Round' in the Yamaha Motorcycle Insurance Superbike (YMI) Championship class, winning a pair of IXON Racing Gloves as part of the SHARK Helmets Rookie of the Year Award thanks to Ficeda Accessories.
ASBK premier class Rookie, Turner found his stride in Race Two yesterday at Sydney Motorsport Park's sixth round, thanks to pivotal decisions made by the DesmoSport Ducati team. The 19-year-old talent displayed impressive form to cross the line in eighth place during the final YMI Superbike race of the day, following a more challenging opening affair, where he finished 10th aboard the 1299 Panigale.
 
"In Race One I struggled a lot, because we did make a little change before the warm-up and the change probably wasn't for the best," said Turner.
"We ended up going back to our qualifying set-up for Race Two and it was a lot better. My start wasn't great, but I slowly found my feet and we actually caught back up to that final podium place group and we closed the gap right up," according to Turner
Turner eventually claimed eighth in the second encounter despite a late issue under braking and he remains positive heading to Phillip Island's final round after finishing eighth overall as the top of the rookies once again yesterday afternoon.
"It was a bit of a disappointment because I do feel like we were in the mix for a good result in Race Two," he added. "Anyway, we still bagged some points and I'm really looking forward to Phillip Island," Turner finished
The Queensland based rider has so far impressed with the transition to the YMI Superbike Class after his recent return to Australia. Turner hopes to continue make an impact and become the SHARK Helmets Rookie of the Year.
So far, the YMI Superbike Rookies class of 2017 includes: Turner, Kyle Buckley (Kawasaki BCperformance, ZX-10R), Callum Spriggs (Desmosport Ducati, 1299 Panigale), Aiden Coote (Consent2Go, Kawasaki ZX-10R), Troy Guenther (Saint Unbreakable, BMW S1000RR) and Mitch Levy (ATR, Yamaha YZF-R1). All will battle it out for the remainder of the year for the SHARK Helmets Rookie of the Year Award title.
At the conclusion of the championship, the rookie rider topping the points chart will be generously presented with a crafted trophy and a SHARK Helmet.
Round 6 Sydney Motorsport Park Rookie Points Table
| | |
| --- | --- |
| Name | Total |
| Corey TURNER (QLD) | 24 |
| Mitch LEVY (NSW) | 16 |
| Kyle BUCKLEY (QLD) | 15 |
| Troy GUENTHER (QLD) | 7 |
| Aiden COOTE (VIC) | 3 |
 
SHARK Helmets Rookie of the Year Award Standings
| | | |
| --- | --- | --- |
| Pos | Name | Total |
| 1 | Corey Turner | 138 |
| 2 | Mitch LEVY | 119 |
| 3 | Troy GUENTHER | 88 |
| 4 | Kyle Buckley | 83 |
| 5 | Aiden Coote | 53 |
| 6 | Callum SPRIGGS | 39 |
Ficeda Accessories have been a leading distributor in Australia since the late 1980s of rider safety apparel and accessories such as SHARK Helmets and IXON leathers, the official helmet and leathers sponsors of the ASBK. Ficeda Accessories continues to be a proud supporter of motorcycle competition in Australia across multiple disciplines from Off-Road to Road Race.
To visit Ficeda Accessories click here
Follow Us: Keep up with regular trackside updates via the ASBK  Facebook  and Instagram pages.
2017 Yamaha Motor Finance Australian Superbike Championship Presented by Motul Pirelli Calendar:
Round 7    Spokes.com.au presents Phillip Island Circuit,    VIC 6-8  October
Photos courtesy of Andrew Gosling TBG Photography
Photo One: Corey Turner SMSP
Photo Two: Corey Turner SMSP receiving a pair of IXON gloves, thanks to Ficeda Accessories