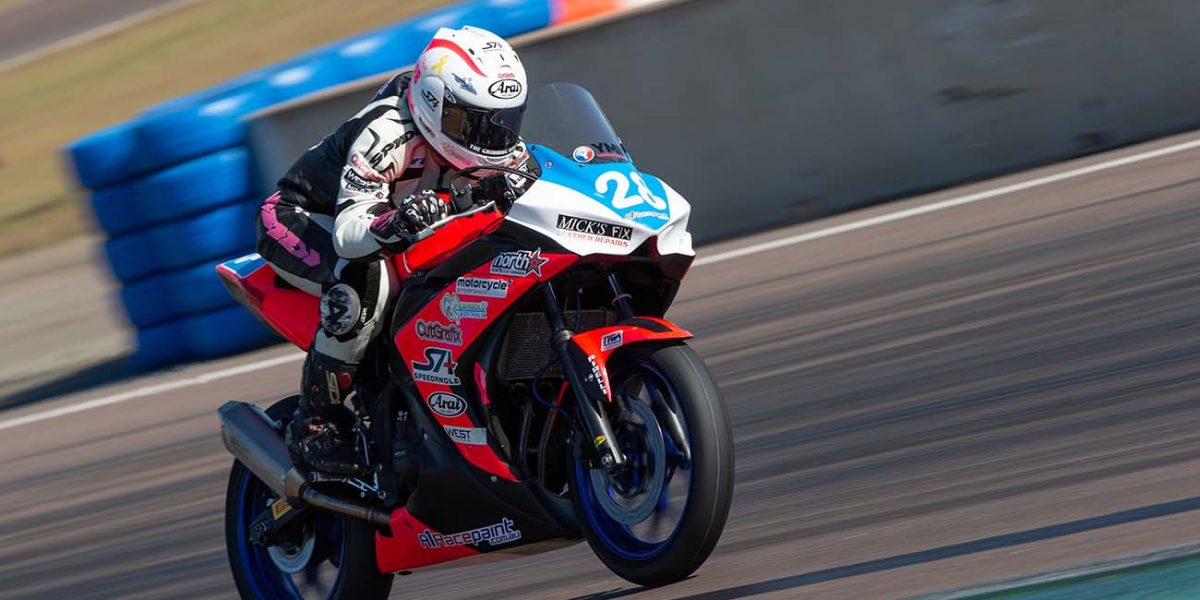 Tayla Made For ASBK
Tayla Relph (Earmold Australia, Yamaha YZF-R3) is enjoying her best season yet in the Australian Supersport 300 Class and is hoping to claim a top five finish in the championship this year. With Round 5 Morgan Park Raceway quickly approaching, Relph will be looking to put on a show for her home crowd at the Yamaha Motor Finance Australian Superbike Championship presented by Motul Pirelli (ASBK). 
You have your home round coming up at Morgan Park, how is your preparation going?
We have completed some testing in anticipation for the round last week and got the bike dialled in. We had a few issues with the package back at Darwin and the test allowed us to iron out those problems. Hopefully we can perform there as well as our pace suggests from the test. Morgan Park always pulls a great crowd, so the atmosphere around the track should be great!
Are you happy with how the year has progressed, despite an injury at Round 1? 
Round 1 at Phillip Island obviously wasn't the best for us with a leg injury and a 16th overall finish. If it wasn't for that disappointing round, we could have been much higher up in the championship. To be sitting in eighth however, has to be counted as a success and to overcome such a difficult start to the year. I would always like to be higher, but hopefully with consistent results, a top five in the championship may be possible.
An up and down round at Hidden Valley?
I was looking very strong during the opening days but unfortunately with the heat, it didn't quite work out with the settings on my bike. Every single race we were losing out on power. I finished the last race in tenth and that was simply because I had no power left and I couldn't keep up with the front runners down the main straight. I love the track however, with it being my first time racing there.
What do you make of 300 racing at the moment? 
In my opinion, it's one of the most exciting classes in the ASBK Championship. It always has produced the most thrilling racing on track because we can push our machines 100 percent to their limit. The class has been breaking multiple lap records at tracks, compared to previous years, so the competition is at an all-time high.
What would you say are your greatest strengths as a racer? 
Late braking and mid-corner speed are my greatest attributes. I am able to make overtakes stick with the strengths that I have. My weakness would have to be exit speeds out of corners. We do need to work on it, so we're not entering the corners with too much speed. I know what we have to do to get on the podium, but it's not so easy to change your style. My qualifying could also use improvement, to try to put us in a better position for the races.
Do you have a rider coach or are you mostly self-taught? 
I don't have a rider coach, probably the closest thing to that would be my dad who watches every race from the pit roof and tries to identify where I can improve. I also try to learn from riders such as Oli Simpson (Simpson Crash, Yamaha YZF-R3) and Tom Bramich (YRT, Yamaha YZF-R3), but I'm mostly self-taught when it comes to racing.
What got you into the sport in the first place? 
At two and a half years old, my dad took me to a Crusty Demons race. I threw a tantrum on the floor and demanded that he said he would buy me a bike. I have now been racing for ten years and absolutely hooked on it!
Where do you see your racing career in the future?
Depending on our funds, I would like to head overseas again like last year. It would be great to get more international races under my belt, because you learn so much from those experiences. The ultimate dream is to compete in the WorldSSP 300 Championship but obviously financially its difficult. Last year, I got to race in India for the FIM Asia Cup of Road Race and that was an incredible experience.
What do you get up to besides racing? 
I've got quite a full-on life at the moment. I'm currently working in child care from Tuesday to Friday and working as a wedding caterer over the weekends. I also study full time in University studying Journalism, plus my minors in Criminology. Training is also very full on! I make it work in the end and I'll do whatever it takes to get out on track.
With ASBK Round 5 Morgan Park Raceway quickly approaching make sure to snap up online discounted tickets and cheer on Relph at her home track! If you can't make it to the track make sure to catch the action on SBS, Fox Sports and livestream on August 19th.