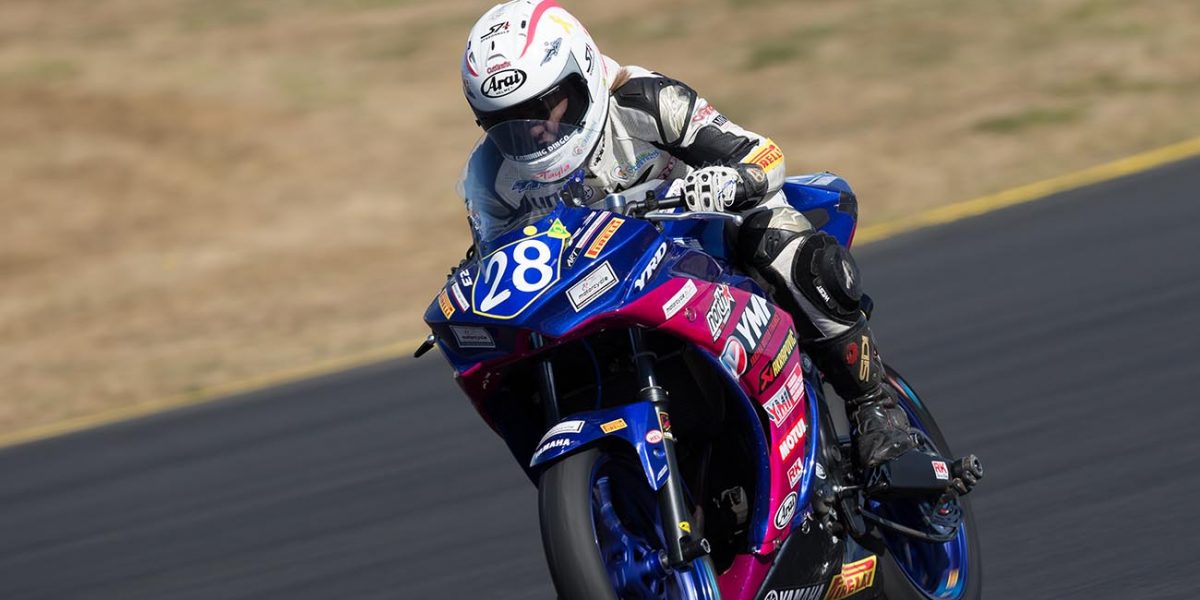 Tayla Relph – Heading To FIM Asia Cup of Road Race in India
Tayla Relph a competitor in the Yamaha Motor Finance Australian Superbike Championship presented by Motul Pirelli (ASBK) will be jetting off to India to race in the 2017 FIM Asia Cup of Road Race in India 16-19, November 2017. Supported by Motorcycling Australia (MA), Relph will contest the one-make event on a Suzuki GSX-R150. MA caught up with Relph ahead of this exciting announcement.
Relph sharing; "After the MotoGP Australian Supersport 300 support races, I thought that my racing year was over. Then all of a sudden, I got a call from MA CEO Peter Doyle asking if I was interested in racing in the 2017 FIM Asia Cup of Road Race in India. As soon as I heard an overseas opportunity might be available, I jumped at it! As more information started to roll on through from the FIM and Peter, it just built up the excitement to compete. I would like to extend a big thank you to MA for providing me this opportunity to go overseas and race.
"In Sydney, I'm heading down for a motoDNA ride day, I'll be using a Suzuki GSX-R150 for the first time and big thanks for motoDNA for letting me get track time at such late notice. I'm looking forward to cutting some laps on the 150. They're very similar to Junior bikes and I've not ridden anything like that for about six years. Luckily the bike won't be a huge change from my Yamaha YZF-R3 that I race in the ASBK. I'm looking forward to the race itself, as it will be a true test of skill, due to using the same machinery. There will be many countries represented and a vast array of skill levels, so it's going to be very interesting.
"The very first thing I did after hearing about this race was the research the Buddh International Circuit and its absolutely massive! It's probably going to take about five minutes to lap on a 150," she joked. "Although, it's a big track there is 16 corners and it can be very technical.
"It is an invitation only event and it's a one event championship. It's probably a race that could open up opportunities in the future. I've been to Spain and raced in Malaysia but they have been more selection events more than anything. Now this will be a proper racing event.
"Everything is very hectic at the movement, I'm a full time university student and I'm studying journalism at the moment. My dream would be to work in a TV environment with motorsports. I feel like that would be a great way to stay involved, when one day I do finish racing. I also work at a wedding catering company as well.
"I started riding when I was three-years-old and I've been competing in road race since I was eleven. I'm nearly 21 now, so I've been doing it for quite some time and I've loved every second of it. It's quite interesting that I developed a love for the sport because I don't really have any racing family history. My parents took me to a Crusty Demons Meet when I was two and I threw a tantrum and said I wanted a motorbike!
"We are going to compete in ASBK in 2018. I've learnt so much this year and my results improved drastically in the tail end of the year, so I'm looking forward to taking it to the next level in 2018. My sponsors have been phenomenal for coming together and helping me out when I needed it most." Relph finished.
Photo 1 – Relph on her Yamaha YZF-R3 – Andrew Gosling TBG Photography
Photo 2 – Relph – Courtesy of Taylor Relph Facebook page