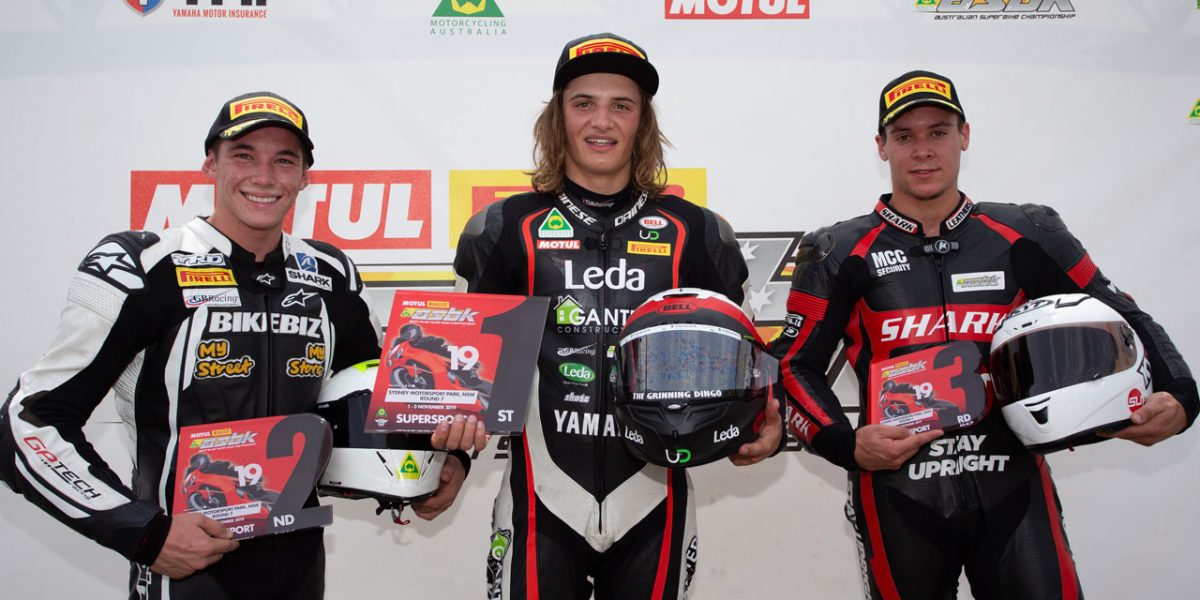 Toparis Completes Supersport Domination at SMP
Tom Toparis has completed his domination of the 2019 MotorsportsTV Supersport Championship with another two race wins at Sydney Motorsport Park today.
While Toparis may have emerged victorious, he had to work hard for both his victories after losing positions at the start. As expected after qualifying, Toparis' toughest rival was Tommy Edwards, who made an impressive debut in the category with a pair of second-place finishes.
Toparis said his pair of victories was the perfect way to finish a successful season.
"It's just topped off a fairy-tale year for us – in the end, we only lost six points for the whole season," Toparis said.
"Tommy (Edwards) was so good to race against – it was awesome to have someone of his calibre coming and racing here. He hasn't had a lot of time on the 600cc bike, so he's done really well."
Edwards said the Australian racing scene is just as good as it was when he headed overseas two years ago.
"It's super-good to be back – it's great racing back here, just as it was when I left at the end of 2017," Edwards said.
"It's really good to see how competitive Supersport is – I've tried to keep up with Tom all weekend, overtook him a couple of times but I didn't have anything left at the end of the last race."
Oliver Bayliss was third in Race 1, after an exciting battle with Jack Passfield, Aidan Hayes and Jack Hyde. But Bayliss tangled with Hayes at Turn 9 in Race 2, and while both riders were able to re-mount and continue, they finished well down the order and Passfield capitalised to take third in the race and the round.
"It's been a great way to finish off the season and carry some confidence into next year," Passfield said.
"It gives me something to work towards and look forward to for next year."
MotorsportsTV Supersport – Points after Round 7
1. Tom Toparis – 401
2. Broc Pearson – 278
3. Nic Liminton – 236
4. Aidan Hayes – 216
5. Oliver Bayliss – 206
6. Jack Passfield – 175
7. Dallas Skeer – 172
8. Ty Lynch – 163
9. Rhys Belling – 143
10. Reid Battye – 142