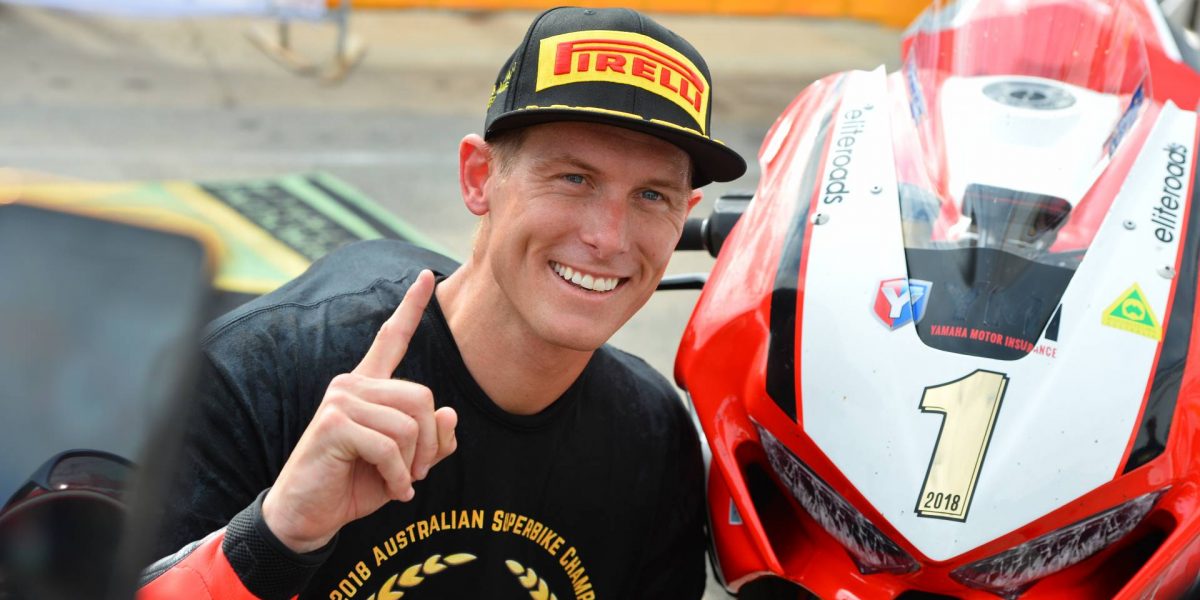 Troy Herfoss Reclaims ASBK Championship Glory
The 2018 Yamaha Motor Finance Australian Superbike Championship presented by Motul Pirelli (ASBK) witnessed a masterclass season from Troy Herfoss (Penrite Honda Racing, CBR1000SP). He managed to wrap up the season with a round to spare, taking eight wins, 11 podiums and three pole positions. We caught up with the new YMI Superbike Champion to reflect on a season to remember. 
It's a massive turnaround for Herfoss, whose future was left uncertain after Paul Free's Honda Team ceased operations in 2017. Now with Deon Coote resurrecting the Honda Team, Herfoss dominated this season, taking the Championship in exceptional circumstances. A few days out from taking the title, Herfoss still can't quite believe the success they have enjoyed.
You've had a few days to let the Championship win sink in, how does it feel?
It feels so good! I still can't believe that we were able to wrap it up with a round to go. Its sinking in now, the fact that we've had such a great year. I never thought that I would be able to win so many races in one year. Of course, I've seen riders dominate certain years in the past and I've thought wouldn't that be incredible to experience that. It sneaks up on you really, as we've focused so hard on each individual round. Now we've taken eight wins so far and the Championship, still can't believe it.
Leading into Race Two at Winton, how were the nerves?
I was pretty nervous, but I knew I had a massive chance to wrap up the Championship that day. What really settled my nerves was that we had good race pace throughout the weekend. When the flag dropped on Sunday and Wayne jumped out to a gap, it was hard not to get carried away and race for the win. Unfortunately for Wayne, he went down and from then on, I could concentrate on just beating Josh.
After Wayne crashed, what was your reaction?
As soon as Wayne crashed, I obviously knew that the Championship was there for the taking. We've had quite a few red flags at Winton over the years, and it's easy to make mistakes there. You never know what can happen. Years ago, I lost the Supermoto Championship after I had a massive gap in the points. I had a massive accident and Glenn Allerton went on to win the next four races in a row and pip me in the Championship. That was my first real year of competing for a title and I learnt a lot from that experience. You always have to fight to the end.
At what point of the season did you realise, we are a massive chance here for the title?
At Darwin, we were really competitive at a track where Josh and Wayne are typically strong. The way we went about that weekend was great and we managed to take the overall round. We then realised that the Championship was really going our way and to back it up at Morgan Park, we knew we were on the way to another title.
What has been the key turnaround with the CBR for this season?
I would never take anything away from Paul Free's team but we tried to get on the new CBR as soon as possible and in reality, we never got on top of it. This year we have really adapted to the bike. Deon Coote has been very motivated and has left no stone unturned. I think a massive difference maker has been to move to K-Tech Suspension for this season. Honda have also been backing us with new parts for the bike. It's all come together and we've shown what the Fireblade is capable of.
New team for this season, are you surprised how you hit the ground running back at Phillip Island?
I was nervous, because you hear stories about how new teams typically fare. I thought it would take at least a few rounds for us to get going. Once I met Deon and checked out the workshop, I knew I was in good hands. Deon is really driven to win and leaves no stone unturned. He's also given Shaun Clarke a lot of freedom. It's just been a dream run with the team. Everyone played their role.
What was your highlight of the year?
Winning Race One at Phillip Island in mixed conditions was definitely the highlight of the year for sure. We had a very difficult pre-season test and we had plenty of issues leading up to the racing. To win that first race was so cool and it brought everyone together in the team. From then on, we knew we had potential.
Still one more round to go, what will be the approach? 
I haven't had many opportunities to ride out there as the Champion and I really want to leave the season on a high to springboard us into next season. My approach will not change for the final round, I just want to win.
Are you already looking to 2019 and defending your Championship?
Absolutely, I've never been able to successfully defend a Championship before. I really want to be able to say I've done that. It's going to be a massive year next year. We will have some time to rest but I'm going to give it my all. I've already signed up to be with Penrite Honda Racing Team next season and I'm ready to go again!