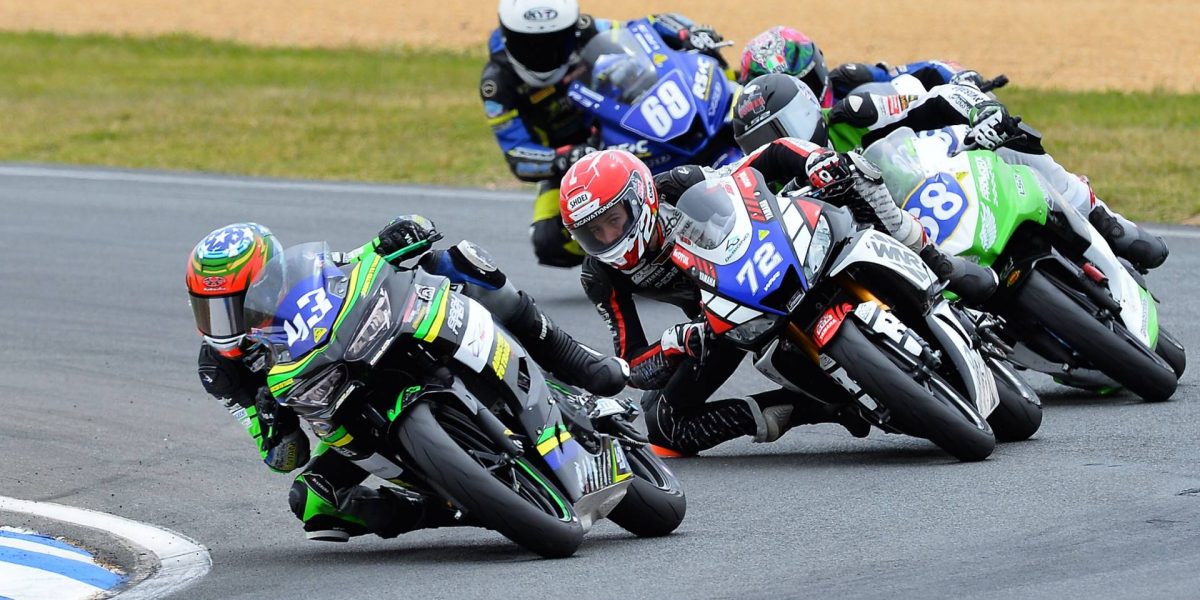 2020 ASBK Champion Ready for World Supersport 300 Title Shot
Australian Superbike Championship's 2020 YMI Supersport 300 Champion; Harry Khouri, is still celebrating his victory, but has already hit the ground running in preparation for his tilt at a World Supersport 300 title later this year.
Khouri dominated Round 1 in 2020 winning the first three races at Phillip Island Grand Prix Circuit with relative ease, and at the Grand Finale, Rounds 2 and 3 at Wakefield Park Raceway, scored a race victory, 2nd, 5th, and two 4th placings to take out the Championship.
Khouri was always the one to beat at the Grand Finale. Not only had he won the first round with ease but had also travelled to Germany earlier in the year to compete in the IDM Supersport 300 class, where he again showed his skill scoring podium finishes. This was while many of the ASBK riders were forced into COVID-19 lockdown.
Whilst Khouri is a quietly spoken 16-year-old from Richmond, NSW, he was fierce on the track in 2020. However, this Championship win did not come easy for him as Khouri admitted he struggled in the final few races because of the severe winds and nerves.
"I was chasing Carter Thompson and I nearly crashed and that's when I started thinking I just need to finish each race," he said.
"I was quite nervous on Sunday as it was windy as well and with all that stuff in my head, I was making mistakes. So, I just had to calm down as I didn't want to crash.
"Winning the Championship was something I had hoped for. I've been in the 300 class in Australia for a couple of years and I was always up the front, but never there at the end of the season. So, it is really cool to win the ASBK Championship, especially after such a strange year.
"It didn't sink in at first when I crossed the line. I thought damn it I got 4th in the race and it wasn't until I got into the pits and saw the reaction of Mum and Dad that I realised I had won the Championship.
"They were ecstatic and so was my mechanic Andy! It was great to see them all happy. My brother came out holding the pit board that said 2020 Champion. So that was great.
"It was definitely a highlight of my racing career and one of my best achievements. To wrap up the Championship here was definitely something I wanted to do."
Khouri puts his championship win down to the tough competition ASBK has provided him over the years.
"There are so many guys in ASBK that can win the Championship and the racing is tough, as you can go from first to 10th really quickly.
"ASBK has definitely given me a little more edge this year. In Australia, from my experience, there is a lot more passing and divebombing. Whereas in the IDM, riders work together."
Khouri's success in Germany and dominance in the ASBK secured him a WorldSSP 300 ride for 2021 signing with RT Motorsports by SKM-Kawasaki. He now hopes to create a career path into World Superbikes or MotoGP. Khouri will leave next month for team testing in Europe.
"I have goals and I want to be in the points in the top 15 of WorldSSP 300 and be battling with the guys up front.
"I want to go to World Supersport next year or the year after.
"MotoGP is my ultimate goal, but World Superbikes is also a really good championship."
Khouri predicts this year's ASBK YMI Supersport 300 class will be very strong with plenty of competition amongst the riders, but he favours two of the classes most talented riders.
"Carter Thompson will be tough to beat and Archie McDonald also, but there are a couple of kids who could quite easily win the Championship," he said.
The first round of the 2021 ASBK Championship kicks off at Phillip Island Grand Prix Circuit on February 19-21, with the Australian All Wheels Race Fest, featuring Superbikes, Supersport, Supersport 300, R3 Cup, Oceania Junior Cup as well as the Shannons Motorsport Australia Championships. Tickets are available HERE
Keep up to date with the latest news on the mi-bike Motorcycle Insurance Australian Superbike Championship, presented by Motul via www.asbk.com.au and following ASBK on Facebook and Instagram.
Pictures by Russell Colvin
Media Contact:
Adam Olive
Media Manager
Motorcycling Australia
M: 0438 297 514
E: mediapr@ma.org.au