AUSTRALIAN SUPERBIKE CHAMPIONSHIP
OCEANIA JUNIOR CUP
Motorcycling Australia (MA) is thrilled its game changing Junior Road Race Academy continues into it's fifth year with the bLU cRU Oceania Junior Cup.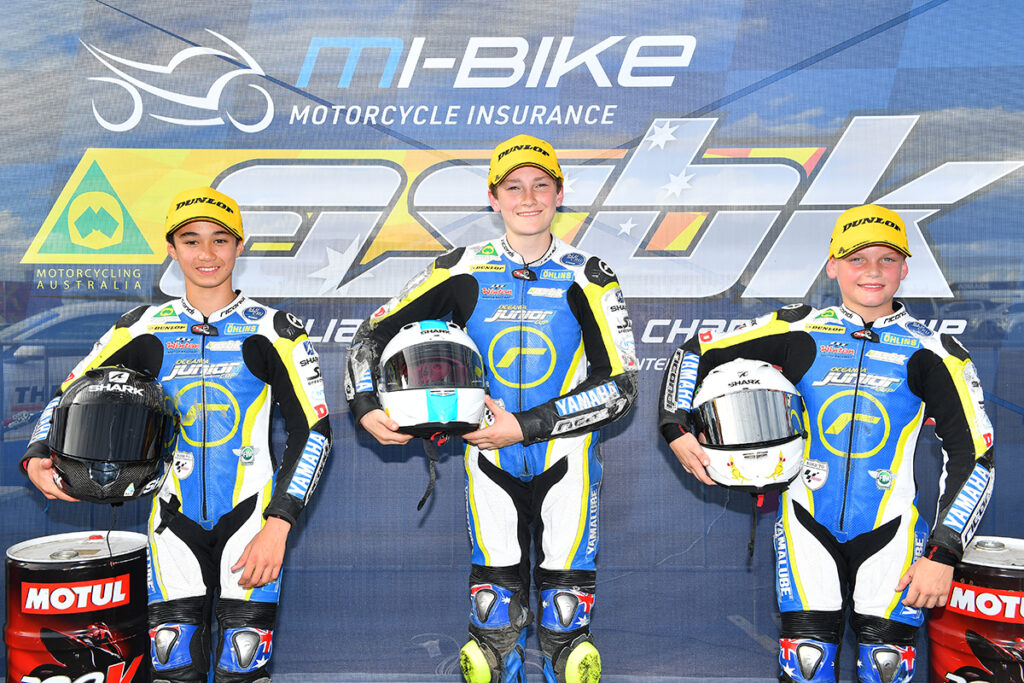 Debuting in 2019, the bLU cRU Oceania Junior Cup, is an inclusive program for young aspiring junior riders.
The program has officially been named a Road to MotoGP™ program with the support of Dorna Sports S.L.
The Oceania Junior Cup is a Junior Road Race Academy aimed at developing Oceania's next road racing stars, and as we saw in 2022 and 2023 it is delivering in spades.
It provides young riders with everything they need to take to the track, opening the pathway to the next generation of racers.
The belief in the program is so strong that FIM are supporting the Oceania Junior Cup for multiple years through FIM Oceania.
Dorna Sports S.L, are the commercial rights holders and promoters of MotoGP™, the MOTUL FIM Superbike World Championship, Idemitsu Asia Talent Cup and British Talent Cup. Dorna has also co-organized the Red Bull MotoGP Rookies Cup since its inception in 2007. Their endorsement is a significant development and adds the bLU cRU Oceania Junior Cup to the esteemed list of Dorna Road to MotoGP™ programs around the world.
The Dorna commitment provided opportunities for past and present OJC riders to be selected to compete in international competitions such as the Asia Talent Cup, Red Bull Rookies Cup, MiniGP and European Talent Cup.
"For Dorna to endorse the Oceania Junior Cup under the Road to MotoGP program is an exciting opportunity for all involved and adds a substantial level of credibility to what we are trying to achieve," explained Peter Goddard, MA President.
"Such an important partnership cements the key criteria of the program, creating a clear progression plan between the Oceania Junior Cup and the world stage. The development of the next World Champion from our region has received a huge boost today."
A stunningly high percentage of riders across MotoGP™, Moto2™ and Moto3™ classes came from the various Road to MotoGP™ programmes, with every permanent rider in the Moto3™ World Championship now having raced in a series on the Road to MotoGP™.
"We are delighted to welcome another series to our Road to MotoGP program," adds Dorna CEO Carmelo Ezpeleta.
"The Road to MotoGP is going from strength to strength and has an incredibly successful record in finding and promoting talent. The bLU cRU Oceania Junior Cup will be an asset to the program and perfectly complements our aims for the Oceania region. We're excited to begin this new collaboration."
The response from MA and Motorcycling New Zealand (MNZ) members has been phenomenal, with the program over subscribed and applications coming in from nearly every discipline of motorcycle racing as young riders seek an opportunity to be involved.
The backing of Dorna S.L to assist young riders from Oceania through the Idemitsu Asia Talent Cup and Red Bull Rookies Cup continues the support provided by the Motorcycling Australia, Fédération Internationale de Motocyclisme (FIM) and FIM Oceania, the regional representatives of the FIM
As a truly interactive development academy, those participating are coached by former MotoGP rider and race winner, Garry McCoy, developing their riding styles while gaining a truly unique insight into the art of race craft. In addition, off track activities will include media and PR development and a focus on developing the true value of good sportsmanship.
Who can apply:
Competitors aged between 11 to under 16 years of age (as of January 1st, 2024) can register their interest to receive further details regarding the 2024 Season.
What's included for 2024:
Entries for Rounds of the program
Garage space at each round
Loan of a race prepped Yamaha YZF-R15
Transportation of the race prepped Yamaha YZF-R15 to each event
Pre-event service of the race prepped Yamaha YZF-R15 and onsite technical support at each event
New race tyres for each round (wets when required)
Full racing gear supplied including Oceania Junior Cup signature leathers, helmet, boots and gloves – and it's all yours to keep.
Oceania Junior Cup team uniform
Scroll down to Register Your Interest to join the mailing list for upcoming coaching days and information about the program for 2024.
---
Past Winners
2019: Carter Thompson
2020: Marianos Nikolis
2021: Cameron Swain
2022: Harrison Watts
REGISTER YOUR INTEREST FOR 2024
Please complete the details below to be added to the 2024 Mailing List. Once registered you will receive a confirmation email within 24-48 hours.
2023 OCEANIA JUNIOR CUP Schedule
Round 1 – Sydney Motorsport Park, NSW
24 – 25 March 2023
Round 2 – Queensland Raceway, QLD
28 – 30 April 2023
Round 3 – Morgan Park Raceway, QLD
14 – 16 July 2023
Round 4 – Phillip Island, VIC
(MotoGP) 20-22 October 2023
Round 5 – Phillip Island, VIC
27 – 29 October 2023
Round 6 – The Bend Motorsport Park, SA
1 – 3 December 2023
OCEANIA JUNIOR CUP
OUR PARTNERS
---