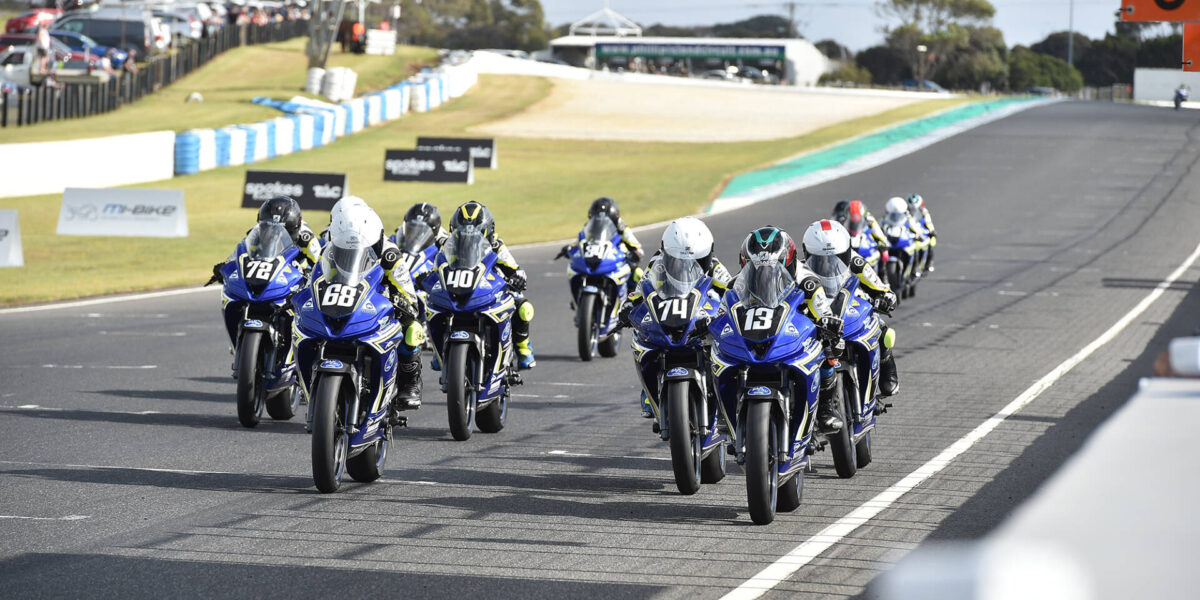 WATTS POWERS TO OCEANIA JUNIOR CUP SERIES LEAD 
Round One of the bLU cRU Oceania Junior Cup (OJC) kicked off in spectacular fashion at Phillip Island in support of the mi-bike Motorcycle Insurance Australian Superbike Championship presented by Motul (ASBK). 
With nine new riders in the OJC for 2022, the youngsters were keen to build on their pre-season testing experience at Phillip Island just a few weeks ago.
Weather conditions were perfect as testing benchmark Bodie Page (Yamaha YZF-R15) once again led from the front during Friday Practice, recording a fastest lap of 2:11.192 to run just under a second clear of Levi Russo (Yamaha YZF-R15).  
Russo was in-turn one-tenth up on Harrison Watts who completed the top three. It was a close affair, however, with just 6-tenths covering 2nd through to 10th – hinting that not just speed, but race-craft will be key to success over the weekend. 
Saturday 
Despite Paige dominating most of Friday practice, Russo pulled out the stops to take pole with time of 2:11.343 for Race One ahead of Teerin Fleming (2:11.500) and Bodie Paige (2:11.580).  
As expected, the lead changed at almost every corner in Race One, however, it was Cameron Rende who executed a perfect race strategy to take victory with a fastest lap of 2:11.818 head of Hudson Thompson and Harrison Watts.  
Sunday
With a huge crowd on hand, Marcos Hamod took Saturday's fancied runners by surprise by seizing victory in Race Two of the bLU cRU Oceania Junior Cup ahead of Sam Drane and Teerin Fleming. Hamod took advantage of a race in two parts after a restart to clear some errant local Cape Barren geese from the circuit, while also recording a fastest lap of 2:11.038.  
In Race Three, Harrison Watts regrouped and picked his moment to hit the front and did so by just six-hundredths of a second ahead of Marcos Hamod and Teerin Fleming. Watts' time of 2:10.438 was the fastest of the weekend. 
Motorcycling Australia Operations Director, Martin Port: "It is immensely gratifying to the 2022 Oceania Junior Cup have a perfect debut, with competitive racing in such brilliant conditions. There's no doubt we've seen the beginnings of some future champions this weekend. 
It's a credit to the support from FIM and our partners; bLU cRU Yamaha, Ricondi Öhlins Racing, SpeedAngle, SHARK Helmets and Dunlop." 
Harrison Watts now leads the championship on 57 points ahead of Cameron Rende (56 points) and Teerin Fleming (53 points). Hudson Thompson (52 points) and Sam Drane (51 points) round out the top five in fourth and fifth respectively. 
The BLU CRU Oceania Junior Cup heads to Queensland Raceway for Round Two of the series on March 18-20. 
2022 bLU cRU Oceania Junior Cup. Championship standings after Round One, three races completed. 
1, 14, Harrison WATTS, Yamaha, 57 
2, 80, Cameron RENDE, Yamaha, 56 
3, 34, Teerin FLEMING, Yamaha, 53 
FULL RESULTS https://www.asbk.com.au/results/