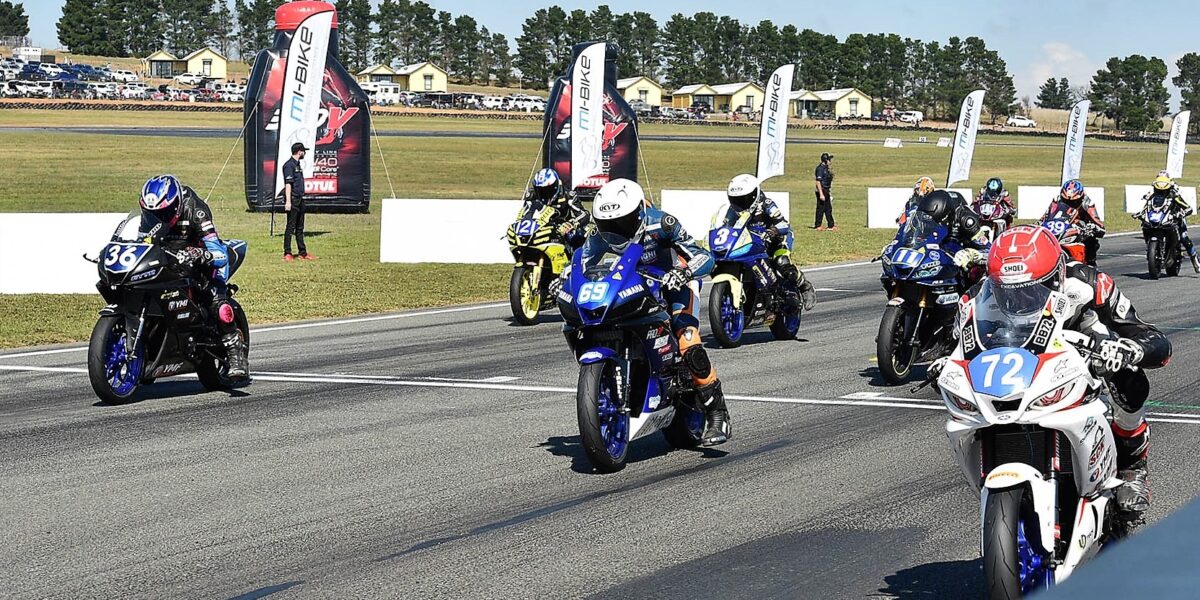 ASBK Teams Raising The Supersport 300 And R3 Cup Bar
Both the Dunlop Supersport 300 and Yamaha Finance R3 Cup have exploded in competitor numbers in recent years, but it is the increase in professional teams which have made a significant positive impact on the mi-bike Motorcycle Insurance Australian Superbike Championship, presented by Motul.
It is these classes in the mi-bike Motorcycle Insurance Australian Superbike Championship presented by Motul, where riders hone their race craft and speed in the super competitive classes with full fields.
The Yamaha Finance R3 Cup is an entry level single make class designed to offer a very cheap entry level package into road racing. Although it's not officially a 'Championship' because of the use of a single make machine, the class is similar in structure and rules to the Supersport 300 class. Many R3 Cup riders cross enter both categories for extra track time.
The Dunlop Supersport 300 class is the primary feeder category for senior road race classes for riders starting as young as 13.
The class utilises engines up to 400cc and is a very cost-effective category where riders can hone their race craft.
ProGP Racing Junior Team's Archie McDonald (69) leads at Wakefield Park Raceway earlier this year 
The Supersport 300 and R3 Cup classes are the natural steppingstone for riders from the bLU cRU Oceania Junior Cup – Motorcycling Australia's junior road race academy.Both the Supersport 300 and R3 Cup can catapult a good rider into the Motorsports TV Supersport and Alpinestars Superbike classes.
The classes have also opened doors for ASBK riders to compete on the world stage as we have seen in recent years with a number of Australian riders competing in the WorldSBK Supersport 300 and Supersport classes, Moto3 Junior World Championship, Red Bull MotoGP Rookies Cup, Asia Talent Cup, and earlier this month former ASBK Champion Joel Kelso securing a MotoGP Moto3 ride for next year.
The ASBK in recent years has seen a significant shift in the Supersport 300 and R3 Cup, where teams have upped the professionalism in the paddock.
Not only are teams expanding, but branding vehicles, trailers and pit garages now look like they could be at a MotoGP event. Supersport 300 teams have now evolved to include the resources to support the multiple bikes and riders, including team managers, mechanics, and suspension technicians.
This lifts the fan experience at the track and gives those at home watching a glimpse into the professionalism that is ASBK and the Supersport 300 and R3 Cup.
The teams bringing a new level of professional to the Supersport 300 and R3 Cup believe it not only benefits the fans, but also provides team members and riders with incentives and motivation, as well as promoting much valued and dedicated sponsors.
It provides team members with the opportunity to hone their specific skillset in a team environment, whether it be team management, technicians, suspension gurus, or media and communications, providing a broader platform of growth across all levels of the team.
The Supersport 300 and R3 Cup teams are also utilising the benefits of developing junior riders within a professional team environment to hopefully progress them into the Supersport and Superbike classes, with a number of exciting announcements to come later this year.
We recently caught up with a number of Supersport 300 and R3 Cup teams, both new, and those that have been in the ASBK paddock for some time, to get their thoughts on the new professionalism that is ASBK.
In this two-part feature story, they discuss the trials and tribulations of starting a team, the professionalism now seen in the ASBK paddock, why the growth of the Dunlop Supersport 300 and Yamaha Finance R3 Cup classes is important, team development, their want for more teams to join the ASBK Championship, and a laugh or two at their own expense.
We spoke to:
 Ben Angelidis – Full Noise Racing – riders include Ben Angelidis and Jake Farnsworth
 Mark Watson – ProWorx SBK Racing – riders include Peter Nerlich and Zylas Bunting and in the Supersport class Luke Power
Jake Skate – ProGP Racing Junior Team by JDS Moto – riders include Reece Oughtred and Archie McDonald
Patrick Li – MotoGo Yamaha – riders include Varis Fleming and in the Superbike class Anthony West and Luke Jhonston
How long has your team been in ASBK?
Ben Angelidis – Since the last round of 2020
Mark Watson – 2 1/2 years in ASBK
Jake Skate – ProGP Racing Junior Team entered the ASBK Championship for the first in the 2021 season, however JDS Moto has been competing in ASBK since 2016
Patrick Li – 5 years
Why did you set up a Supersport 300/R3 Cup team?
Full Noise Racing Team
Ben Angelidis – Mainly out of necessity. I was super keen to get back into road racing but knew that I would need help to make it happen at national level. It so happened that Simon and Jake Farnsworth were getting involved about the same time, so it was a perfect fit with Simon's mechanical experience, Jake's talent and my resources.Mark Watson- good class and lower level costs allowed us to run several bikes with young riders.
Jake Skate – ProGP Racing Junior Team was set up to help feed Australian talent to the World Supersport 300 Championship, via our team ProGP Racing, who compete in the WorldSBK Championship.
Patrick Li – The Oceania Junior Cup program has proven to be a great breeding ground for junior riders and from there the natural progression is to Supersport 300 and with Yamaha being the major manufacturer it was worth setting up.
How difficult was it?
Ben Angelidis – I can't say it was difficult personally, if you truly want something you make it happen. But the only real effort required was putting our 4 bikes together, there was a lot of running around and ordering parts etc. As long as you plan ahead and give yourself plenty of time it's fairly easy. But I also do say that with already having experience of building bikes. If you're completely green to it all, my recommendation would be to approach a well-known builder, race team or mechanical shop that's already involved in national racing, so your bike is top notch from the start. It's very easy to waste money at the start in this game.
Mark Watson – for me not difficult, as I've run successful teams and riders, raced successfully myself, and had a budget as we stepped down from Superbikes. The former Superbike bike budget ran 3 Supersport 300 bikes.
ProGP Racing Junior Team rider Archie McDonald and Jake Skate 
Jake Skate – I wouldn't say it was too difficult however, there is certainly financial restraints that can make it difficult, choosing a rider who has good potential, and also a good team of technical staff is important, however from our past experiences it wasn't so difficult.Patrick Li – As the season has been interrupted along with supply of parts etc, it has been a bit frustrating to set the team up, especially for our young riders Varis Fleming Supersport 300 and Luke Jhonston Superbike who need time on the bike and to get a good understanding of their machines along with the dialogue/feedback to tech guys.
What was involved in the setting up of the team? How did you go about it?
Ben Angelidis – First off was to approach Simon and offer him a sponsorship package for his son Jake Farnsworth. In return Simon would help me with the building and maintenance of the bikes and I would also benefit from training with Jake and learning my race craft trying to chase him, hahaha. Once the deal was signed it was just a matter of budgeting and research for parts. I approached Team Moto in Canberra who supplied us with our Ninja 400's at a great price and Tuggeranong Motorcycle Centre who helped us big time with performance parts and tyres. Then all was left was to get building and testing.
ProWorx SBK Racing Zylas Bunting and Peter Nerlich
Mark Watson – standard procedure. Procure Bikes, riders, technicians, budget, sponsors, and a psychiatrist for the team Manager, me, hahaha.Jake Skate – We decided we were going to start this project in collaboration with ProGP Racing in Italy, and then went about building the right team infrastructure, we were fortunate to share a lot of the same technical sponsors from Europe, and then also lucky to have a good opportunity to secure a strong rider that we believe in and can support.
Patrick Li – You must have strong finances, good sponsors, and find the right riders, and good technicians to set the bike up.
How many staff on race weekend?
Ben Angelidis- At the first few rounds together it was just Simon and myself managing the background work with some occasional help from our friends Dave Ward and Damian Eckersley. But for the next round we will have Simon as head mechanic, suspension tech and rider coach. We will also have Toshimitsu Kataoka as assistant mechanic and Drew Turketo for data logging and analysis. I will also keep on as the Team Manager.
Mark Watson – Team Manager, Crew Chief, Suspension Technician, 2 Mechanics and 2 pit assistants.
Jake Skate – At the event for a single rider, we have the Team Owner, Crew Chief, mechanic and another helper and we have a media manager who works remotely from Europe, who due to the time difference, is up all hours of the night to manage these things.
Patrick Li – Covering the 2 Superbikes and Supersport 300 R3 Cup there are generally 7 staff.
What are the advantages of a team over an individual rider?
Ben Angelidis – I've always believed it's all about the people you work with that get you the results you're after, as long as you have good people around you, being in a team will always be the better choice in my opinion.
The advantages for myself have been criticism of my riding technique and guidance from people with more experience than me. Mental support when it gets tough, mechanical support in the pits, so you are not spinning spanners between sessions. Having a team mate to compete against and bounce off, being more attractive to a higher level of sponsorship, having people in your corner you can trust and can rely on for support, and again with the right people around you it makes for more fun.
Mark Watson – you can utilise resources and spread the cost with more than 1 rider. Riders can bounce off each other – must have good team dynamic. Run as a collaboration, a big team is very satisfying. A cohesive team can be very supportive to all members.
Jake Skate – A team has a clearer understanding of what needs to be done, they can take a better look at the big picture and help the rider achieve what they need to. The rider is still the tip of the arrow, but it's important with a team to provide all the support to guide and allow them to do the job they are there to do. As a rider arriving by yourself and trying to manage all these things alone, you can get confused and sometimes lose focus of what you need to achieve, especially when things get difficult.
MotoGo Yamaha's Varis Fleming 
Patrick Li – With a team and riders in different classes you develop a family like environment helping each other out through the highs and the lows of a race meeting, additionally the sponsors gain more exposure over the course of a season hopefully with good results instead of a single rider.Garage set-ups are looking very professional is that a key focus of the team in an attempt to stand out like the Superbike and World Championship teams?
Ben Angelidis – Yes, I think presentation is a huge part of it. It's an expensive sport and sponsors are essential for some of us to make it to the grid. The better the team looks the more camera time you will get. Some can't afford or see it as a necessary expense, but as my businesses are the major sponsors of the team I've definitely spent up on presentation and its given us results in the form of positive comments from the spectators to just looking great out on track
Mark Watson – Presentation is paramount for team function, team moral and sponsors.
Jake Skate – Absolutely, presentation is very important, not just visually, it's also important to the performance of the team, if you feel you are in a professional environment you will act like a professional and in turn be treated like professionals.
Patrick Li- Garage set up reflects the hard work that goes into the team and professional approach MotoGo has towards racing.
A Superbike team owner and rider recently said the Supersport 300 and R3 Cup classes were what 'reignited ASBK' as they are a cheap entry level bike for those wanting to race at National level and that the racing was spectacular. Do you agree and why?
Ben Angelidis (34) in action earlier this year at Winton Motor Raceway
Ben Angelidis – Yes, I completely agree. I can say that our team wouldn't be here if it wasn't for these entry classes. Jumping straight into the 600's wouldn't be viable. As for being cheap I can't say I fully agree. Yes the class is cheap in comparison to the other classes in ASBK, but if you're coming from dirt track it's a big jump in costs when it comes to the tyre and damage bills.But yeah, cheap or expensive is a relative term when it comes to the level of the competitor's resources. In my opinion we could make it cheaper if club and state racing ran the same classes on their own instead of getting thrown into a blanket class for up to 700cc twins.
This would get a lot more riders involved on these bikes and then in turn flood the market with good quality, high spec, competitive, second-hand machines and associated parts. Top of the line second-hand suspension doesn't exist, so there's close to 3k just on brand new suspension before you start.
Mark Watson – Yes agree absolutely. The Supersport 300 class has saved Motorcycle racing.  Production based racing in Australia is the only way in the present world climate. Cheap, accessible and manageable for Mum and Dad teams and suitable for young riders. No 300s and you lose Superbikes.
Jake Skate – For sure Supesport 300 and R3 Cup classes are practically as cheap as you can go racing, and for sure this makes the sport more accessible.
However, like all racing, every year these classes develop, and the riders get faster, the bikes get faster and more expensive. I agree these classes have reignited ASBK from the bottom up, as even if there is only 5% of riders from these classes that have the opportunity to move up to Supersport and Superbike, the larger the base of this pyramid, the more riders we will see climb it.
Patrick Li – Definitely, the Supersport 300 and R3 Cup have large grid numbers and is great racing with young up and coming riders.
Part 2 of our feature story – ASBK Teams Raising The Supersport 300 And R3 Cup Bar – will be published tomorrow.
Pictures by ASBK/Optikal and race teams