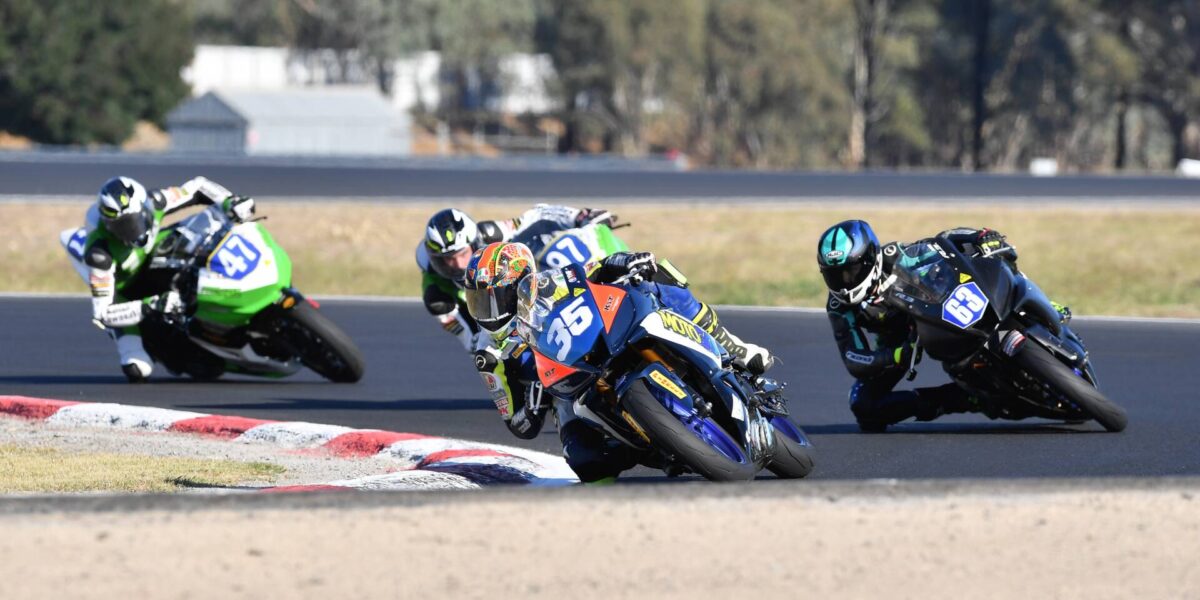 ASBK Teams Raising The Supersport 300 and R3 Cup Bar – Part 2 
 In Part 2 of our 2 part feature story we discuss with Dunlop Supersport 300 and Yamaha Finance R3 Cup teams what is special about the classes, pros and cons of team ownership, who they get guidance from, and why they think it's important for additional teams to join the mi-bike Motorcycle Insurance Australian Superbike Championship, presented by Motul.

What's special about the Dunlop Supersport 300 and Yamaha Finance R3 Cup classes?
Ben Angelidis – Everything! Hahaha. Absolutely it's the close racing and super competitive field that makes it so exciting to watch for the spectators. Plus, it's great for racers to learn their craft when it's constant bar to bar action on equal machines.
Mark Watson – Great close racing.
Jake Skate – I think the cheap, level playing field and close racing.
Patrick Li – I believe that since the Oceania junior Cup program has plucked the top junior riders from the country and New Zealand from all disciplines of motorcycle racing especially dirt track, we are now seeing those young riders graduate to the 300 classes.
Some of the young teenagers have been racing since 7-years-old, so have plenty experience and talent. We are now seeing the next generation of young riders coming through showing us their talent in the 300 classes which is proving to be great viewing for the spectators.
Where do you go for guidance and support as a team owner?
Ben Angelidis – Simon Farnsworth has been my advisor from the beginning. He's a great guy to work with and has a wealth of experience from his years of racing at national level. I believe we are likeminded in many ways, which helps. He's always the first person I call if I need advice.
Mark Watson – I call on years of personal experience and I collaborate with team staff, Rob Hodgson from Well Spring Motorcycle Suspension and Ian Bruce from Blayney Motorcycles on everything. They are experienced professional team members and we wouldn't function without their input.
Jake Skate – I am never one not to listen to anyone. I will listen to anything anyone has to say, and make my own decision from my own experience, and then the trust I have with, and credentials of, the other person.
Patrick Li – Guidance and support for a team owner comes from within yourself hahaha, additionally you need to listen to your team and tech advice.
Who are the teams in ASBK you admire, look up to, or aspire to be like?
Ben Angelidis – First-off I have to give a shout out to Proworx. They are the team I got started in ASBK with, but life, injury and business left me with no choice but to withdraw at the time. I was as green as they come but they gave me a ride and got me hooked hahaha. Big thanks to Mark, Rob and Ian.
I love the professionalism and livery of all of the superbike teams. Our goal within 4 years is to have at least one rider in every class to be in there with them.
I think ASBK is going to be massive within the next 5 years and I reckon we're going to build some future World Champions in our backyard instead of sending them to Spain to find their way into MotoGP or WSBK.
Mark Watson – No other teams. We are the best team, hahaha. I've watched Wayne Maxwell over the years and he's a top operator, especially to do what he's done recently with building his team on short notice and prevailing. I'd take his advice on securing sponsorship.
Jake Skate – I admire the Boost Mobile McMartin Racing Team, the effort I've seen them putting in is something that I really like, they are the first ones at the track in the morning and the last ones to leave, and I think they operate at a very high level and the results show.
Patrick Li – Factory Yamaha.
What are the downsides or negatives about being a team owner?
Ben Angelidis – I haven't experienced any negatives so far, a lot of money spent but I love the sport so who cares hahaha.
Mark Watson – No real downsides. I love it. Money is a big obstacle for everyone.
Jake Skate – Financially, the responsibility falls upon you, the promises you make to your riders and team have to be fulfilled regardless of any let down that you might face from external sources, e.g. sponsors falling through, COVID-19 meaning you have less events etc. etc.
Patrick Li – None, I take the good with the bad and it's what I love doing and the sport.
What's special about your team and your riders?
Ben Angelidis – I think our greatest attribute is just the way we get on in the pits. It feels like we're all just friends with a common goal. It's always a great time at the track with our guys. Also Jake has a huge amount of talent and he's going to be even more of a force to reckon with once he's competing in the 600's.
Mark Watson – PROWORX is special. "it's Mabo, it's the vibe" I rest my case. Riders, team staff and associates are all good people contributing to a cohesive professional team.
Jake Skate – We are the only team in the paddock which is directly influenced by a team in the World Championship, which means our riders, and the technical support and international experience they receive I believe is at a very high level.We are also a direct pathway, so we spend the time in Australia to train the riders on how to work with an international mindset that is often missing in Australia, so we can feed them to our team in the World Championship, strong and ready to go.
Patrick Li – I think the MotoGo team has a lot of experienced staff and that reflects through to the riders.
Anthony West – with loads of talent and experience needs no introduction, he is back fit and flying, he can also offer help to the younger team members with all areas of racing from preparation to race day strategies etc.
Luke Jhonston – Young upcoming rider who made the jump from Supersport 300 straight to Superbike this year and is very exciting to watch.
Varis Fleming – First year in 300 classes and is going to be one to watch in the later parts of the year.
It's great to see Luke helping fast track Varis with all the 300 knowledge he has gained over his time on a 300 in ASBK and watching Steve Mudford from suspension pro working with the young boys teaching them how to communicate the data.
Would you like to see more teams developed and join the 2022 ASBK season?
Ben Angelidis – Absolutely, the more the better for our sport and our sponsors.
Mark Watson – I'd like to see more riders and to expand the sport but, most people don't have the capacity or real inclination to run teams. In the Supersport class families have a son or daughter racing. To run an expanded team, you have to be able to dedicate your efforts to everyone in the team not just your son or daughter.
Jake Skate – Absolutely, the greater the professional environment we can foster in ASBK the better.
Patrick Li – Definitely would be better to have more teams and greater rivalries to stimulate ASBK.
What do you recommend to those looking to set-up teams in 2022? Top 5 must haves/do.
Ben Angelidis – Surround yourself with good people. Have an honest budget. With everything going on in the world try to be 2 months ahead with everything. Great team presentation for your sponsors. Do as much research as possible on bikes and performance parts. One wrong turn in bike development can be expensive.
Mark Watson – Budget. Yearly plan and medium to long term strategies. Dedicated staff especially Mechanics. Team manager coordinating proceedings. Determination, confidence and respect for organisers, other riders and other teams.
Jake Skate – A strong financial model. Hard work. Self-belief when things get difficult to push harder and always aim to win or for the best result possible. Important is when to understand that you need to work on yourself, your own team and riders and not to blame other people.
Patrick Li – You have to have the right team of people around you and have good key sponsors as well as strong financial support.
Who are your team sponsors and supporters that make it possible for you to run as a team?
Ben Angelidis – Full Noise Racing would like to thank:
Freestyle Tattoo Studio
Sisters Inked
Worth Race Developments
Kingsdene Automotive
Hi-tec Oils
Brisk Spark Plugs
Tuggeranong Motorcycle Centre
Ricondi Leathers for Ben
AT1 Leathers for Jake
Mark Watson – Proworx Sponsors-
Blayney Motorcycles – Ian Bruce
Well Sprung Motorcycle Suspension – Rob Hodgson
Kawasaki Aus
Penrite
WRP Bridgestone
Mick Muldoon MC
Rawhide Leathers
Whites Power Sports LS2 Helmets.
Jake Skate – ProGP Racing Italia
Signpro.com.au
Yamaha,
YRD
GB Racing
Menghi
Omar,
Bonamici Racing,
Termignoni,
Febur.
Patrick Li – MotoGo Yamaha,
V P Trade group development,
Yamaha Australia,
Yamaha Monster,
YRD,
YMF,
YMI,
rstaichi Australia,
KYT,
Ohlins Australia,
Brembo,
Pirelli,
Akrapovic.
Keep up to date with the latest news on the mi-bike Motorcycle Insurance Australian Superbike Championship, presented by Motul via www.asbk.com.au and following ASBK on Facebook and Instagram. You can also join our ASBK mailing list at www.asbk.com.au
ASBK Calendar

Round 7 and 8, The Bend Motorsport Park, SA , November 11-14.Round 9, Grand Finale, Phillip Island Grand Prix Circuit, VIC December 3-5.