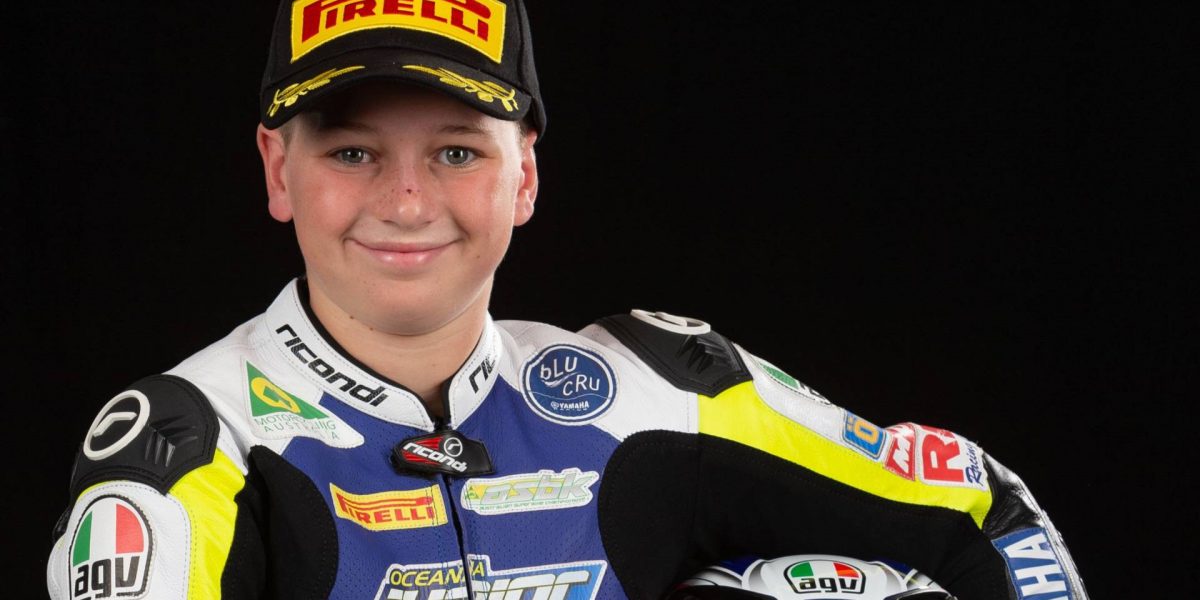 bLU cRU Oceania Junior Cup Profile: Angus Grenfell
This weekend's bLU cRU Oceania Junior Cup rider is Angus Grenfell who currently sits in second place in this year's championship, 8-points behind the championship lead. Grenfell began riding at age 3 and loved it from the very start. His family took him to tracks every weekend so he could practice and improve his riding and chase his dream of one day racing in the MotoGP World Championship.
Tell us about where your love for motorcycle racing began and why?

My love for motorcycling racing began thanks to my Father. The first time I sat on his motorcycle, I absolutely loved it! I love motorcycle racing simply because when I am sat on the bike it just takes my mind off everything and allows me to focus on one thing – not like when I'm at school I have to focus on everything else. So that is why I love motorcycling racing, and where the love began.
Tell us about the first time you hopped on a motorcycle.

First time I hoped onto a motorcycle was when I was six months old when my Dad took me on his Harley-Davidson. It was the best fun ever I believe!
Thinking back, tell us about one of your favourite memories growing up when it comes to motorcycling?

I think one of my favourite memories was my first year of racing and I won the 2014 South Australian Dirt Track Championship. That was certainly a great moment which stand out for ever as it was my first ever title.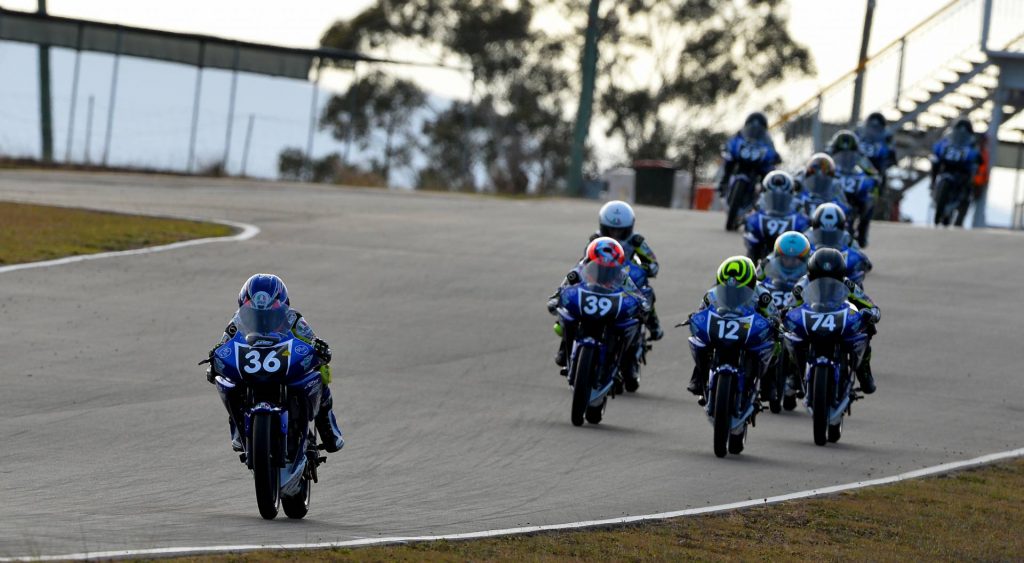 What career do you hope to end up in? For example, WSBK or MotoGP racer?

I would say definitely MotoGP for sure. I think the MotoGP paddock is a great environment, where I'll be able to learn so much more. On paper, its great competition across three classes, being Moto3, Moto2 and the premier class, being MotoGP.
Tell us who your sporting idol is. How have they impacted you and your love for motorcycling?

Valentino Rossi for sure. While he is getting old, he is still pushing it to the limits. This really inspires me to go as fast I can when I'm out on track. Valentino has impacted me, and my love for motorcycle racing when I meet him at Phillip Island in 2016. I had to wait outside his pit box for his autograph. When he came out, he asked me to come forward which was a great moment for sure.
What have you learnt from the bLU cRU Oceania Junior Cup?

A lot! I have learnt a lot, especially with race craft, which obviously includes passing, the affect slipstreaming and of course my full protentional at the circuits I have been to in this year's bLU cRU Oceania Junior Cup Championship.

Tell us about your bike, helmet, leathers, gloves and boots. How are you adjusting to the new bike? How do you find the products that have been chosen specially for you?

Well to start off the Yamaha YZR-R15 which we get to ride in the championship is an amazing little bike, which is a huge credit to Yamaha Motor in Japan. They deliver power so nicely when you exit the corners. The AGV helmets, without a doubt they are the best helmets I have ever worn. They are really light. The TCX boots which we get to wear, well they are just super comfy. I can always feel my feet within the boots, which is important to know where your feet are around the rear brake and gear shifter. The Ricondi leathers are once again really comfy. Personally, I find them really easy to move around in. Finally, the Ricondi gloves. I just find I am able to move my hands around within side the gloves. They are not super tight, which enables me to move my fingers around in them. Massive thanks to everyone who supplies the riding gear in the season, and of course Yamaha Motor Australia for the Yamaha YZR-R15 bikes.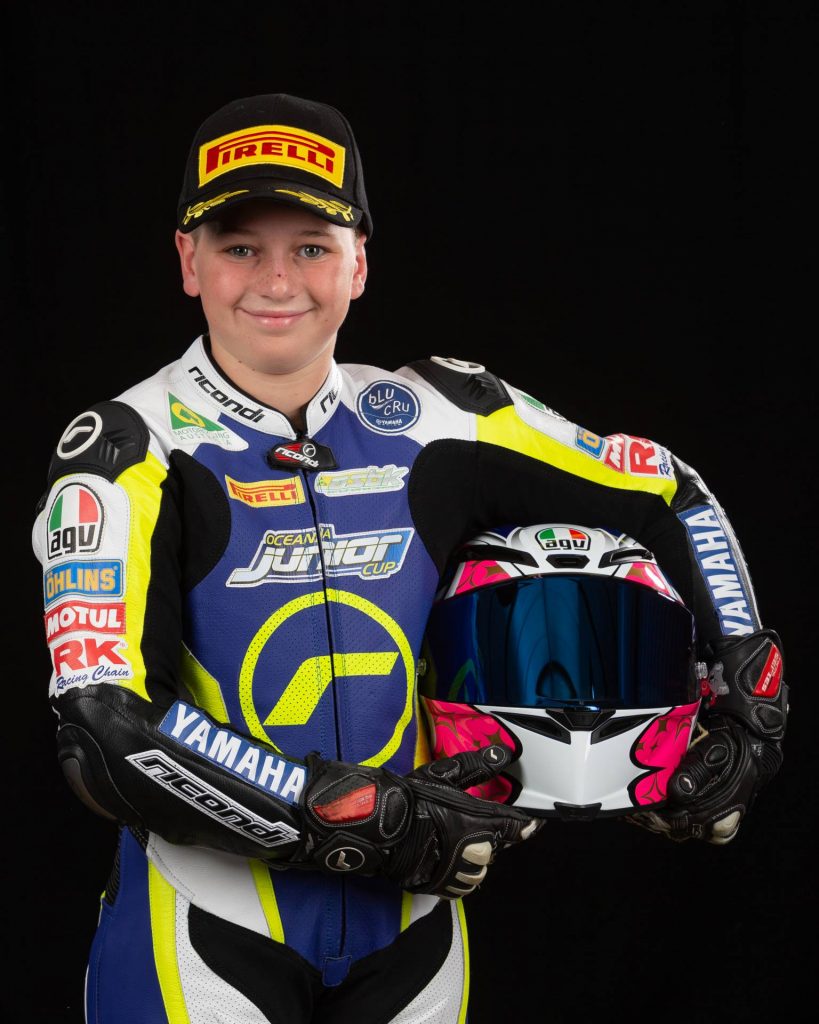 We will release profiles from the class of 2019 each week, so be sure to stay tuned on your favourite star by heading to ASBK.com.au and following the bLU cRU Oceania Junior Cup Facebook page!
Images: Russell Colvin (track images) & Andrew Gosling – tbgsport (head shot)