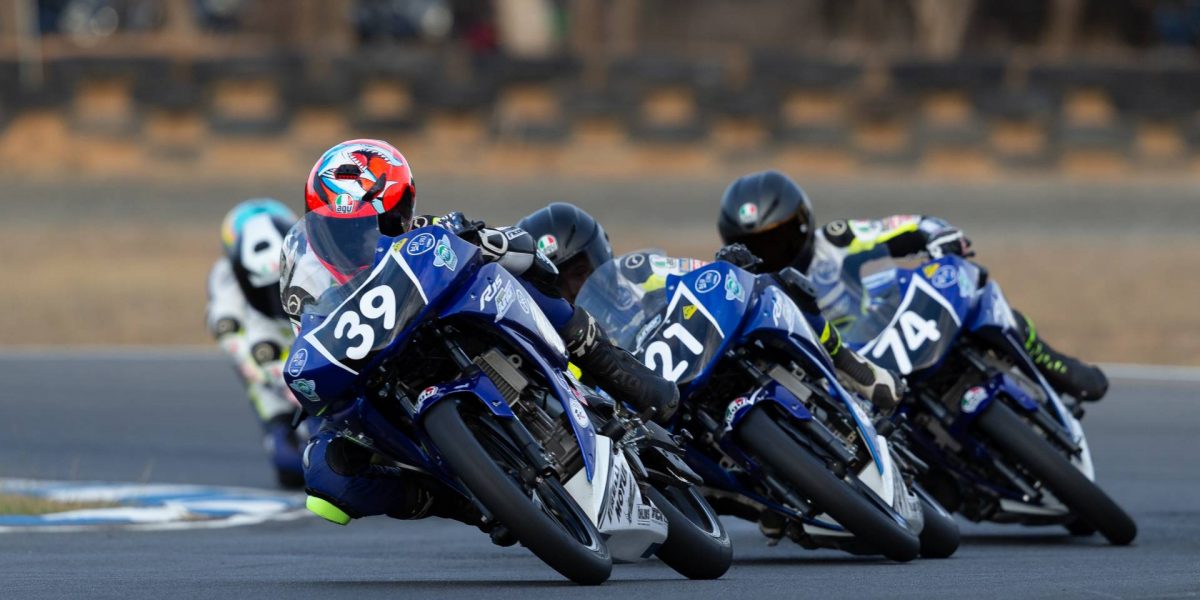 Grenfell and Roulstone Dominate Field At Morgan Park
Making its long-awaited return for Round 3 of its inaugural season, the bLU cRU Oceania Junior Cup but on a spectacular show for fans alongside Round 4 of the Motul Pirelli Australian Superbike Championship at Morgan Park in Queensland, Australia (July 5-7). Polesitter Angus Grenfell was the victor in Race 2, and Race 1 winner from yesterday Jacob Roulstone stole the win away from Grenfell in Race 3.
True to form, Race 2 of the bLU cRU Oceania Junior Cup was fierce from start to finish. After a first-lap restart due to a crash involving Cros Francis, Grenfell, Archie McDonald, Lucas Quinn and Roulstone broke away to head the race, leaving the likes of Carter Thompson to get swallowed up by the pursuing pack.
Grenfell comfortably led the race from start to finish, but all eyes were on McDonald and Quinn as they tangoed for second. On lap three disaster struck for Quinn who found himself tangled up with McDonald as they crashed. Quinn retired early but McDonald regained himself to finish all five laps and fall into 21st place, a disappointing end to a strong start.
Taking advantage of the opening in the top three after the crash between McDonald and Quinn, Roulstone moved into second place, followed by the likes of Max Gibbons, Glenn Nelson and even Thompson, who fought tooth and nail to regain a presence at the front of the pack.
As the chequered flag flew, Grenfell finished a staggering 5.669 seconds ahead to land in first place. The remaining two podium positions though were hard fought right to the end with less than a second separating second to eighth place. As they crossed the finish line, it was Nelson and Gibbons who secured second and third place respectively, followed by Marianos "Nos" Nikolis, Roulstone, Thompson and Drane.
Queensland Wild Card, Thomas Brown, finished in 10th.
To view Race 2 results, please click here.
For the third and final race here at Morgan Park Raceway, the bLU cRU Oceania Junior Cup saw a superb tussle for first place between Roulstone, Grenfell and Thompson. Over six laps, Grenfell and Roulstone continuously battled for first place, with Thompson sitting milliseconds behind, patiently waiting for his moment to capitalise.
With little chance of an outsider stealing away a spot in the top three, riders fought tooth and nail for fourth place. Marianos "Nos" Nikolis held the position at first, followed by Alex Kenworthy-Jones who unfortunately suffered mechanical issues and retired early from the race. Heading into the final lap, it was McDonald who clinched the fourth spot, crossing the finish line with just shy of six seconds separating him from first place.
Upon the close of Round 3 of the bLU cRU Oceania Junior Cup, it was Roulstone who took out first place, followed by Grenfell and Thompson. It was tantalising finish to a superb battle, with less than one second separating the top three.
Roulstone was pleased with the victory. "It was a pretty good weekend on the Yamaha YZF-R15. In the first race I got a pretty good win! Second race didn't go to plan but in the third race I learnt from my mistakes and won that one!
"It feels really good to be a Round winner this weekend and it gives me a lot of confidence going into the next weekend at Winton."
To view Race 3 results, please click here.

Our juniors now head to Winton Motor Raceway in Victoria for Round 4, held from 6-8 September, running in conjunction with Round 5 of the ASBK.
For more from the ASBK, follow us on Facebook and Instagram

Images courtesy of tbg sport.