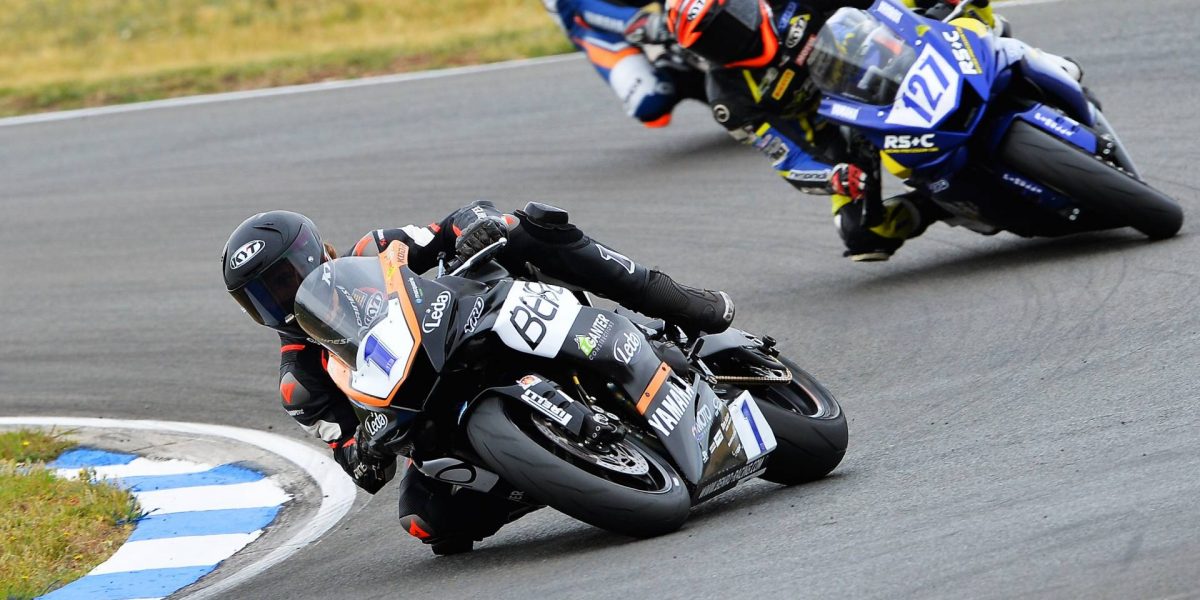 Toparis Double ASBK Championship Win – The Sweetest Of All
For Goulburn's Tom Toparis winning back-to-back Motorsports TV Supersport Championships was even sweeter after months off the bike and a last-minute team mustered together for the Grand Finale of the mi-bike Motorcycle Insurance Australian Superbike Championship, presented by Motul.
The extremely talented Toparis had started the year finishing second at round 1 behind good mate Oli Bayliss, before heading overseas to compete in the WorldSBK. As those plans faulted because of COVID-19, he headed to BSB where he scored some good results but also suffered injury.
He returned to Australia just over a month ago, and while going through quarantine madly rushed to forge a team in time for the Wakefield Park Raceway final two rounds.
"I didn't have anything sorted, and my mechanic Marty from last year was working with Oli, so I called Glen Richards which was great because he is so clever and my bike was really rough before the weekend," said Toparis.
"Considering I left Australia at the start of the year, I was not thinking I'd be back at all this season. I did a bit of racing overseas and then to come back and win the Championship is pretty good and definitely unexpected. I really wanted it.,
"To pull it off on the weekend and win the Championship was really good."
What makes Toparis' effort even more extraordinary is that he discovered he had significant steering issues when he hit Wakefield Park Raceway, and despite searching the country for the relevant parts to fix the problem, there was none in Australia.
Toparis battled with the problem, where his bike would tip in very nicely on the righthanders but struggled on the left.
"We tried to get something together before racing started but there were no frames in the country and so had to set the bike up around that," said Toparis.
"Luckily on Thursday and Friday I did the job. I got pole, which was really good as I did a personal best time of 59. So I was pretty happy with that. Saturday was obviously great as we won both races and got the points lead.
"But on Sunday I woke really sick and couldn't eat all day.
"I knew I had to be smart on Sunday as I had an 11-point lead and didn't have to risk it all. It's easy to go out and try and win in those conditions, but you can go from here to zero and look stupid.
"Tommy Edwards, Brock Pearson and Max Stauffer had never won a race and I knew they would be on the limit and for me. I knew I didn't need to be part of that battle and risk it all.
"Feeling sick I was happy to roll around for 4th as at end of the day you would rather win the Championship than a couple of races."
Toparis is still smiling about the back-to-back Supersport Championship wins.
"It was really good to go back-to-back, I really can't thank Glen enough for what he did.
"Jamie Stauffer was so willing to help electronically, and he was always happy to point me in the right direction.
"Jamie was such a legend on that weekend for helping me, I can't thank him enough especially when I was competing against Max. You just don't see that in sport anymore.
"Max is killing it on track, and he will be the man to beat next year for sure."
Toparis has shown he has the skills and talent to mix it with the best riders in the world. Unfortunately, on the Sunday night of the Grand Finale at Wakefield, his team Benro Racing officially announced it was dissolving from WorldSBK.
For Toparis he was looking forward to racing in the BSB in 2021 but is now looking to step up into the Superbike class here in ASBK, should a ride become available.
"I would love to do a season here in ASBK, but it is just a case of getting offered a ride. But there isn't much time to get a deal sorted.
"I want to get riding here and it would be nice to get a Superbike from any of the brands as I want to race in Australia, and I want to step up into Superbikes.
"Hopefully, I can get something together in the next couple of weeks and get ready for the ASBK Test at Phillip island."
The last few years Toparis has been the hunted by other riders in the Supersport class, such was his domination.
But stepping up into the Superbike class, he feels would give him an opportunity to be the hunter.
He has great respect for current ASBK Champion Wayne Maxwell, as well as former champions Bryan Starring, Troy Herfoss and Mike Jones.
"I'd love the try and chase down those guys on the superbikes," he said.
"There aren't many young guys in the Superbikes and I think it would be good to get some young blood in there and I'm sure the teams would want it as well.
"I would love to get a phone call where someone says come and ride a bike."
ASBK fans who have followed Toparis' career will be salivating at the chance to see their back-to-back Supersport Champion aboard a Superbike.
Keep up to date with the latest news on the mi-bike Motorcycle Insurance Australian Superbike Championship, presented by Motul via www.asbk.com.au and following ASBK on Facebookand Instagram.
Pictures by Russell Colvin