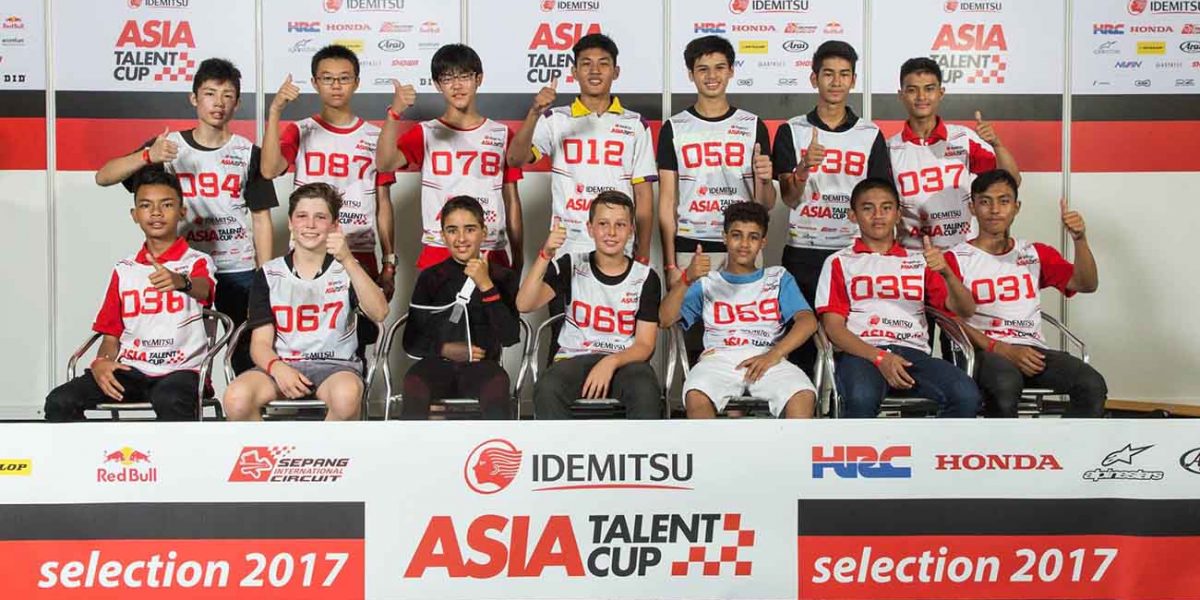 Trio of Australians Selected for 2018 Asia Talent Cup
In an exciting development, Australians Billy Van Eerde, Ben Baker and Senna Agius have been selected amongst 86 aspiring participants to compete in the 2018 Idemitsu Asia Talent Cup. Only 14 riders have been provided the amazing opportunity for next year's Cup. Being selected is a honour for the Australians after impressing in the selection event, held at Sepang International Circuit in Malaysia. Van Eerde and Baker have both honed their skills in the Yamaha Motor Finance Australian Superbike Championship presented by Motul Pirelli (ASBK).
Agius, (12 years old) of Camden, Ben Baker (12 years old), of Woongarra, and Van Eerde (15 old), of Singleton are all rising stars of the Australian Road Race Scene and are now making a name for themselves overseas. Showing the strength of Australian Road Racing, 11 young Aussies took part in the selection event. The trio of riders have been mentored by none other than Colin Stoner, the father of two time MotoGP World Champion, Casey Stoner.
Australians that took part in the Selection Process
Senna Agius 12
Benjamin Baker 12
Oliver Bayliss 13
Thomas Brown 12
Seth Crump 14
Ned Faulkhead 15
Jack Mahaffy 16
Jordan Simpson 14
Mitchell Simpson 17
Connor Spinks 15
Billy Van Eerde 15
Van Eerde recently took out the highly completive Hi-Tec Batteries Supersport 300 'Over' class in the ASBK and has also been nominated as a Red Bull MotoGP Rookie in 2018. Van Eerde is certainly one of the starts of the future to look out for after making a brilliant transition from Dirt Track to Road Race.
Baker has developed as a racer in the GP Juniors Cup, which has made its debut in the 2017 ASBK season. The GP Juniors Cup is a single-make class that exclusively consists of production Yamaha R15 motorcycles.
Agius has also come from a dirt track background and has shown tremendous ability and adaptability.
86 aspiring participants from many different countries took part in the event, with boys and girls aged 11 to 21 making the journey from Malaysia, Indonesia, Japan, Thailand, Turkey, China, Indonesia, Bangladesh, Iran, the Philippines, Qatar, Sri Lanka, New Zealand and Australia to take part – wanting to start their journey on the road to MotoGP.
The selection event began early as Cup Director Alberto Puig performed a welcome briefing for riders, and at 8 o'clock the engines switched on. The track was hot from the start, with sunny and humid conditions remaining until some early afternoon rain – a typical storm in Malaysia. Once the track was dry once again, action resumed to choose the riders ready to line up next year.
All the riders had two initial 10-minute sessions each to demonstrate why they should be selected, under the watchful eye of Puig and his team – including an appearance from MotoGP rider Jack Miller.
After these sessions, 21 riders were chosen to continue in the event, each given some more time on the track. All the candidates were riding Honda CBR 250R machines on the Sepang Go-Kart Circuit – making it a real taster of the Cup on the same bike they will compete on in 2018.
After a long day, the selection committee had a difficult decision, but were able to choose the final group selected to take part in the 2018 Idemitsu Asia Talent Cup. The Cup Director Puig then announced the 14 riders chosen to complete full time, as well as the five further riders put on a standby list of reserves for next year.
Cup Director Puig shared; "It was a long day, and as always it was difficult to make a decision," explains . "We tried to analyse everything as best we could, with a lot of data from laptimes and what we saw…there were a lot of people here today working on this project. We are happy with the decision. We think the final line up is correct. It's the first time we've used the new machine, and we're really satisfied. We were a bit worried that the bike was a bit big for this track, but we say that we saw how the riders were turning, how the bike was handling, and the laptimes were faster so we're very happy."
2018 Asia Talent Cup Selections
SENNA DONALD AGIUS AUS – 12 – 148cm – 42kg
BENJAMIN DANIEL BAKER AUS – 12 – 153cm – 45kg
BILL VAN EERDE AUS – 15 – 157cm – 45kg
MUHAMAD ANUAR IBRAHIM BIN PAWI – MAL – 16 – 173cm – 61kg
AFRIDZA SYACH MUNANDAR INA – 18 – 158cm – 52kg
MARIO SURYO AJI INA – 13 – 158cm – 53kg
MOHAMMAD ADENANTA PUTRA INA – 13 – 163cm – 40kg
MUHAMMAD AGUNG FACHRUL INA – 14 – 162cm – 52kg
MASTER NITIPONG SAENGSAWANG – 15 – 170cm – 52kg
TROY JACOB ALBERTO PHL – 16 – 170cm – 56kg
YOUSEF MOHAMMED AA ALDARWISH QAT – 12 – 147cm – 40kg
TOSHIKI SENDA JPN – 14 – 168cm – 54kg
NAOKI YAMADA JPN – 15 – 167cm – 49kg
SHO NISHIMURA JPN M 15 15-Nov-01 161 53
Reserve – DANIAL EL FAHIM BIN HARRIS EL HADI MAL – 14 – 153cm – 42kg
Reserve WARIT THONGNOPPAKUN THA – 18 – 174cm – 52kg
Reserve 61 JADEN ALEXANDER GUNAWARDENA LKA – 15 – 172cm – 56kg
Reserve 74 SHOTA KIUCHI JPN – 14 – 158cm – 50kg
Reserve 82 KAZUKI OHORI JPN – 17 – 153cm – 54kg
As always, stay up to date with all the latest news and updates from the ASBK by liking ASBK on Facebook, following the @asbk on Instagram and checking out the ASBK website here.
Images and Editorial courtesy of Asia Talent Cup