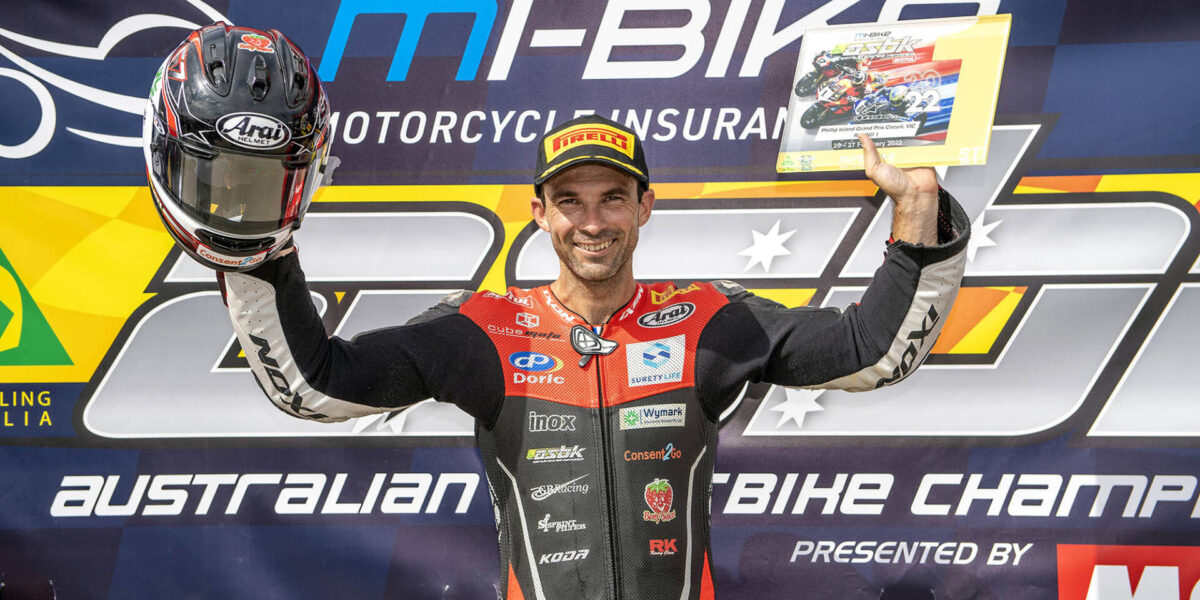 ASBK Race: Staring takes title lead in Season Opener
A fast and consistent Bryan Staring has taken Round One victory of the mi-bike Motorcycle Insurance Australian Superbike Championship presented by Motul (ASBK). 
In Alpinestars Superbikes Race One at Phillip Island, Wayne Maxwell (Ducati V4R) was the only rider in the 1:31's and was looking untouchable until a stumble on lap 5 saw last year's ASBK champion crash out at turn eight. Maxwell walked away unscathed, but the error left Bryan Staring (Ducati V4R) a clean road ahead with a four-second margin over the rest of the field. 
An emotional Staring was almost lost for words on the podium, saying that he'd been "pretty patient for a pretty long time" waiting for this victory. 
"We were chasing (Wayne) all weekend," said Staring.  
"I knew that we had good race pace, but I didn't know how good it needed to be though. Once we set out I could see the areas where we were strong and in the end, I kept the pressure on." 
Despite nursing a sore ankle from his excursion at Hayshed in Race One, Maxwell kept it neat and clean in race Two and was able to slowly edge a two-second gap to the fellow Ducati rider to take victory ahead of Staring and Cru Halliday (Yamaha YZF-R1). 
Maxwell commended his team on preparing the number two bike to give him the win. 
"It was good to get a bit back," said Maxwell. "I've got a few bruises so I'll go and get the body healed up." 
Senna Agius (Honda CBR RR) took Race One victory in Michelin Supersport ahead of Tom Bramich (Yamaha YZF-R6) and Jack Hyde (Yamaha YZF-R6). It was Senna's weekend, however with the international-bound youngster taking the double in Race Two ahead of Tom Edwards, with Bramich this time occupying the final step of the podium. 
In Dunlop Supersport, Harry Snell (Yamaha YZF-R3) took off where he left on Saturday by executing a perfect ride to take Race Two victory, one-tenth ahead of James Jacobs (Kawasaki Ninja) and Taiyo Aksu (Yamaha YZF-R3) rounding out the top three.  
In Race Three, it was Varis Fleming's turn to steal the win, two-tenths ahead Jacobs and a superb ride from Joseph Marinello (Kawasaki Ninja) to grab the final podium position after finishing just outside the top ten in race Two, 
In the Yamaha Finance R3 Cup, Varis Fleming (Yamaha YZF-R3) was able to better Harry Snell (Yamaha YZF-R3) by a mere one-hundredth of a second in Race Two, with Taiyo Aksu (Yamaha YZF-R3) recording a strong weekend to score another podium.  Race Three saw round winner Fleming take another victory ahead of Jai Russo (Yamaha YZF-R3) and Aksu once again.
Marcos Hamod took Saturday's fancied runners by surprise by seizing victory in Race Two of the bLU cRU Oceania Junior Cup ahead of Sam Drane and Teerin Fleming. Hamod took advantage of a race in two parts after a restart, while in Race Three, Harrison Watts took final honours ahead of Hamod and Fleming. 
In Superbike Masters, Scott Campbell (Honda RC30 750) got the better of Murray Clark (Suzuki GSXR 1183) to take the win in Race 3, with Scott Webster (Harris Suzuki 1200) rounding out the top three. 
Round one of the 2022 mi-bike Motorcycle Insurance Australian Superbike Championship, presented by Motul is proudly brought to you by Spokes.com.au

This event is proudly supported by Visit Victoria