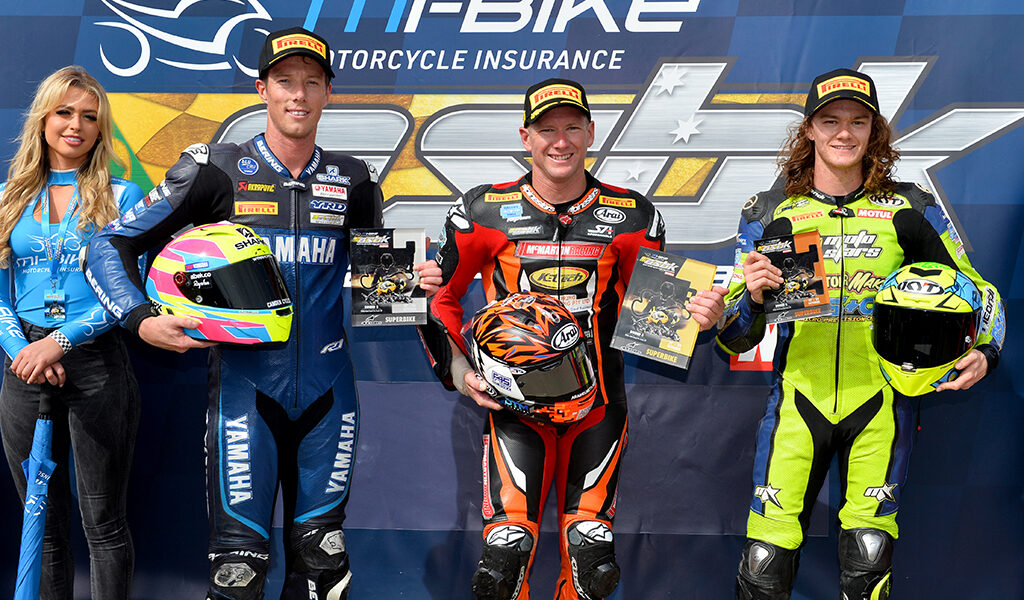 Waters and Herfoss deadlocked heading into ASBK grand final
It was a day of high drama and contrasting fortunes in the penultimate round of the 2023 mi-bike Motorcycle Insurance Australian Superbike Championship, presented by Motul (ASBK), at Phillip Island on Sunday, October 29.
here
.
The premier Alpinestars Superbike class again produced extreme doses of tension and excitement, with the victories shared by Yamaha Racing Team's Cru Halliday and Josh Waters (McMartin Racing with K-Tech Ducati V4R). Waters now shares the championship lead with Troy Herfoss (Penrite Honda CBR1000RR-R) heading into the round final at The Bend (SA) from December 1-3. Herfoss could only manage a 7-4 scorecard at Philip Island, while Waters' 2-1 results were a massive shot in the arm for his championship aspirations. Like Superbike, the Michelin Supersport class is another one that will go down to the wire at The Bend, with Cameron Dunker (GTR MotoStars Yamaha YZF-R6) and Olly Simpson (YZF-R6) galvanising for one final effort. With the Phillip Island weather turning it on, the remaining ASBK classes – Supersport 300, Yamaha Finance R3 Cup, bLU cRU Oceania Junior Cup and the booming historic bikes – Sureflight Superbike Masters – were able to put on a treat for the spectators and will all be 'live' rubbers at The Bend as well. A nerve-jangling final round awaits, and tickets can be purchased
Alpinestars Superbike
The two 12-lap races were tough for tipsters, especially the opener where Halliday snapped his six-year – or 2254-day – drought since his last victory after outlasting early leader Waters in a tight finish, while Max Stauffer (GTR MotoStars Yamaha YZF-R1) was jubilant after finishing on a Superbike podium for the first time.
It was a disappointing race for Herfoss after he ran off at turn one on lap four – recovering to finish seventh – while Jones' challenge – and his title defence – evaporated after he crashed out of the lead at turn four on lap 10. Jones' demise promoted Stauffer into third, where he had plenty to spare over Glenn Allerton (GT Racing BMW M 1000 RR), who was in close company with Bryan Staring (MotoGo Yamaha YZF-R1). Pole-sitter Broc Pearson (DesmoSport Ducati V4R) was sixth after a rough start, with Herfoss, Ted Collins (Livson Racing M 1000 RR), Anthony West (Addicted to Track YZF-R1) and Arthur Sissis (Unitech Racing YZF-R1) completing the top 10.
But this one was all about Halliday's return to the Superbike top step.
"Everyone is riding really well, but of course I'm delighted to get the win," said Halliday. "It was a bit of strange race, and the track has thrown us a bit of a curve ball at us by being so green. "It's really a matter of who can do what on an old tyre, slide it the most and bring it home." Waters, still clearly troubled by the broken right wrist he sustained at the Suzuka 8 Hours world endurance race in late July, gritted his teeth in race two and led the whole way despite dollops of late pressure from Halliday and Jones. However, the three-time Aussie Superbike champion kept the shutters down, as the three flashed over the finish line just over half a second apart.
The scene is now set for a barnstorming finale in South Australia.
"I'm rapt to come away with the win there because I honestly didn't think I'd win," said Waters. "The conditions were tough in race two with the wind and we've had no grip all weekend, but everyone has been in the same boat. "It's great for the championship that we're tied on points heading into the final round. I'll be going in hard there." Herfoss picked his way through to fourth in race two, with Stauffer fifth from Pearson, Staring, Allerton, West and Collins. Stauffer was third overall in round six, with Waters the victor on a countback over Halliday courtesy of a better finishing position in race two.
Michelin Supersport
Tom Toparis (Cube Racing YZF-R6) and Dunker were the two winners in the Michelin Supersport program, but the day ended early for the former in race two after a nasty highside at turn 12 resulted in a broken wrist.
The race was red-flagged and, with Toparis out of action and Simpson frying a clutch in the restart, Dunker took full advantage to claim the spoils ahead of Jonathan Nahlous (YZF-R6) and Jake Farnsworth (YF-R6), followed by Ty Lynch (AMR Motorsports YZF-R6), Dallas Skeer (YZF-R6) and Scott Nicholson (Traction Control Motorsport YZF-R6). Dunker's maximum-point result and Simpson's DNF saw him move into the championship lead on 196pts. Simpson (182pts), the former Red Bull Rookies rider, is still well and truly in touch, and takes extra comfort from knowing the final round will be held at his home circuit. Lynch (180pts) is also lurking, in what is shaping as a class last round battle of speed and temperament. Dunker was delighted with his round six heroics, especially his race two victory. He said: "The race turned out very well, although the track was a bit more slippery. "The championship has turned on its head with Olly (Simpson) not finishing the race, so I'm looking forward to the last round at The Bend." Earlier in the day, Toparis showed the field a clean pair of heels with a searing race one victory. Simpson tried his best to remain on Toparis' tail early on before running wide at turn four, which allowed Dunker into second – and that was the top three carved in stone for the balance of the race. Nahlous, Lynch and Farnsworth saw out the top six. "I was actually caught out by the start procedure, which is a little bit different to what I have been used to racing in the UK," said Toparis. "But I settled and then really pushed on the first flyer by doing a 1:35.2, which was close to where I needed to be. After that, I settled into a nice rhythm and was really happy with my performance."
Supersport 300 and Yamaha Finance R3 Cup
Another normal day of wonderfully entertaining rolling scrums at the sharp ends of the Yamaha Finance R3 Cup and Supersport 300 fields.
In the R3 Cup, Cameron Swain's lead has been cut to 4pts (231 to 227) after a topsy-turvy round, with Brodie Gawith second ahead of Henry Snell (226) and Brandon Demmery (221). There will be fireworks at The Bend! Snell (2-1-1) was the overall winner at Phillip Island.
In Supersport 300, Snell (two wins) and Gawith (one) shared the wins across the weekend, and this one will also be a cliff-hanger to the very end with Snell (261pts) just ahead of Swain (260), Marcos Hamod (259) and Demmery (241).
bLU cRU Oceania Junior Cup
In three doses of no-holds barred racing, there's a new leader in the bLU cRU Oceania Junior Cup with Archie Schmidt to take a 1pt (252 to 251) lead over Bodie Paige into The Bend.
Haydn Fordyce (2-4-1) claimed overall honours at Phillip Island, from Schmidt (5-1-5) and Valentino Knezovic (7-2-2).
Fordyce is third in the championship on 242pts, with Riley Nauta (220) still clinching to hope.
Sureflight Superbike Masters
The balance of the Sureflight Superbike Masters Cup races delivered some great contests, with Ryan Taylor (Suzuki GSX-R1100) at the top of the mountain with his 3-1-1 scorecard, ahead of Keo Watson (Yamaha FZR1000) and Murray Clark (GSX-R1100).
Watson has a seemingly impenetrable lead with one round remaining and also holds an iron grip on the Period 6 Formula 1300 class. The other class leaders are Scott Webster (Suzuki XR69, Period 5 F1), Brad Phelan (Suzuki Katana, Period 5 Unlimited) and Robert Young (Ducati 888, Period 6 F750).