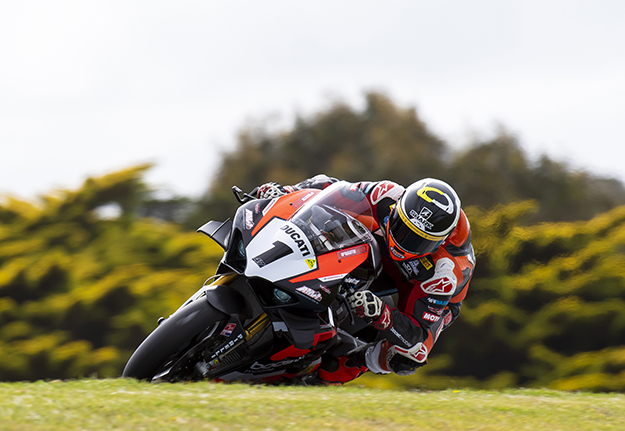 ASBK '22: Times topple on season opening day at Phillip Island
Friday practice for Round 1 of the mi-bike Motorcycle Insurance Australian Superbike Championship presented by Motul (ASBK) saw Wayne Maxwell (Ducati V4R) continue his scintillating testing form to dominate the Friday timesheets at Phillip Island.
Maxwell scorched around the Phillip Island circuit in Alpinestars Superbikes Free Practice 1 to record a stunning 1:31.379 – just 5-tenths shy of the outright World Superbike record.
Maxwell's nearest challenger was Cru Halliday (Yamaha YZF-R1), half a second away with a time of 1:31.958. Third overall for the day was Mike Jones (Yamaha YZF-R1) with a 1:32.286, who edged Bryan Staring (Ducati V4R) for a top-three spot.
Maxwell played down his dominant display, suggesting he was in the right place at the right time to capitalise on the conditions and traffic.
"I was probably pretty lucky this morning to find myself on the right part of the race-track," said Maxwell.
"I surprised myself, but it's all about how you manage the lap. Sometimes if you overtry the lap goes away, but the bike and I are in a good space at the moment".
Michelin Supersports 600 was a battle between Senna Agius (Honda CBR RR), Tom Bramich (Yamaha YZF-R6) and Tom Edwards (Yamaha YZF-R6). Edwards would eventually round out the day fastest with a 1:34.909 – 6-tenths up on Agius with a similar margin back to Bramich.
Free Practice 2 was the real form indicator for Dunlop Supersports 300, with Liam Waters (Yamaha YZF-R3) heading the field on a 1:48.475 to record the fastest time of the day. Waters was 3-tenths up on the best Cameron Dunker (Yamaha YZF) could serve up, while Varis Fleming was just 8-hundredths of a second away to round out the top three.
Henry Snell (Yamaha YZF-R3) was the class of the Yamaha Finance R3 Cup field, setting a time of 1:48.958 to better Brodie Gawith (Yamaha YZF-R3) to the tune of 4-tenths of a second. Again, Varis Fleming was just a few hundredths of the top-two with a time of 1:49.347.
With nine new riders in the bLU cRU Oceania Junior Cup series, the youngsters were keen to build on their pre-season testing experience at Phillip Island just a few weeks ago.
Bodie Page (Yamaha YZF-R15) once again led from the front, recording a fastest lap of 2:11.192 to run just under a second clear of Levi Russo (Yamaha YZF-R15), who was in-turn one-tenth up on Harrison Watts who completed the top three. It was a close affair, however, with just 6-tenths covering 2nd through to 10th – hinting that not just speed, but race-craft will be key to success over the weekend.
Historic motorcycling fans welcomed the return of the Superbike Masters class, with Scott Campbell (Honda RC30 750) heading every session to round out the day with a quickest time of 1:43.320. John Allen (Yamaha OW31 750) was 4-tenths away from Campbell with a (1:44.124) – 2-tenths up on Murray Clark (Suzuki GSXR 1183) with a 1:44.397 to finish third outright for the day.
All the action from the mi-bike Motorcycle Insurance Australian Superbike Championship presented by Motul (ASBK) continues with qualifying tomorrow from Phillip Island. Follow official live timing from Computime at https://www.computime.com.au/
Round one of the 2022 mi-bike Motorcycle Insurance Australian Superbike Championship, presented by Motul is proudly brought to you by Spokes.com.au

This event is proudly supported by Visit Victoria