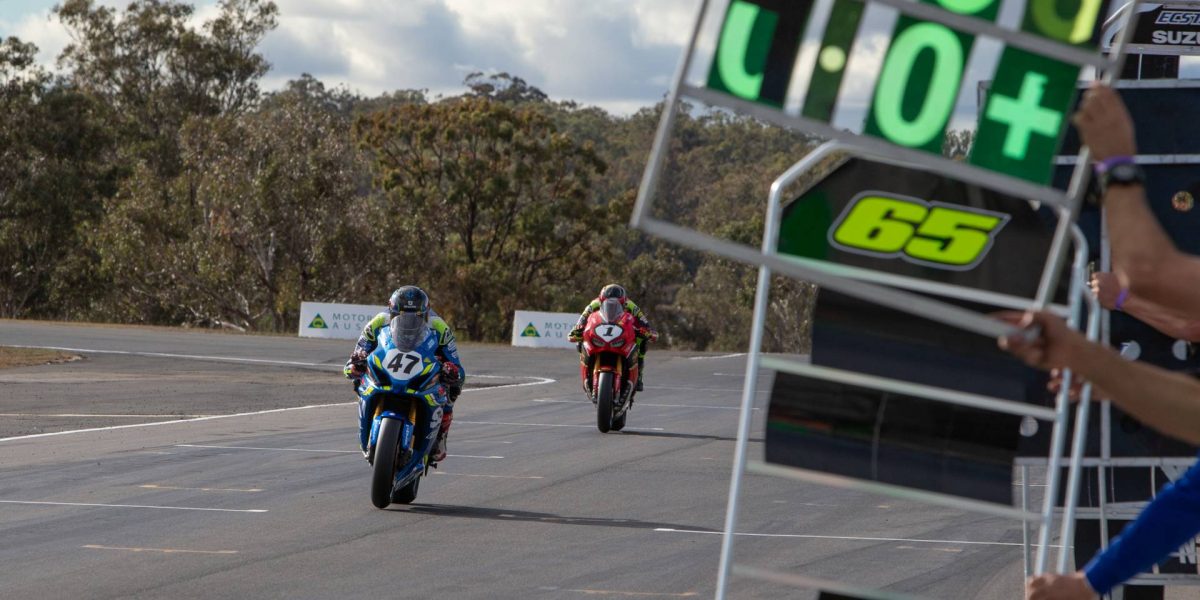 Maxwell Takes Kawasaki Superbike Round Win At Morgan Park, Jones Takes Championship Lead
Wayne Maxwell (Team Suzuki ECSTAR Australia, Suzuki GSX R) has taken Race 2 of Round 4 of the 2019 Motul Pirelli Australian Superbike Championship, in an intense battle with second-placed rival Troy Herfoss (Penrite Honda Racing, Honda CBR 1000 SP). Race 1 winner Mike Jones (Desmosport Ducati, Ducati Panagale FE) staged an outstanding comeback to recover to third after dropping back to 14th, enough to help him leapfrog Cru Halliday (Yamaha Racing Team, Yamaha YZF R1) and Bryan Staring (Kawasaki BCperformance, Kawasaki ZX10RR) to the championship lead.
Race 1
Polesitter Jones got the jump off the line to lead them into Turn 1, with Herfoss slotting himself into second spot, and Maxwell finding himself bundled back to fifth. Turn 8 saw Herfoss blast past Jones to take the lead early and briefly lead the race, before the Ducati displayed its grunt to retake the lead as the field began lap two.
Daniel Falzon (Yamaha Racing Team, Yamaha YZF R1) was starting to apply some pressure to teammate Halliday as the field settled into a rhythm, but lost the front end on the way through Turn 6 and crashed out of the race. At the head of the field, Jones and Herfoss were followed by Halliday, Maxwell, Staring and Josh Waters (Team Suzuki ECSTAR Australia, Suzuki GSX R).
Maxwell was pestering Halliday for third position, and got the move done down the front straight on lap seven to claim third, taking Herfoss for second soon after with Halliday following through to send Herfoss back to third. By half distance, Jones was more than a second up on Maxwell, Halliday, Herfoss, and Staring, with Waters now beginning to lose touch with the lead group. As has been the trend throughout the 2019 season, Staring was beginning to pick up the pace towards the second half of the race and was now looking for a way past Herfoss.
Staring made the move out of Turn 12 on lap 11, up into fifth position. Jones was still at the head of the field, but the gap over the pursuing trio of Maxwell, Halliday and Staring was closing up as they upped the pace over the closing three laps. With two to go, Staring was pushing to overtake Halliday for the final podium spot when he lost the front end into Turn 4, with the Kawasaki rider resuming to finish 12th. Jones crossed the line 2.1 seconds ahead of Maxwell, who managed to hold off a hard-charging Halliday in third ahead of Herfoss and Waters. Maxima BMW's injury replacement Aaron Morris (BMW S1000R) rode like a series regular to finish sixth.
To view Race 1 results, please click here.
Race 2
Jones once again had the holeshot for Race 2 but this time it was Daniel Falzon (Yamaha Racing Team, Yamaha YZF R1). who was in hot pursuit. But before Jones could get comfortable in the lead, he ran wide in the grass at Turn 6, and his dreams of a clean sweep at his home race were in tatters. Herfoss worked up to the lead before Maxwell decided that me might like to lead for a while, passing Herfoss at Turn 5. After 2 laps it was Maxwell, Herfoss, Falzon, Halliday, and Josh Waters (Team Suzuki ECSTAR Australia, Suzuki GSX R) the top five, with Staring a tenth further back.
Lap five and Aaron Morris' (Maxima BMW, BMW S1000RR) race was over at Turn 2, picking his bike out of the grass. At the front, Maxwell and Herfoss were at the head of the field, having stretched out almost a second's worth of lead from Halliday. Jones had resumed 14th, and in a stunning ride made his way up to seventh.
Halfway through and Jones was pestering Staring for fifth position, on his way back up the field after his disastrous opening lap. Staring and Jones passed Waters on lap 11 to promote themselves up the leaderboard and send Waters back to sixth.
With four laps to go a queue was forming behind Halliday in third, with Staring and Jones looking to make their way past. Whilst Staring would make it by Halliday down the main straight, it would be Jones making it past them both, completing his epic comeback performance to claim third and salvage a spot on the podium.
Wayne Maxwell took the chequered flag ahead of Troy Herfoss, Jones, Staring, Halliday and Waters.
"Amazing, what can I say?" said Maxwell on the podium "Team Suzuki ECSTAR Australia, hats off to them, ever since the start of the year when I joined the team they've made me feel welcome. It's a team effort, and I can't thank them enough.
"My old mate Troy (Herfoss), I was thinking 'He's not going to let up!', so I stopped looking at my lap board and started looking at his, and then just tried to control the race from there.
"Great reward for the team, and looking forward to the next three races on the calendar."
To view amended Race 2 results, please click here.
The 2019 Motul Pirelli Australian Superbike Championship (ASBK) continues with Round 5 at Winton Motor Raceway from 6-8 September. For updates, information, and to purchase tickets, visit ASBK.com.au.

For more from the ASBK, follow us on Facebook and Instagram.