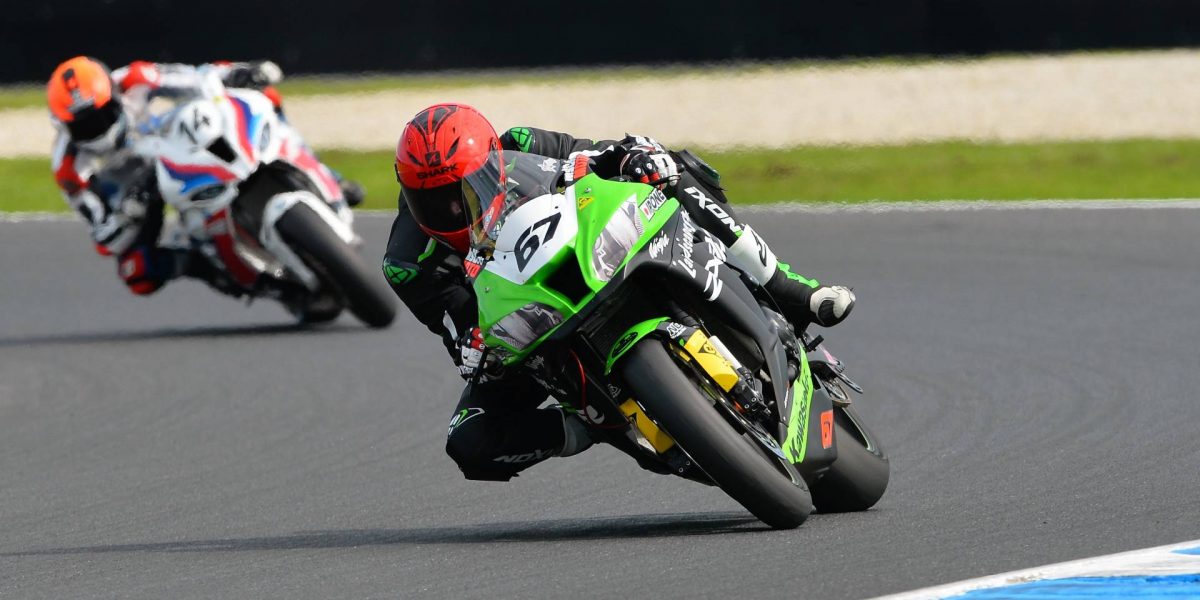 ASBK Champion Bryan Staring Hopeful Of Another Title Win
Former ASBK Champion Bryan Staring is salivating at getting back on his green machine Kawasaki BCPerformance Superbike this weekend in the hope to again be crowned Motorcycling Australia's 2020 ASBK Superbike Champion.
The West Australian currently sits in 4th place in the Kawasaki Superbike class of the mi-bike Motorcycle Insurance Australian Superbike Championship, presented by Motul, and is confident heading into this weekend's Grand Finale at Wakefield Park Raceway.
At round 1 at Phillip Island Grand Prix Circuit this year Staring battled with the leaders in all three races scoring two 4th places and a 6th and will be in the Championship title battle this weekend.
Staring is no stranger to high intensity racing winning the 2010 ASBK Championship and being a former competitor at World Superstock, WSBK and MotoGP, and believes this weekend could throw a few surprises up for both fans watching ASBK TV Live Stream, and through TV partners SBS, Fox Sports Australia, Fox Sports Asia, and competitors.
"I feel like there is a lot of anticipation about this weekend," Staring said.
"Obviously, the goal is always to win the Championship, that is the dream goal and objective. You can only expect to put your best performance in each time and where that puts us on the circuit we will see.
"I would anticipate there is going to be some mixed results and crazy racing from riders that haven't been riding or competing as often as normal. Add to this the heightened pressure of what is a now shortened Championship and anything could happen."
Staring firmly has his eyes on not only jumping up the Championship ladder but winning another ASBK Championship title to his trophy cabinet.
"The result is not something I can predict, however, the objective is definitely to win some races and move forward in our championship.
"I'll just wait and see how we are looking on Friday before we can consider how we are going to fair.
"I've got a great bike and Dunlop tyres under me and I have every reason to be confident. I am certainly looking forward to getting back to racing again. Just to get the normality of life back in check and in tune.
"Kawasaki BCPerformance team is certainly a place I feel at home and appreciated, and I can do my best work here. The package they have for us with the Dunlop tyre is a good one, and everyone puts their best foot forward."
While Staring has had mixed results and top ten finishes at Wakefield in past season's he wants to make Wakefield a track he and his Kawasaki dominate.
"We did a test earlier in the season pre-COVID and it was the most positive outcome we've had at Wakefield Park.
"Previous results we haven't achieved what we've set out to do at that circuit, but I won't let that affect me mentally or the target and objective for this weekend.
"I'm certainly looking forward to turn our fortunes around at Wakefield Park and we want to make it one of our circuits.
"I feel like everyone in the team is super motivated with a never give up attitude and that is what I enjoy, I couldn't be happier."
With fans no able to attend the Grand Finale this weekend due to Government COVID-19 regulations Staring said the feeling at the track would be considerably different.
"it is disappointing fans can't be there, but keep supporting us and thank you for your support. We will be doing our best to make sure we get the results on Saturday and Sunday."
Each of the five Championships at the Grand Finale – Oceania Junior Cup, YMF R3 Cup, YMI Supersport 300, Motorsports TV Supersport and Kawasaki Superbike class – will be decided at the Grand Finale.
Race fans can catch all the drama and action from the 2020 ASBK Grand Finale at Wakefield Park Raceway, December 3-6, live via ASBK live streaming, and through ASBK TV partners SBSHD, Fox Sports Australia and Fox Sports Asia on both Saturday and Sunday.
Keep up to date with the latest news on the mi-bike Motorcycle Insurance Australian Superbike Championship, presented by Motul, via www.asbk.com.au and following ASBK on Facebookand Instagram.


Pictures by Russell Colvin and Andrew Gosling