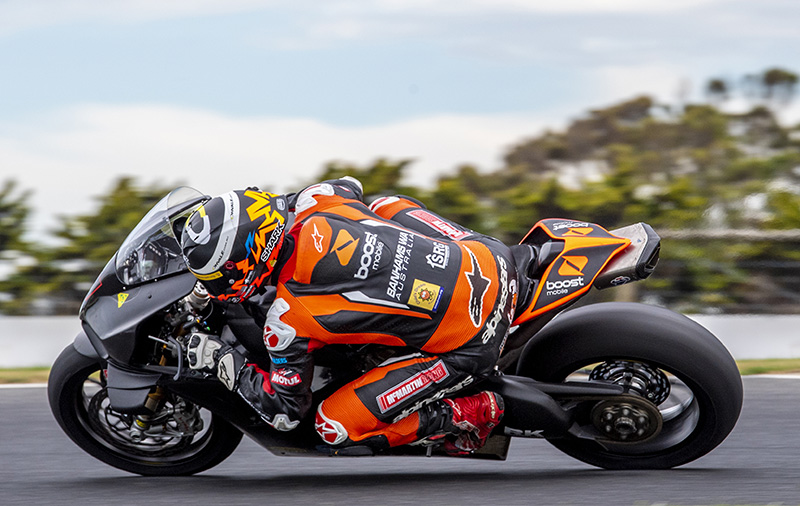 Official ASBK Test '22: Maxwell sounds ominous Superbike warning, Edwards sets the pace for Supersport
Day Two of the Official mi-bike Motorcycle Insurance Australian Superbike Championship presented by Motul (ASBK) Test began in dry but humid conditions at Phillip Island. In what turned out to be a reverse of Day 1, torrential rain marred the afternoon, eliminating the prospect of any serious times being set late in the day.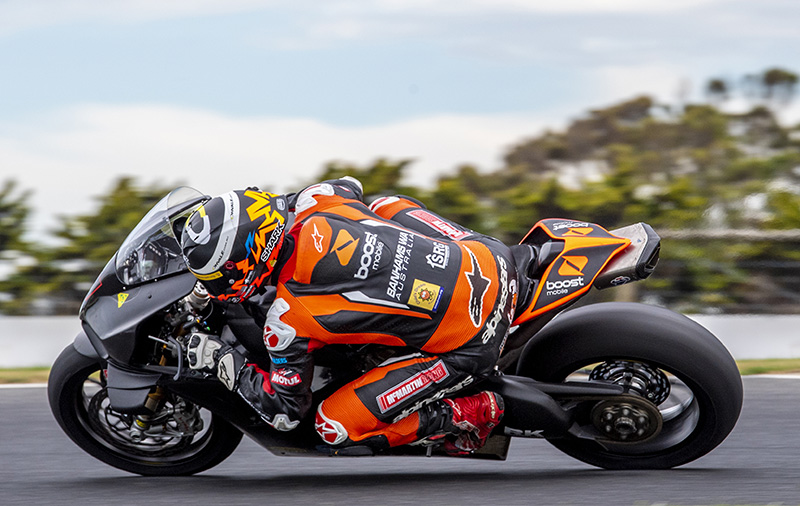 Yesterday's front-runner Wayne Maxwell (Ducati V4R) scorched the Phillip Island circuit with a 1:31.848 to head Alpinestars Superbike Practice 5. Last year's ASBK champion was over a second ahead of Lachlan Epis (BMW MRR), who in-turn enjoyed a one-tenth margin over Cru Halliday (Yamaha YZF-R1). From there it appeared Maxwell had nothing more to prove, preferring to leave his opposition wondering as he sat out the rest of the day.  
Maxwell was cautiously optimistic about his performance, preferring not to read too much into the test. 
"A lot of people are running different programs and a lot of people have changed teams, so they're trying to find their way on a new bike," said Maxwell. 
"For us we've got a bit more continuity than most. Pirelli have worked really hard to bring us some updated tyres, so it's really worked out and great to be where we are headed into the 2022 season." 
In Maxwell's absence, Halliday topped the timesheets in Practice 6 with a 1:32.232 to go second overall for the day. Lachlan Epis was six-tenths in arrears, with Marcus Chiodo (Yamaha YZF-R1) a further two-tenths behind in third. 
Amid increasingly wet conditions, only four riders ventured out for Practice 7. Jed Metcher (Yamaha YZF-R1) led the way with a 1:50.178 with Mike Jones only other rider to set a time with a 2:07.063. 
Oli Bayliss topped Michelin Supersport Practice five on his Ducati 955, whilst in the Supersport field, Senna Agius (Honda CBR-RR) led Tom Edwards (Yamaha YZF-R6) and Harrison Voight (Yamaha YZF-R6), who were separated by just over a second.  
Bayliss lead the field again in Practice 6, with Tom Edwards heading the Supersport field with a 1:35.012 to go second overall for the day ahead of Agius. 
It's worth noting that Oli Bayliss and Senna Agius will be racing overseas in 2022, making Tom Edwards the top Dunlop Supersport competitor at the test. 
Harrison Voight (KTM RC 250) and Carter Thompson (Honda NSF 250) headed the combined Supersport 300/R3 Cup session in Moto3 machinery. Leading the SS300 field was Brandon Demmery and Archie McDonald – both on Yamaha YZF-R3's.  
Voight again topped Practice 6, with a 1:42.725. Heading the SS300 field in fifth overall was Cameron Swain with a 1:49.491, followed by Archie McDonald (1:49.897) and Brodie Gawith (1:49.943) on his Yamaha YZF-R3 to complete the top three in SS300. 
The bLU cRU Oceania Junior Cup riders were keen to put into practice series coach Garry McCoy's words of wisdom and set about running old rubber to get to grips with tyre wear simulations. With Practice 5 cut short, Ryan Larkin topped the order with a 2:13.540 – half a second ahead of Levi Russo, who was four-tenths ahead of Teerin Fleming.  
Practice 6 saw a slight mix-up of the order with Jodie Paige leading the way with a 2:12.961 to top the day overall, just over half a second ahead of Larkin and Harrison Watts a further tenth away to round out the top three.  
Practice 7 was run in the dampest conditions of the day, but riders braved the wet, with Sam Drane leading the way with a 2:21.763 – one-tenth ahead of Bodie Paige and Levi Russo, who was a further second behind. 
The full combined sessions from today's test can be viewed at:   
https://www.computime.com.au/Meetings/index?MeetID=2022/ASBK22_TEST/  
Official ASBK Test YouTube playlist:

The test results will also be available via www.asbk.com.au