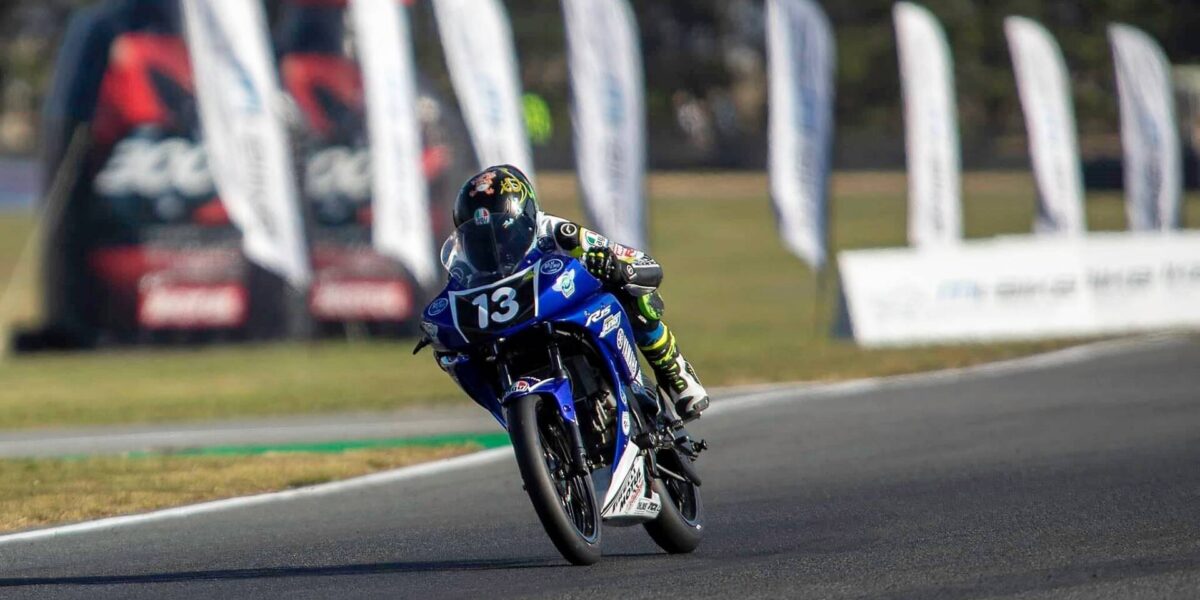 The Bulli 'Hammer' Has A Bright Future
One of his first words spoken as a baby was Yamaha, so it is no surprise to some to see young Marcus Hamod now competing in the bLU cRU Oceania Junior Cup, yet he had never competitively raced before this year and is already impressing in the mi-bike Motorcycle Insurance Australian Superbike Championship, presented by Motul.
Nicknamed 'The Hammer', the 13-year-old from Bulli, on the NSW South Coast, was naming bike and car brands before he could string a sentence together as a baby and began his love affair with bikes on a Yamaha PW50.
"My Dad owned a Yamaha R1 and I remember I always loved to sit on it and act like I was on a racetrack," said Hamod.
"My Dad had some really good friends who had a PW50, and it all started on a 50-acre farm, I was about five-years-old, and it was a lot of fun and a really good time with a lot of friends.
"When I was younger my Dad opened a new motorbike shop and I would go in every Saturday, and it was fun to watch the bikes being sold and he would take me upstairs and I would put clothes in the shelves."
A trip to a go kart track at Kembla Grange with his Father is where Hamod's attention then turned to road racing.
"When I was 11 my dad took me to a go kart track on a 140cc and put motard slicks on it and I would ride with Jacob Hatch (ASBK Supersport 300 and R3 Cup) and Jacob Roulstone (European Talent Cup)," he said.
"They would teach me lines and the techniques on how to ride.
"Later on, Dad got me a Yamaha R15 and a sticker kit which I helped design, and when I got my Motorcycling Australia licence, I got to go to Wakefield Park Raceway.
"I got accepted into OJC this year and it was a really good opportunity for me to improve my riding technique."
Hamod admits his first round at Winton Motor Raceway earlier this year was "a bit scary as I hadn't actually been in a racing environment before, I'd never raced".
"I had mixed feelings, I was really excited and couldn't wait for it, but was also a bit nervous as it was my first time there."
Hamod's first racing outing was very impressive, scoring an 11th place and two 10th places in the three races at Winton, shaving nearly eight seconds off his times over the weekend.
"I was actually feeling really happy and so stoked from my results and how I did in my first weekend of racing, and my parents were really happy for me," he said.
His next outing was at a special two-day Oceania Junior Cup Training Camp run by former MotoGP rider Damian Cudlin at the home of OJC Winton Motor Raceway.
"I learnt so much from other people and Damian Cudlin teaching us at the coaching program was a real help for me.
"It was really fun and taught me a lot and really helped me with bike technique, cornering and the track as well."
At Wakefield Park Raceway for the second round, Hamod wanted to finish inside the top 15, and he delivered in race one finishing in 12th place and in race two a sensational 5th placing, while in race three he crashed out.
"It was my second round, I was so stoked with that result and had Mum and Dad on the sidelines. I was really happy as that was my first result inside the top 10.
"I was a bit frustrated with the crash, but have taken onboard what I should have done, but overall, I managed to get a good result in race one and two."
Hamod now sits 11th overall in the Championship and is only three points away from breaking into the top 10.
"My end of season goal is to finish inside the top 10 if I can.
"I'm really keen for the next round and to get back on track and have that race feeling again."
Hamod can't speak highly enough of the Oceania Junior Cup and its specialised training program.
"It's given me the best training and track time that I could ever dream of.
"Being surrounded by the awesome OJC crew that I get along with is really a good experience and I'm able to hang around friends who have the same passion as I do.
"I look up to ASBK 300 riders Jacob Hatch and Benny Baker and am inspired by Wayne Maxwell and how he won the Superbike Championship last year.
"The best part of ASBK is watching all the older riders on track and that one day that could be me racing as well. They are all down to earth and always have time to say hello."
One circuit Hamod is looking forward to racing at for the first time is Phillip Island Grand Prix Circuit.
"I've seen a lot of races on TV at Philip Island and have mapped out the track and chosen my lines."
Despite this being his first year in the sport, Hamod has clear goals about his future and where he wants to be.
"In 5 or 10-years' time I want to be overseas racing, that's my personal goal.
"I like the MotoGP route of going to the Asia Talent Cup and European Talent Cup but am happy with whatever route and just want to get overseas.
"Mum and Dad, obviously really support me and want me to achieve racing overseas and it feels really nice to have parents that are really caring of me to support my passion."
While COVID-19 lockdowns have put a stop to his racing for now, he is determined to be as fit and healthy when racing returns.
"During COVID I've actually taken on mountain bike riding to keep fit, and I also love running as well and have an awesome running track near my house, so I spend a fair bit of time on it."
Hamod's school mates at Holy Spirit College are also big supporters of his.
"I am fortunate to be able to do this, not many kids around my area ride motorcycles so everyone in my grade is always asking me is it scary, when you fall does it hurt, and they love to hear about it as well. I'm fortunate to have friends like that."
Away from racing, Hamod has developed a love for architecture.
"My passion from a young age has always been motorcycles and architecture.
"As a kid I loved building and drawing, and always took on board stuff like the show Grand Designs, it would make me happy and excited to see all the buildings go up.
"I actually designed a little bit of my R15 with a sticker kit, and I love to draw motorcycles and houses."
Looking to next year, Hamod will continue to hone his race skills in the bLU cRU Oceania Junior Cup but will also step up into the highly competitive Yamaha Finance R3 Cup in the mi-bike Motorcycle Insurance Australian Superbike Championship presented by Motul.
ASBK CHAMPIONSHIP CALENDAR
Round 7 & 8 – The Bend Motorsport Park, SA November 11 – 14 (Double Header Round)
Round 9 – Phillip Island Grand Prix Circuit, VIC December 3 – 5
Photos by ASBK/Optikal and Andrew Gosling
Media Contact:
Adam Olive
Media Manager
Motorcycling Australia
PH: 0438 297 514
mediapr@ma.org.au
www.ma.org.au