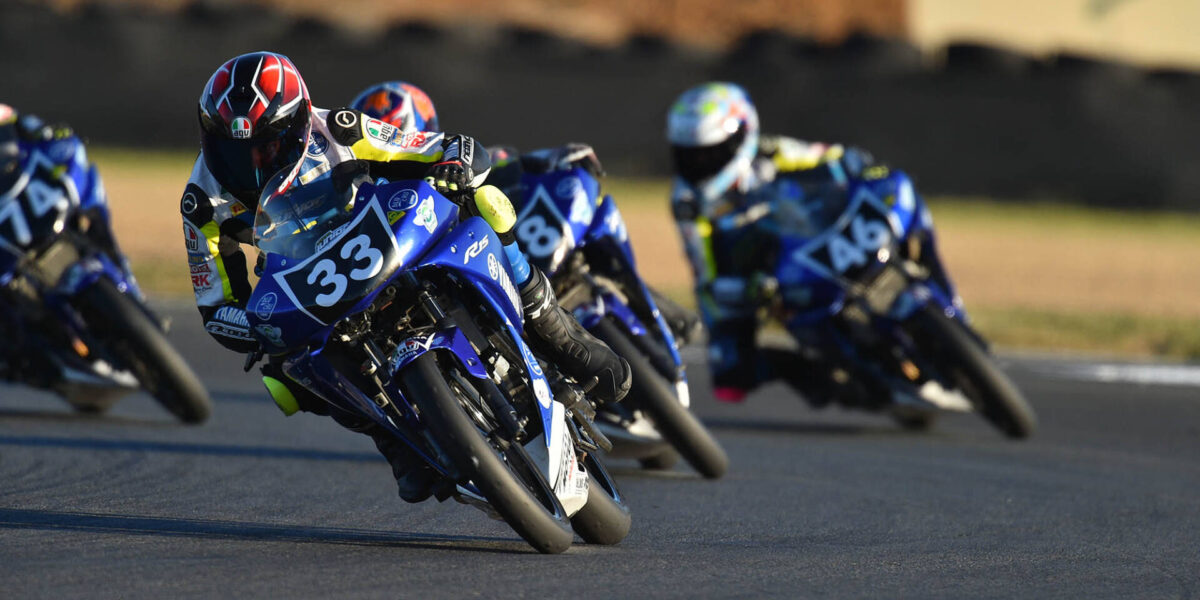 Favelle's Transition From Trials To ASBK – A Dream Come True
For former trials rider, Jack Favelle, the dream was always to race road bikes, and in his first year on a race bike, he has impressed in the mi-bike Motorcycle Insurance Australian Superbike Championship, presented by Motul, bLU cRU Oceania Junior Cup.
The 15-year-old from Cattai, NSW, began his love affair with bikes at the age of four, when his parents purchased him an OSET, an electric trials bike.
Favelle competed in trials competitions and finished second in the nationals at an early age, but it was road racing where he wanted to be.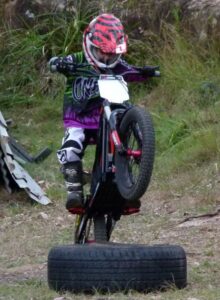 "Dad and I knew Peter Goddard (MA President) from OSET and I'd always wanted to go out on a road bike as it seemed like such a cool idea," Favell said.
"Last year we asked him if we could go out and do a track day and he suggested we join OJC. Once we had that chat with Peter I got into motocross and in December I got an R15.
"I'd never ridden a road bike and trained for a couple of months at a local go kart track as they were nice enough to let me train there on my own."
Fast forward three months and Favelle was lining up in the mi-bike Motorcycle Insurance Australian Superbike Championship, presented by Motul, at Winton Motor Raceway for the first race of the season in the bLU cRU Oceania Junior Cup.
"It was super exciting, I had never been on a track that big before," said Favelle.
"It was overwhelming, but I was so excited and nervous as well.
"It was funny as soon as I got out on track I didn't feel the nerves."
Favelle's expectations for his first bLU cRU Oceania Junior Cup race weekend was to learn as much as possible.
"I felt pretty comfortable racing close to people, I was getting into some good battles, and I didn't expect that to happen."
Favelle's performance for a first-time racer who had never been on a racetrack was impressive.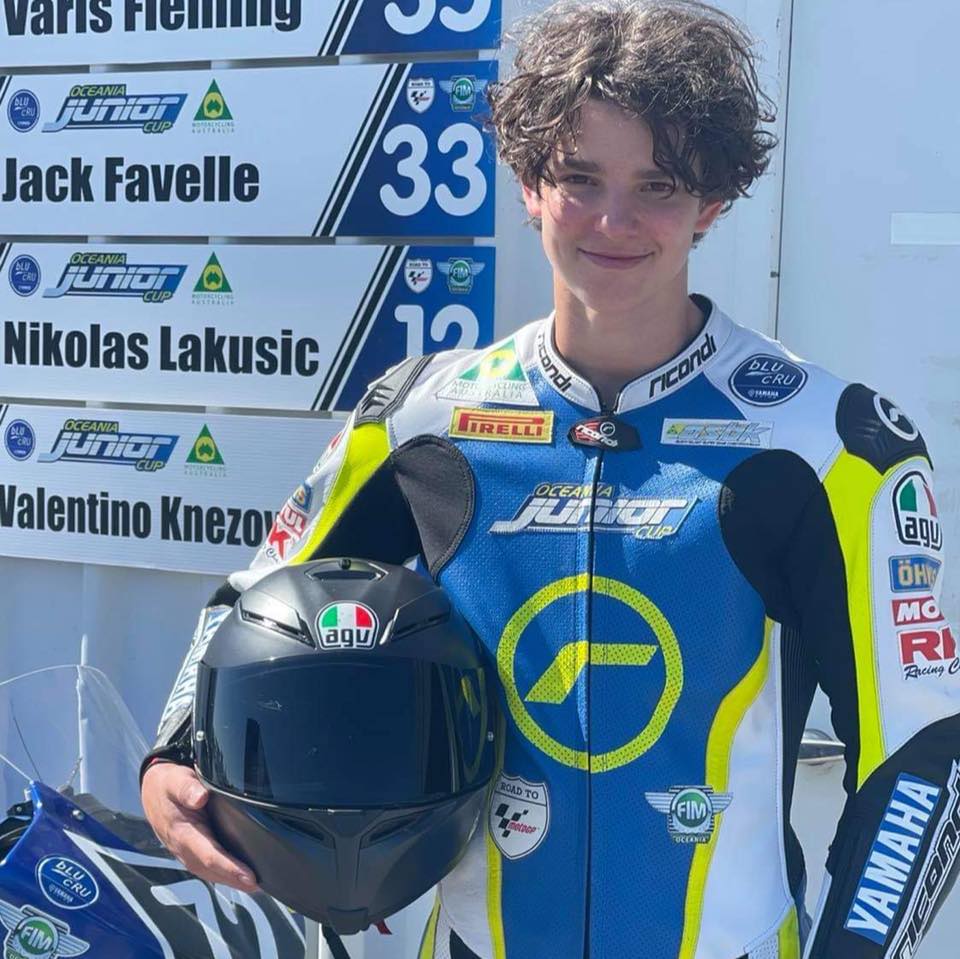 From his first flying lap in Friday's practice to his fastest lap in Sunday's race three, Favelled managed to shave nearly 23 seconds from his lap times.
In his first official race he would finish a super impressive 10th place and the weekend with a 14th and 13th placings, an extraordinary result considering 4-months earlier he had never ridden a road bike, let alone raced in the highly competitive Oceania Junior Cup.
"When I crossed the line (in 10th) I was so happy it was very exciting. It was kind of surreal, it didn't really sink in.
"Dad was super happy, and I think I was still in shock.
"I was ecstatic at the end of the weekend and couldn't wait to get out again.
"Being out there with everyone made me realise I really wanted to race.
"I expected to be at the back of the pack but being mid pack was really good."
Following his first race weekend, the Oceania Junior Cup riders participated in a two-day training camp at Winton, run by former MotoGP rider and MotoStars Coach Damian Cudlin.
"Damo is a great coach. I improved my lap times another two seconds which was great and learnt more about fitness and just how keen everyone is."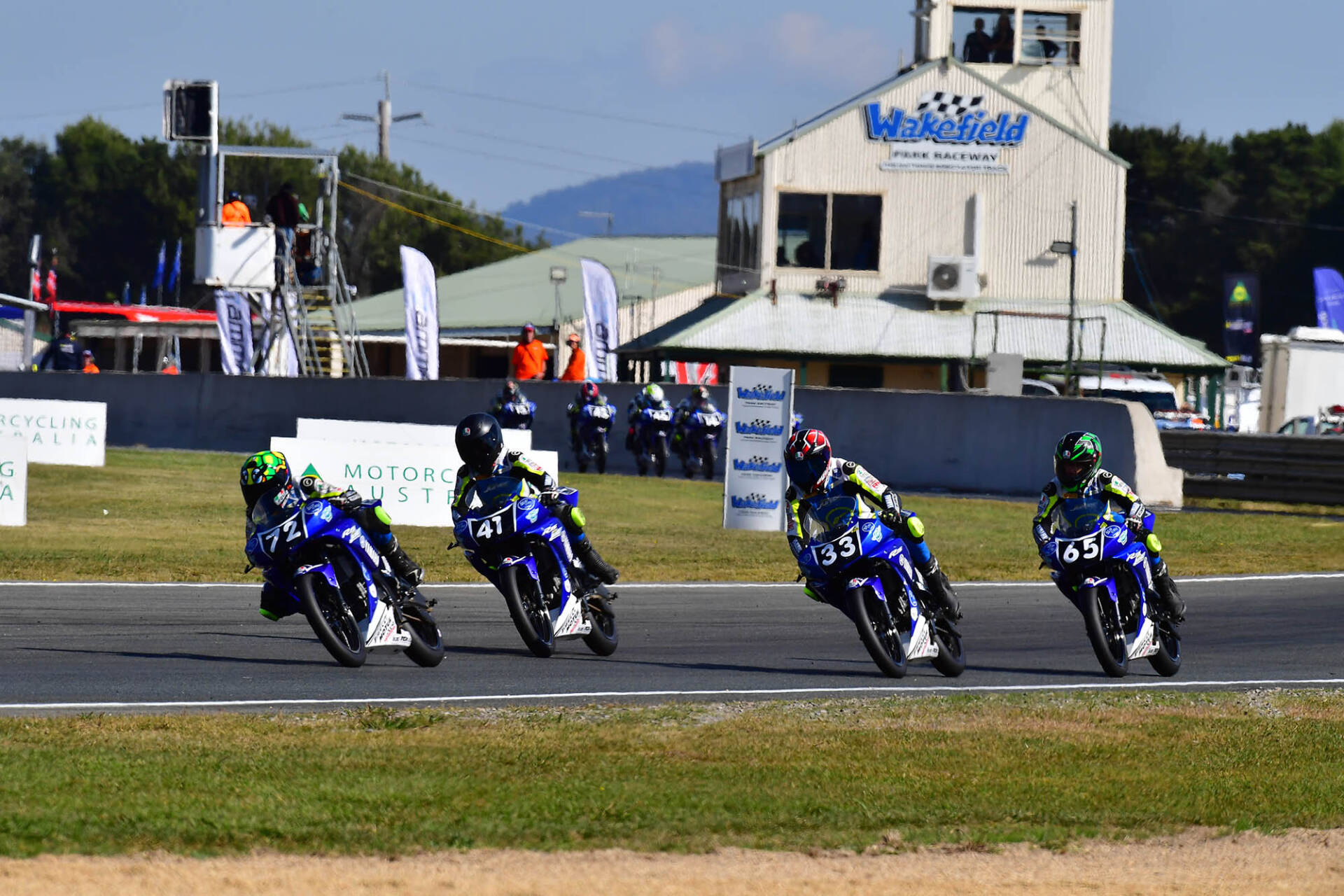 Favelle is quite tall for the Oceania Junior Cup Yamaha R15 admitting his "arms stick out past my knees", but liked the Wakefield Park Raceway round as he felt the track was more suited to him.
At Wakefield, Favelle scored a 6th place in race 1, was tangled up in a four-rider crash in race 2, and secured a 7th in race 3.
"Race 3 was interesting, I was going forwards and backwards battling with Hudson and then at the finish line two of them got past me and I wasn't happy about that," he said laughing.
"I wasn't expecting (a top ten finish), but being amongst the boys it pushes you more.
"I like how close the racing is in OJC, every lap you are always fighting because it's a six-lap race, it's kind of full on as well. You can't wait to the end to make a move.
"I love the spirit of ASBK, how everyone is there, there is a vibe to it.
"You have fun, but it is also competitive, and everyone has the same passion."
While there has been no racing since the COVID-19 lockdowns, Favelle has kept himself busy building his own mountain bike tracks with a bobcat and staying fit.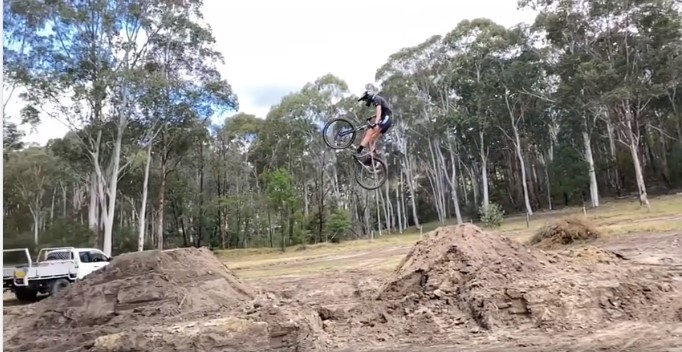 "I've always ridden pushbikes, trials pushbikes and mountain bikes, and I've got friends that do it and I started building jumps this year in lockdown.
"I did it myself, got an excavator in and then did the rest myself on a bobcat.
"I stay fit doing trampolining gym calls three times a week and have a motocross track at home and ride every day or every second day of the week."
Favelle is looking forward to competing at Phillip Island Grand Prix Circuit later in the year, a track he has never ridden on, but has been to where he was part of an OSET demonstration trackside.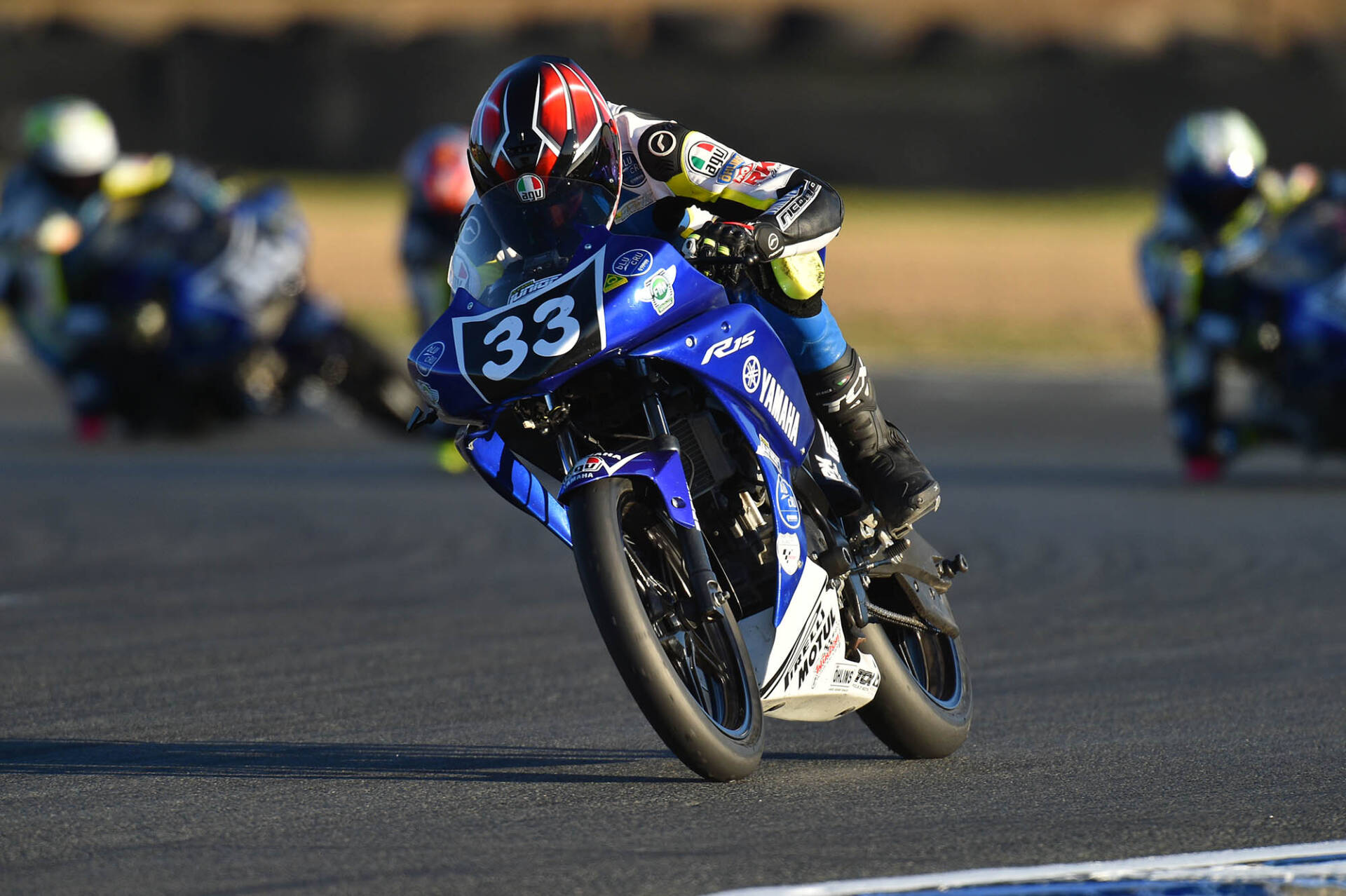 "It's absolutely massive, and insanely big. I'm very big and I don't know how well the slipstream is going to work for me there," he said laughing.
"But it will be amazing to be there and being in that environment and to watch the Australian superbikes go around, that will be very cool."
Favelle is already planning his future in the ASBK, having purchased a Yamaha R3.
"Next year I will race in the Yamaha Finance R3 Cup and maybe spend a year or two in R3 and then hopefully move up into Supersport."
Favelle dreams of competing in MotoGP which he says is his "ultimate goal" and is also keen to compete overseas.
"Maybe in four or five years once I prove myself here in Australia, but for now we are building an R3 to hopefully race next year and might have a team together with Marcus Hamod."
For now, Favelle will continue working on his fitness to ensure he is in peak physical condition when ASBK returns to racing.
Keep up to date with the latest news on the mi-bike Motorcycle Insurance Australian Superbike Championship, presented by Motul via www.asbk.com.au and following ASBK on Facebook and Instagram. You can also join our ASBK mailing list at www.asbk.com.au
ASBK CHAMPIONSHIP CALENDAR
Round 7 & 8 – The Bend Motorsport Park, SA November 11 – 14
Round 9 – Phillip Island Grand Prix Circuit, VIC December 3 – 5
Pictures by ASBK/Optikal and Jack Favelle