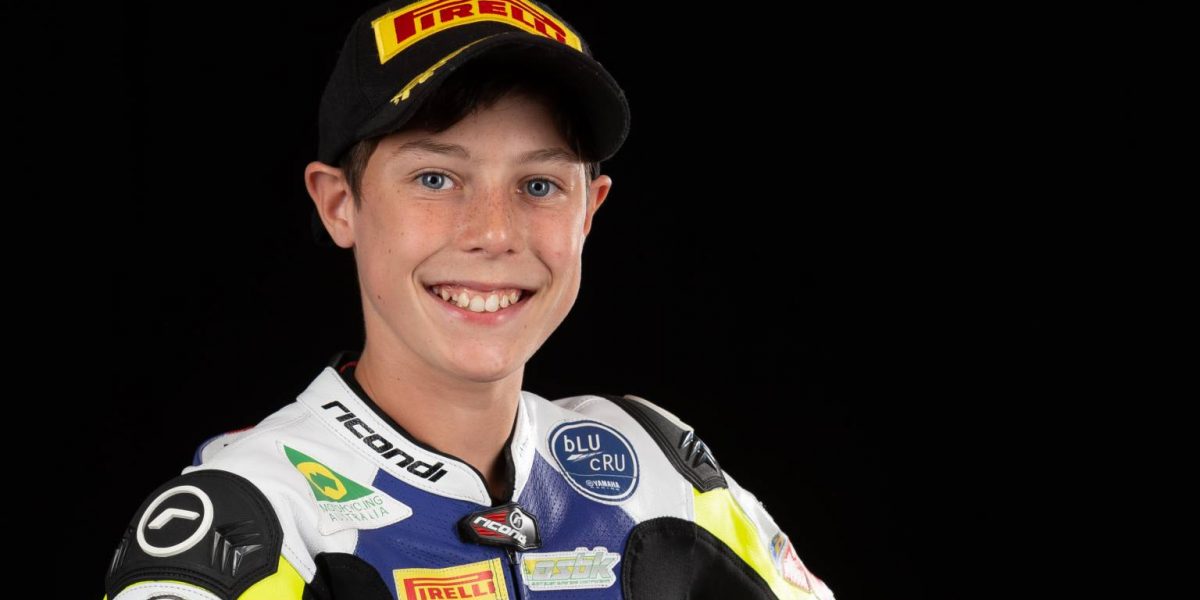 bLU cRU Oceania Junior Cup Profile: Jamie Port
BLU CRU OCEANIA JUNIOR CUP PROFILE: JAMIE PORT
6 September 2019
This weekend's bLU cRU Oceania Junior Cup rider is Jamie Port, who hails from Melbourne, Victoria. The 13-year-old is relatively new to motorcycle racing but is making his mark in the early stages of his racing career, claiming a state and club title on the Yamaha R15 in 2018. But he's still grounded and fully aware of the level of talent he is competing against in the bLU cRU Oceania Junior Cup and how much he can learn from his new mates.

We sat down with the Jamie and this is what he had to say.
Tell us about where your love for motorcycle racing began and why?
It began with my dad. He used to race, was a motorcycle journalist, worked at MotoGP and was a race coach. He introduced me to riding bikes, but said I had to do it on my own terms.
My riding really began when I got my first bike, a Yamaha TT110 when I was ten and a half. I started riding around the paddock and a few ride parks before stepping up to a KTM 85.
We never really raced off-road, but I did give dirt track a go a few times at club level. It was great fun and I loved learning how to slide the bike.
Tell us about the first time you hopped on a motorcycle.
First time I jumped on a motorcycle was on a mates little 50 when I was about six-years-old during a camping trip. It was a one-time thing, but I just remember how much fun it was.
I started it up and I saw a little haystack, which I thought I could jump. Unfortunately, it didn't end so well and I wiped out. I jumped up and remember telling dad I was as good as Rossi, at least when it comes to crashing.
Thinking back, tell us about one of your favourite memories growing up when it comes to motorcycling?
I would have to say getting onto the road bike for the first time when I was 12 years old. Without a doubt that is one of my favourite memories. I just loved the sense of speed and hooking into the corners, the lean angle that you can get.
I was really excited about that opportunity. The first time I took to the road racing circuit I didn't want it to end. Lap after lap it was so much fun.
What career do you hope to end up in? For example, WSBK or MotoGP racer?
I'm really hoping to get into MotoGP one day. I'm pushing as hard as I can to make that a reality. We have to start somewhere, which is why the bLU cRU Oceania Junior Cup is such a great series.
I know I'm one of the least experienced kids in the field and each time I head out I can see my riding improve.
But to get to MotoGP I know it's more than just the riding, which is why I have to continue to focus and keep training, including keeping my fitness up. I just really want to get to MotoGP, which is the pinnacle of our sport.
Tell us who your sporting idol is. How have they impacted you and your love for motorcycling?
My favourite rider is Marc Márquez; not just because he is always up the front and winning races and championships. It's more the fact that his talent is simply amazing. You always see him pushing the bike to its limits. On top of that, the saves which he gets away with, wow, it's out of this world! This certainly inspires me to go out there and try to ride like him.
What have you learnt from the bLU cRU Oceania Junior Cup?
I've learnt a lot! The main things that I have picked up from this year are race craft, setting up my passes before I actually do them, and slipstreaming – which is so important in this class. One second you can be at the front of the pack, and then before you know it five kids have passed you.
It's an amazing experience to learn to race so close with the other riders; to read what they're going to do. The level of trust is amazing. I have also picked up different styles of riding by learning from the other riders around me. Without a doubt, this has helped me to improve as a rider.
As I don't have a lot of experience in road racing, this is so important racing with other riders who do have experience. I'm learning every time I go out.
Tell us about your bike, helmet, leathers, gloves and boots. How are you adjusting to the new bike? How do you find the products that have been chosen specially for you?
Well, to start off with, the AGV Helmet are an amazing fit. I speak highly about the AGV product, which is a credit to their design and build. Being lightweight, they are so comfortable to wear.
The Ricondi leathers, well what can you say about them, which hasn't already been said yet. They are simply awesome. Once again, they are lightweight, you can move around in them with ease.
Their gloves as well are a really well made to. Why? Because there is so much protection on them. You can almost guarantee that if you do have a crash the gloves will protect your hands and fingers. On top of that, you can move your fingers and hands in them easily, which is exactly what you want in a glove.
The TCX boots, just like everything else, I love them. They are super comfy, and just so nice to wear.
Finally, the Yamaha YZF-R15. They have been amazing all year round. I have been practicing on the 150 since I was 12. Being on the Oceania Junior Cup R15 is just another level. Having the whole support crew and mechanics for each round and the people who help us is really good. It's a huge credit to everyone involved. Without all the support, I don't believe we could all do this. So massive than you to everyone involved in the 2019 bLU cRU Oceania Junior Cup Championship.
We will release profiles from the class of 2019 each week, so be sure to stay tuned on your favourite star by heading to ASBK.com.au and following the bLU cRU Oceania Junior Cup Facebook page!
Images: Russell Colvin & Andrew Gosling – tbgsport
–Ends–
Media Contact:
Russell Colvin
Media & Public Officer
Motorcycling Australia
Tel: (03) 9684 0528
mediapr@ma.org.au
www.ma.org.au