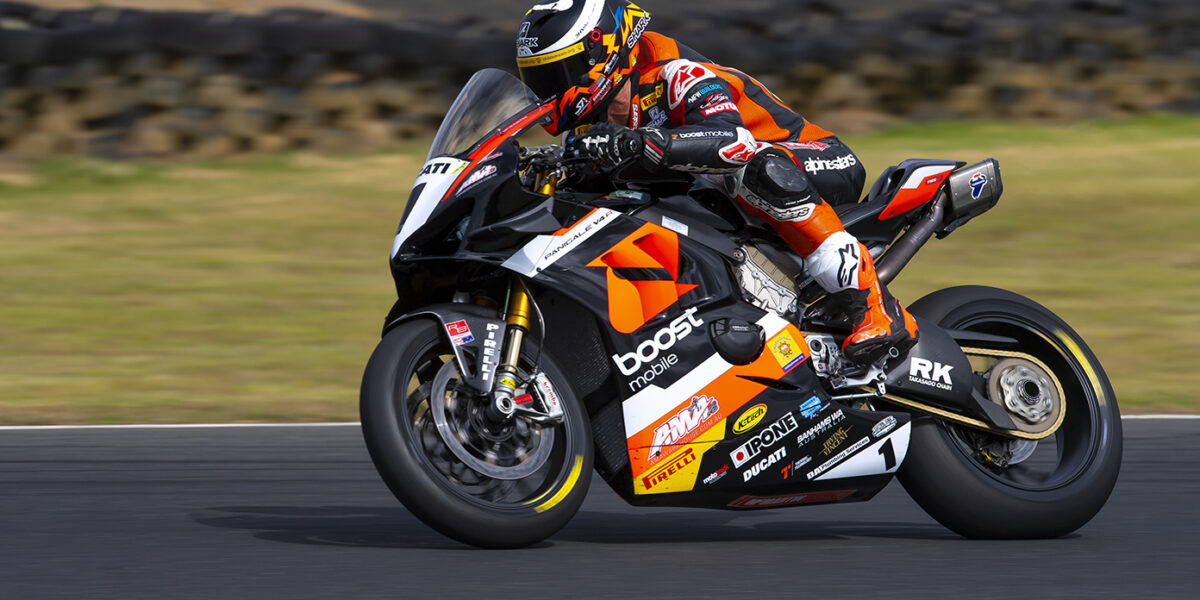 ASBK Qualifying: The Wayne Train railroads the competition
Wayne Maxwell showed the Alpinestars Superbike field a clean set of heels by securing pole position for Round One of the mi-bike Motorcycle Insurance Australian Superbike Championship presented by Motul (ASBK).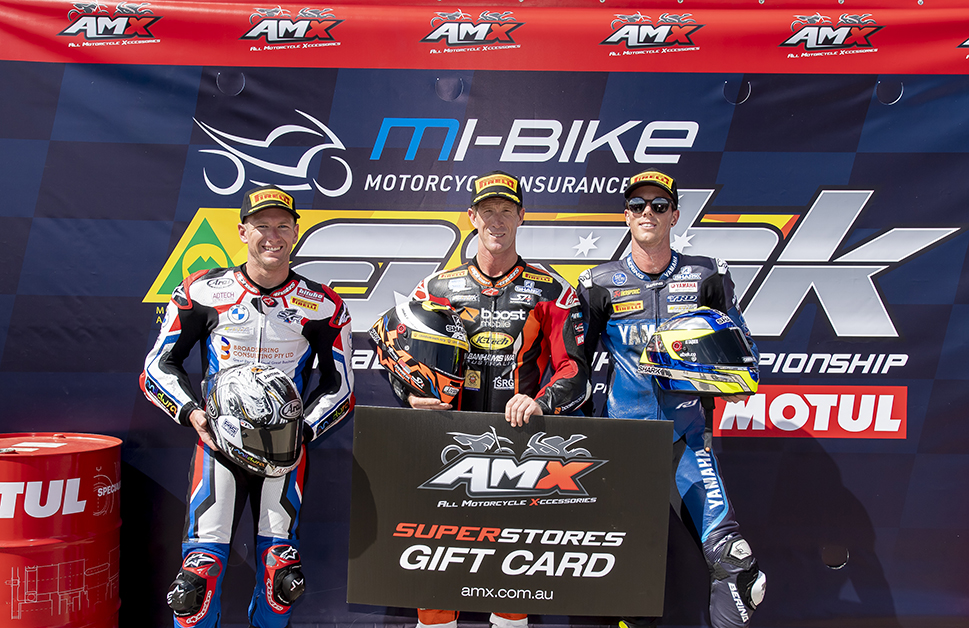 Maxwell (Ducati V4R) shattered the hopes of his opposition to record a time of 1:31.363; a full second and a half ahead of his nearest competitor in Cru Halliday (Yamaha YZF-R1). Halliday in-turn edged Josh Waters (BMW M RR) by a tenth of a second, who rounded out the top three with a 1:32.911. 
While Maxwell didn't quite manage to get into the 1:30s, the three-time champ was circumspect given the conditions he was presented with in qualifying. 
"I surprised myself yesterday, but the conditions we had yesterday were the best we've had all weekend," said Maxwell. 
"The wind was very changeable and gusty out there today through from Turn Two to Turn Three. I just put it all on the line for a lap and was happy to put it on pole for the guys." 
Senna Agius (Honda CBR RR) took pole in Michelin Supersport Q2 with a time of 1:35.307 ahead of Tom Edwards (Yamaha YZF-R6) on a 1:35.658 and Tom Bramich (Yamaha YZF-R6). Agius will be looking to capitalise on his pace tomorrow before heading overseas to compete in Europe. 
The Dunlop Supersport 300 Race One honours went to Harry Snell (Yamaha YZF-R3), finishing just seven-hundredths of a second ahead pole-sitter Glenn Nelson (Yamaha YZF-R3) and Cameron Dunker (Yamaha YZF-R3). 
Nelson would take some consolation after seizing both pole and the Yamaha Finance R3 Cup race One victory by the barest of margins ahead of Varis Fleming (Yamaha YZF-R3) and Jonathan Nahlous (Yamaha YZF-R3). Fleming was incidentally first to cross the line, but was eventually demoted to second-place after exceeding track limits. 
Despite Bodie Paige (Yamaha YZF-R15) dominating most of Friday practice Levi Russo (Yamaha YZF-R15) pulled out the stops to take pole for the BLU CRU Oceania Junior Cup ahead of Teerin Fleming (Yamaha YZF-R15) and Paige. However in Race One, it was Cameron Rende who executed a perfect race to take victory ahead of Hudson Thompson and Harrison Watts. 
Murray Clark (Suzuki GSXR 1183) gave historic racing fans plenty of joy by putting on a serene display to take victory in Race One of Superbike Masters ahead of Scott Campbell (Honda RC30 750) and Scott Webster (Harris Suzuki 1200). It was a repeat showing in race Two, however this time it was John Allen (Yamaha OW31 750) snatched the final step on the podium. 
All the action from the mi-bike Motorcycle Insurance Australian Superbike Championship presented by Motul continues tomorrow. 
Round one of the 2022 mi-bike Motorcycle Insurance Australian Superbike Championship, presented by Motul is proudly brought to you by Spokes.com.au

This event is proudly supported by Visit Victoria