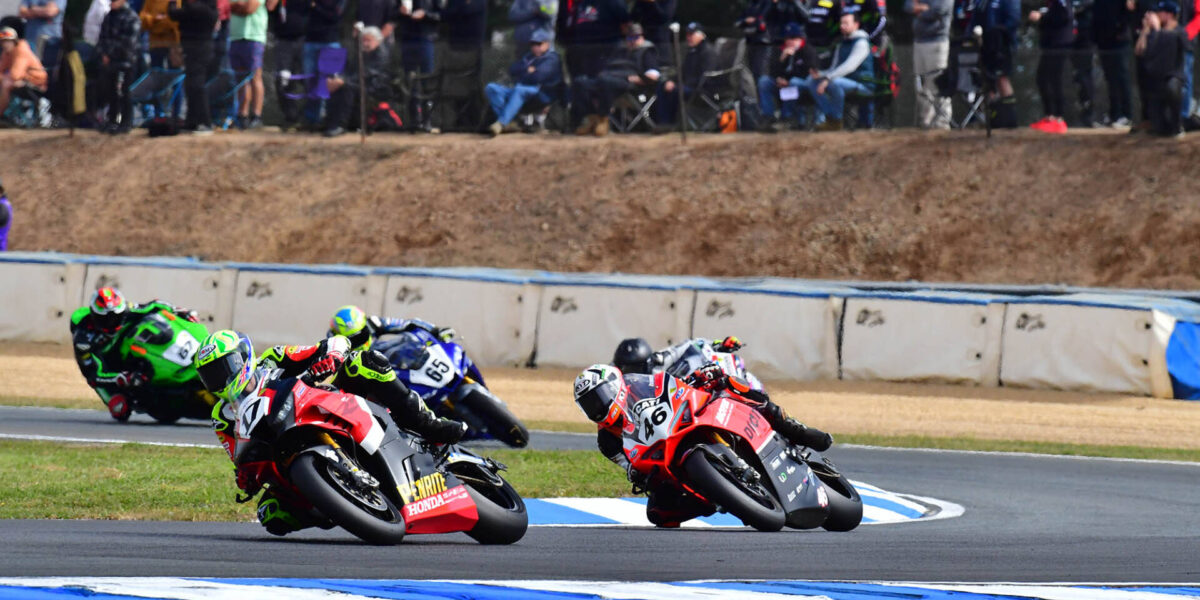 RACE-WINNING EFFORT FROM PENRITE HONDA'S HERFOSS AT WAKEFIELD PARK
Penrite Honda Racing's Troy Herfoss put together another race-winning effort at Wakefield Park Raceway's Round 3 of the 2021 mi-bike Motorcycle Insurance Australian Superbike Championship, presented by Motul, scoring second overall for the weekend to now sit second in the Championship.
The two-time ASBK Champion has been in fine form on-board his new new CBR1000RR-R Fireblade SP since its delivery late last year and that continued at round two.
Herfoss qualified second on the grid with a record-breaking 56.941s lap-time on Saturday and then finished P2 in race one, which was red-flagged and declared prior to the scheduled 20-lap duration being completed.
Without being able to have a final chance of winning the opening affair, the ever-determined Herfoss rebounded in race two by climbing from third and then to first in the closing laps, winning by a margin of just 0.086s after a final-lap lunge to take the lead.
It was a spectacular ride from Herfoss, who continues to make the most of the ER Motorsports-prepared Penrite Honda combined with Michelin Tyres and K-Tech Suspension, on his way to second for the round. A 56.825s lap-time set in race one was also well-beneath the previous race lap record.
"Race one was disappointing, but that second race was such a tough fight the whole way, not only racing for the win, but also trying to pass Mike [Jones] into second," he reflected. "I thought at one stage I might have to concede defeat and possibly defend for second, but then I got into a rhythm and knew I had to have a go.
"I think I was able to catch Wayne [Maxwell] by surprise on that last lap, make the move, then make it stick. It was really important for the points to get those and we had a positive day. The crowd was massive and everyone enjoyed it. We'll always fight to the absolute end!"
Penrite Honda team owner Deon Coote said it was another impressive performance from Herfoss and the entire team, currently sitting second in the championship standings following the opening two rounds.
"The first race was disappointing for it to be red-flagged and not restarted, because I truly believe we had a strong game-plan there so it was a shame not to be able to see it out," Coote said. "It was certainly an exciting second race.
"There was a bit of distance between Troy and the lead in those opening laps and I wasn't sure if we could bridge that gap, but Troy put in an amazing ride and got the job done. The bike was amazing again, we're making minor changes at the moment and Paul Free has made it a dream for Troy to ride."
Herfoss is now 10 points outside of the lead in the ASBK Championship standings, with round four of 2021 scheduled alongside the Supercars at Hidden Valley Raceway, Northern Territory, on June 18-20.
Photo by Karl Phillipson/Optikal