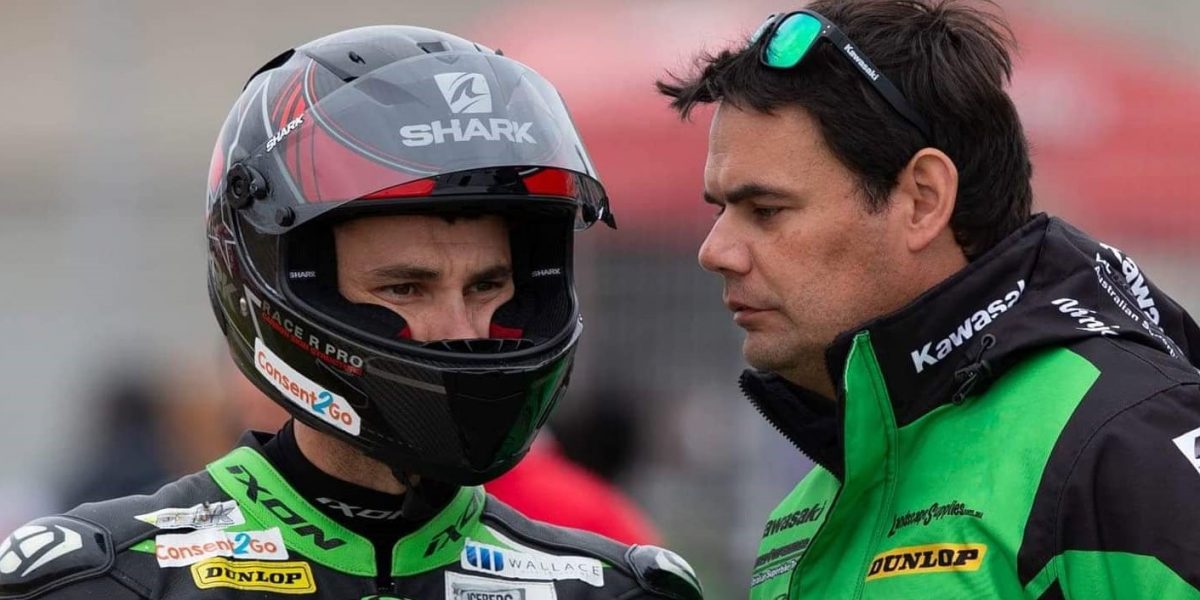 Be The Boss! Running An ASBK Team (Part 2)
In Part 2 of our feature story, 5 team owners/managers discuss their biggest challenges, career highs, best and worst parts of their jobs, what it takes to be a good team owner, their hopes for more teams in ASBK, and the year ahead.

Question:
What are the biggest challenges you face as a team owner/manager?

Mark Watson – The rider net entry system, this is why the crew chief does the rider net entries. Haha

Jed Metcher – Finding budget for the team is our biggest challenge. We are a team of enthusiastic volunteers at the moment, but I would love to reward our crew financially in the future.

John Redding – Giving Yamaha and our sponsors as much value as possible for their investment.
Ben Henry – There is always something different whether its financial, having competitive bikes, keeping on top of sponsorship commitments although I have help with that.
Kelvin Reilly – Finding the sponsorship in Australia is probably the biggest challenge, we are lucky that we have Kawasaki Motors Australia in our corner and some very good sponsors in Ficeda, Dunlop and Landscapesupplies.com.au, but it's not a cheap sport

Question:
What is the biggest challenge you face on a race weekend?

Mark Watson – We don't really face major challenges on race weekend as the team is very organised and experienced and the team dynamic is excellent.

Jed Metcher – Race weekend is actually one of the best parts of the entire outfit. It's where everyone is in their element.

John Redding – Dealing with the media.
Ben Henry – Once it comes to the race weekend, it really is just being competitive is all that matters to me. The other side of the team stuff is sorted by other people in the team.
Kelvin Reilly – My role at the race weekends is to crew chief for Bryan Staring and that is fairly intense, nutting out the setup of the bike, trying to find every last 0.001 of a second to achieve a better lap time. As well as over-seeing the team structure and schedule etc.

Question:
What has been your career high so far as a team owner/manager?

Mark Watson – The teams I have managed have won championships but the highlights for me in racing is seeing new riders excel through being part of the team. The journey is what I appreciate and enjoy the most, not one specific moment. Being able to use my experience, knowledge, and connections to help others succeed in a sport I love so much.

Jed Metcher – Due to the COVID-19 situation, we have only completed pre-season testing and 2020 ASBK round 1 at Phillip island, so it's been a short journey so far. We do have our Kiwi rider Caleb sitting 4th in the YMI SSP 300 championship in his third outing at ASBK level so we are happy with that.

John Redding – There have been many but Jamie Stauffer's Superbike/Supersport ASBK double championship in 2006 would be one of the most memorable.
Ben Henry – I've had a few but winning the 2019 Superbike championship with Jonesy was the best.
Kelvin Reilly – Winning all 3 races at The Bend with Bryan last season. I think I cried.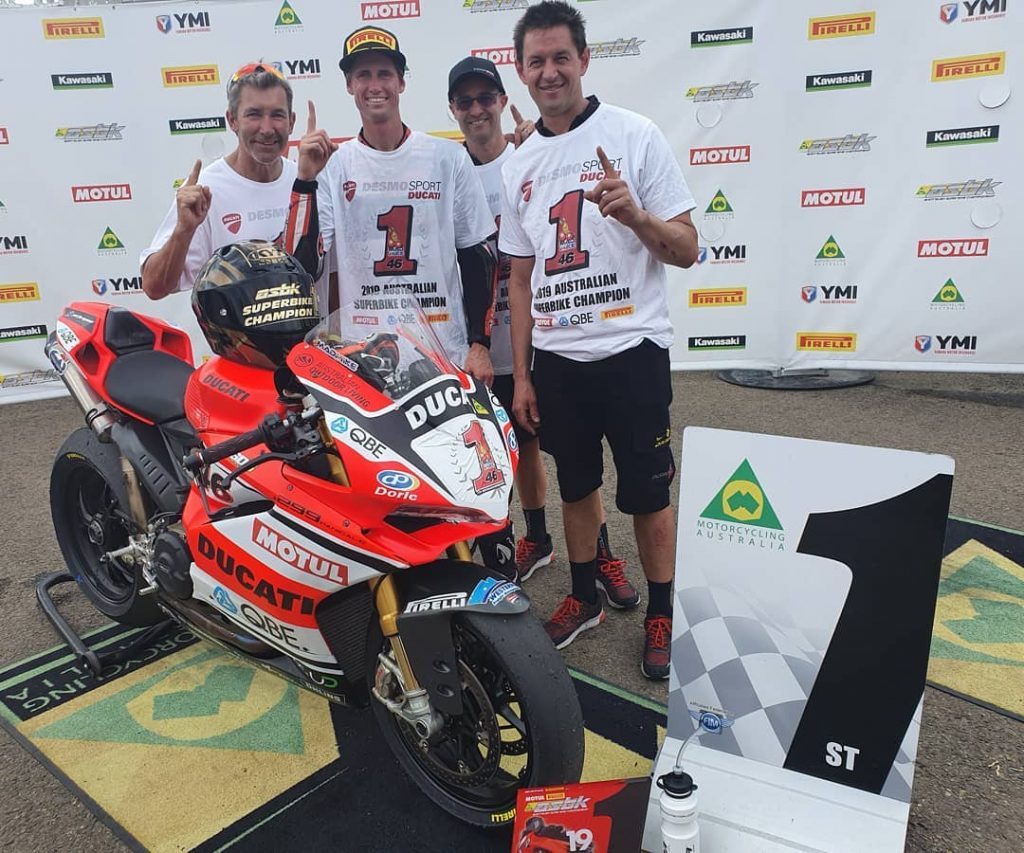 Question:
What is the best part of your job?

Mark Watson – To watch the riders succeed and to see the team plan come together.

Jed Metcher – Seeing the young guys progress from the support we provide is amazing.

John Redding – Doing what I have loved since being a teenager.
Ben Henry – The people I have got to meet, friends I have made. The competition, the build up to the race and having to push myself to learn as much as I can as fast as I can to help the bikes go faster.
Kelvin Reilly – Working with some great people who want it as much as me.

Question:
What is the worst part of your job?

Mark Watson – Waiting in the pits when the red flag is out, and especially when it's your rider.

Jed Metcher – Packing up after a race weekend. The bigger the team the bigger the pack up.

John Redding – Seeing damaged riders and motorcycles.

Ben Henry – maybe the politics that comes and goes.

Kelvin Reilly – Packing the truck on a Sunday night.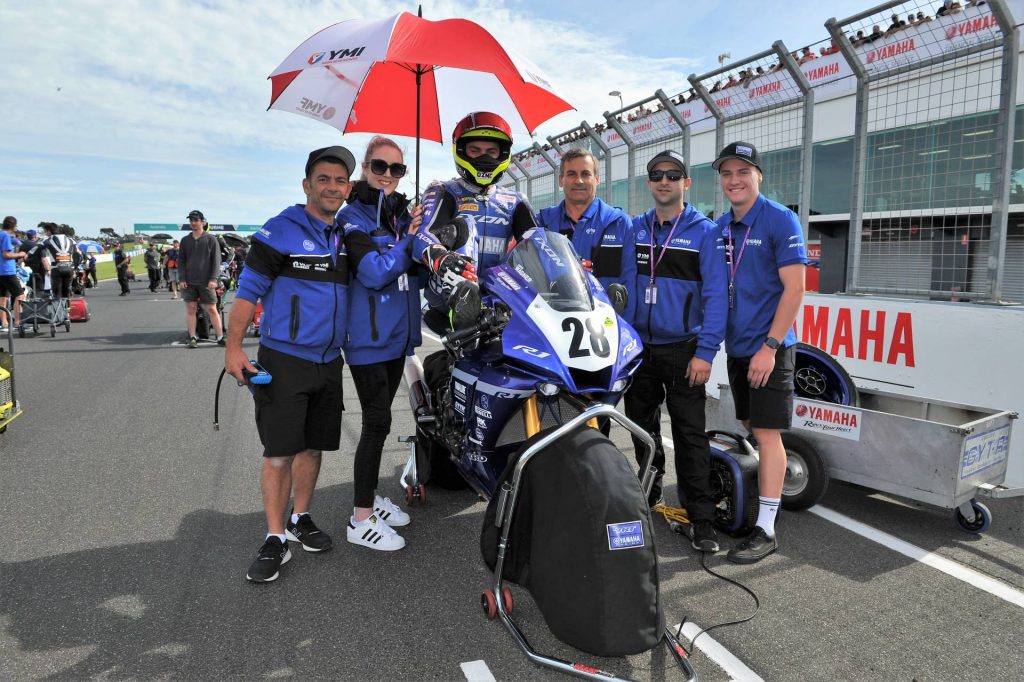 Question:
What does it take to be a good team manager/owner?

Mark Watson – Commitment, dedication, passion, and a genuine interest in rider development, as opposed to your own personal success. You need to be organised and pay attention to detail.

Jed Metcher – To be honest I'm not in the position to give advice but I believe understanding your team members strengths and applying them in the best way is best to creating a good atmosphere.

John Redding – Patience, fortitude, a cool head.
Ben Henry – It's a diverse roll in my position because I am more hands on than the other team managers, so I guess being able to juggle all the balls in the air as seamlessly as possible.
Kelvin Reilly – You need to be a manager, advisor, cook, mechanic, truck driver, media person, crew chief, bottle washer, racer, you have to wear every hat. Whilst keeping calm, assertive and confident. Then behind the doors you can cry and let it all out.

Question:
If you could turn back the clock 10 years what advice would you give yourself about your current role and challenges?

Mark Watson – I don't have any regrets, however, the one piece of advice I would give myself would be to not waste your energy, time and money on riders who are not really suitable to be part of my team, not sharing the same amount of commitment and passion.

Jed Metcher – That's a great question. I would tell myself to remember that the bad times pass whether you dwell on them or not. Take the lessons learnt from mistakes and don't let the hard times affect the relationships you have with people around you. All in all, be positive.

John Redding – I think I stressed too much back then, I would have been better a bit more relaxed.
Ben Henry – I'm pretty happy about everything and how it's all panned out. I think I wouldn't change too much.
Kelvin Reilly – Keep up the lotto ticket. No, treat every day as a school day. You never stop learning.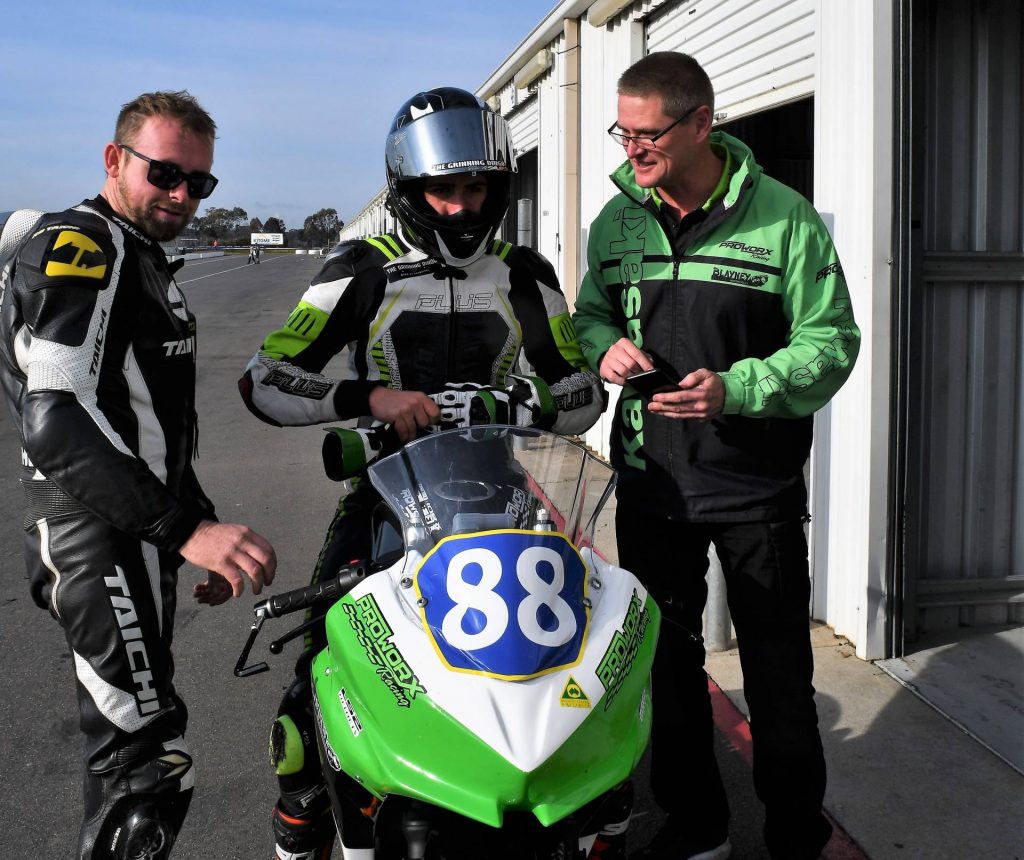 Question:
Do we need more teams in ASBK?

Mark Watson – I think we only need more teams if they are "good" teams. More good teams will certainly lift the profile of ASBK. Teams can give privateers something to aspire to however the down side of bigger/more teams is they can possibly intimidate smaller privateer competitors or make them feel excluded or at a disadvantage as they do not have the expertise or resources available to them.

Jed Metcher – Would be great to see more structured teams of course.

John Redding – Of course, both factory and privateer, it would be nice to see all the major importers back involved.
Ben Henry – of course.
Kelvin Reilly – 100% yes. There are more quality riders here than positions in teams.

Question:
What advice would you give to those that would like to start their own team?

Mark Watson – You need to be committed, organised and thick skinned. For great success your main objective should be the development of your riders first and foremost, that in turn will lift your team profile.

Jed Metcher – Do the numbers and then add 10% to be safe. No matter how good someone is, negativity will out way the positives in a team environment.

John Redding – Do your homework first, perhaps speak to others who have had these experiences first and be prepared to spend more than you originally thought you would.
Ben Henry – Enjoy it, don't take it too seriously. Nothing creates pressure like financial pressure so avoid backing yourself into a financial hole, because not only will you not win, but you will be broke as well. Be patient, you'll spend plenty of time waiting, but whatever your chasing, it will come.
Kelvin Reilly – Start small, build relationships, the key personnel are your ticket to success.

Question:
How has COVID-19 impacted your preparations for 2020, advancement on machinery and team moral?

Mark Watson – Dramatically. Practice and racing has now completely stopped. Three of our four ASBK riders reside in VIC, the rest of us are in NSW. Team morale is high but we all just desperately want to race and win.

Jed Metcher – COVID-19 has actually given us the chance to purchase new 2020 machines ready for the end of this season and start of 2021.

John Redding – It has been a difficult year for all, while the delays allowed us to have more time to develop the 2020 bikes, they have also made it difficult for riders and mechanics not to get 'rusty', and it has also been difficult to justify our support levels from sponsors as we are 'not working' for them.
Ben Henry – Of course its impacted on us but it's a funny situation. I run a business next to my race team and it's been super busy. We are in Queensland so we can still ride, so we have been riding and probably firming up our team for the 2021 championship. It hasn't been a deliberate plan, but it is just the way it has panned out and it's been good to still go to the track and develop the bikes.
Kelvin Reilly – it's a funny one, we have been super busy with the retail workshop here, so have kept ourselves busy. But, lately we are all getting that itchy feeling to get racing again, and it sucks slightly as every other championship globally are back racing. But the biggest setback I suppose is that it's been hard for us to do any form of testing as Bryan is in Perth and cannot come across and a lot of the ride days have restrictions on the amount of people allowed at the track, so we haven't been able to go with Glenn Scott much either. The amount of riding the guys have done has been pretty poor, we haven't been together as a team since the Wakefield Park test in March. Everyone wants to go racing, but also, we want to keep everyone safe and healthy.

Question:
What are your hopes for the team in 2021?

Mark Watson – Basically, we would like to win the SuperSport 300 Championship covering all three positions on the podium (laughing). 2021 two riders are heading to SuperSport 600.

Jed Metcher – To be out and compete at ASBK level would be amazing at this point.

John Redding – As usual, win races, win championships, provide the best level of exposure we possibly can for Yamaha and our sponsors. In reality, it is all a factory race team exists to do.
Ben Henry – I hope to win again in 2021, I think it will be possible.
Kelvin Reilly – For 2021 to be able to fight for the win at every race meeting.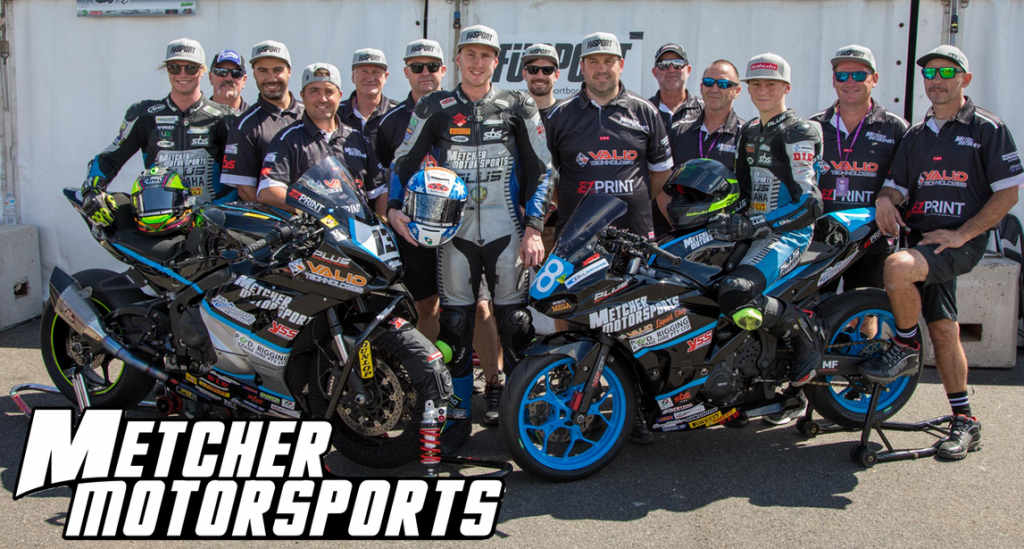 Question:
If you could pick, what is your dream Team Manager/Owner position?

Mark Watson – I don't dream, I do (laughing). I'm very happy with my position at the moment with my Proworx team. Looking to the future I would like to go back to managing a full Proworx Superbike team within ASBK.

Jed Metcher – At this moment in life I am building my dream with the overall goal to bring some young guns through from the feeder classes to be on podium in the superbike class.

John Redding – well of course it would have to be Yamaha MotoGP Team.
Ben Henry – I think I like it how it is, with the people I have around me.
Kelvin Reilly – Kawasaki Racing Team WSBK of course.

Stay up to date with the mi-bike Motorcycle Insurance Australian Superbike Championship, presented by Motul at www.asbk.com.au and for the latest updates from the ASBK, follow us on Facebook and Instagram.
Photos by Russell Colvin and team social media pages