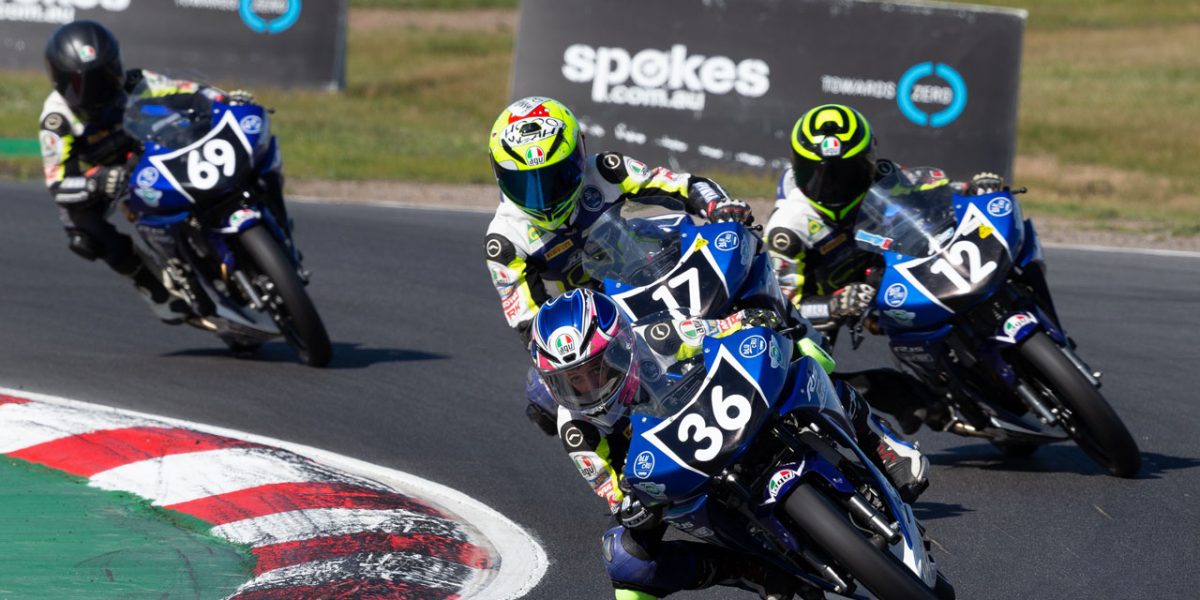 Grenfell Takes Joint Oceania Junior Cup Lead With Race 1 Win
Angus Grenfell has tied for the series lead in the inaugural Oceania Junior Cup, taking a comprehensive victory in Race 1, Round 4 at Winton today after leading all the way from pole position.
Grenfell came into the weekend eight points adrift of Carter Thompson, who stayed with Grenfell in the early laps of the race after qualifying second.
In the second half of the race, Thompson fell into the clutches of Archie McDonald and Tom Drane, a vigorous three-way dice unfolding for second position, with McDonald eventually prevailing ahead of Drane.
Both riders were able to relegate Thompson to fourth position, allowing runaway winner Grenfell to erase the points deficit.
"My tactics were just to push as hard as I could and get away on the first lap," Grenfell said.
"When I knew I had a gap, I just didn't want to crash. I put my head down under the fairing, concentrated as hard as I could, and didn't worry about what was behind me."
Second-placed McDonald said there were still some damp patches on the circuit.
"It's been insane, there were still a couple of wet spots on the track but it dried out, and we were able to push harder," he said.
Third-placed Drane, a former dirt track champion, highlighted the enjoyment factor of racing on tarmac.
"There's a lot more slipstreaming, and a lot more overtaking which means you can have really good battles," Drane said.The Oceania Junior Cup bikes will be back on track tomorrow for Race 2 at 10:00am and Race 3 at 3:05pm.