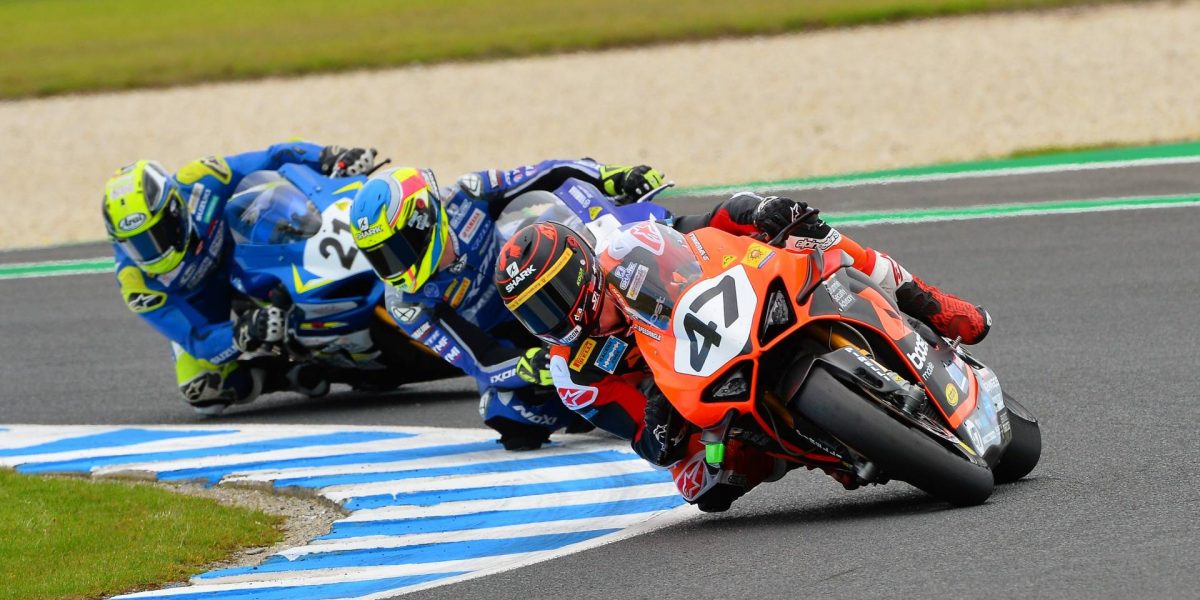 Maxwell Ready To Fire At Winton And Defend ASBK Superbike Title
2020 ASBK Superbike Champion, Wayne Maxwell, is brimming with confidence heading into next month's Winton Motor Raceway round of the mi-bike Motorcycle Insurance Australian Superbike Championship, presented by Motul.
The Victorian two-time ASBK Superbike Champion only recently confirmed his Boost Mobile with K-Tech racing team would defend his title.
For the Pirelli Superbike class, their last outing at Winton was in 2019, and it was the battle between then ASBK Champion, Honda's Troy Herfoss, Ducati's Mike Jones, who went on to win the Championship, and Maxwell, who at the time was aboard a Suzuki.
In race 1 Maxwell would go onto to win by nearly 2-seconds to Jones, with Herfoss in third.
In race 2, there was carnage, with several accidents causing red flags and restarts before the race was declared and half points awarded with Jones on top, Maxwell second and Herfoss third.
"It's always good to ride the bike when we can, but it has been an interrupted pre-season for us as when we were last at Winton it rained at lunch, so we only got 20 laps in," said Maxwell.
"Winton has been a good place for us in the past, I enjoy Winton.
"I'm super excited to be back with Boost Mobile with K-Tech race team, and I'm definitely confident going into this season, but not overly confident."
Maxwell is well aware of the strong competition in the 2021 ASBK Pirelli Superbike class paddock.
"We have obviously seen the form Troy Herfoss can carry, and it's still early days with their new bike and they are only going to get better as the season goes on.
"Obviously with Yamaha changing tyre brands, it will be hard to know what to expect from those guys, and Mike Jones and the Ducati team are very experienced and have won before.
"I don't think you can count anyone out, there are so many past ASBK champions, riders switching teams, and sometimes a fresh start is what riders are looking for and need to perform.
"We will just focus on us. I've got the best team around me and all I can do is concentrate on myself and the team.
"To continue the partnership with Pirelli, I'm super excited, because they have won all the past championships since 2014."
The confidence Maxwell has is largely down to the feel he gets from his Ducati.
"I like to carry a lot of middle corner speed, it's a MotoGP style bike and it's a bike that suits my style of riding.
"We only had three rounds last year at two completely difference tracks. One a MotoGP track (Phillip Island) and the other a tight and twisty track (Wakefield Park), and to get the most out of the bike and win the Championship was very satisfying."
It is the ASBK Championship competition that keeps Maxwell at the top of his game.
"I love the challenge of it. You can go to a circuit and struggle and then you really have to look at yourself to find something to lift.
"That's what everyone at Boost Mobile with K-Tech team is about, we love the development of the bike and ourselves. We are definitely going to develop the bike further this year with the new electronics package and K-Tech bringing out some updates with the suspension as well."
With plenty of new blood in the Pirelli Superbike class this year, including young guns like Oli Bayliss and Luke Jhonston, Maxwell believes it is great for the Championship, but the main threat to his ASBK title will come from established riders in the class.
"The riders could gel well with their packages and I think those young guys are going to surprise some people, I hope they do.
"Looking at history, the biggest threat will come from Troy (Herfoss), and then you have Glenn Allerton who seems to be gaining some momentum.
"Everyone goes into the new season with the expectation that it is a fresh start, but the start is the easy part, it's the grind in the middle that's the hard part."
Maxwell puts a significant part of his success down to his family.
"With two young kids, organising the team and Ohvale, it's been a hectic 12 months, and I couldn't do it without the support of my family."
Tickets for Round 2, Winton Motor Raceway, March 12-14 are available HERE, but fans better be quick as ticket numbers are limited and selling fast.
Keep up to date with the latest news on the mi-bike Motorcycle Insurance Australian Superbike Championship, presented by Motul via www.asbk.com.au and following following ASBK on Facebook and Instagram. You can also join our ASBK mailing list at www.asbk.com.au