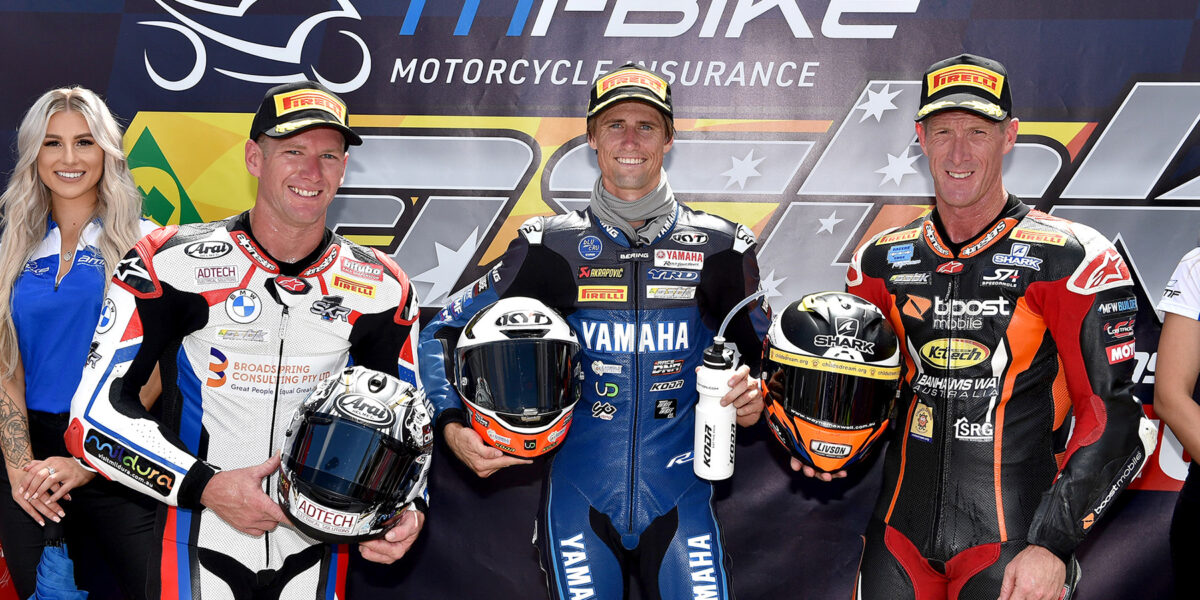 'MAD-MIKE' DOES THE DOUBLE IN QUEENSLAND
Mike Jones completed a perfect weekend to take two wins from two races at Round Two of the mi-bike Motorcycle Insurance Australian Superbike Championship presented by Motul (ASBK) at Queensland Raceway.
Bryan Staring (DesmoSport Ducati Panigale V4-R) got the early jump on Mike Jones (Yamaha Racing YZF-R1) to take the lead in Race 1, with Glenn Allerton (Maxima Oils Racing BMW M1000RR) also making a big first lap move up to fourth. Jones would briefly retake the lead on lap two, but left the door open enough for Staring to nudge through.  
A mid-corner error from Staring saw the Championship leader drop out of contention and hand second place to Wayne Maxwell (V4-R). Jones would cruise to a 5.6-second lead to take victory ahead of Maxwell and Josh Waters (Maxima Oils Racing BMW M1000RR). 
Maxwell would time his launch perfectly to take an early lead in Race Two ahead of Jones and Staring. It would be short-lived however as Jones ran past the Ducati through the outside of turn two. Arthur Sissis (Unitech Racing YZF-R1) and Cru Halliday (Yamaha Racing YZF-R1) would argue over fourth and fifth respectively. This duel would be settled before the chequered flag when Halliday stopped on the penultimate lap with mechanical issues. 
Staring would shadow Jones more closely in the afternoon race, albeit two-seconds adrift. Eventually, Jones took his second win by 4.6 seconds ahead of Bryan Staring and Wayne Maxwell. 
"All the guys at Yamaha have put in a big effort to help me adapt to this bike. The last win for me was in 2019 so to come and get a couple of wins is just fantastic," said Jones. 
Jones now leads the championship on 86 points over Bryan Staring on 70 points with Josh Waters on 67 points. Jones, by his own admission, was surprised to be so competitive so early. 
"I was hoping as the season went on to get to grips with the Yamaha and be able to challenge, so to lead the championship is a little bit above my expectations," added Jones. 
Second-placed Staring was circumspect after a crash in Race One effectively lost him the championship lead to Jones, but philosophical nonetheless about his return to form. 
"It's funny how the desire to be competitive is soon outrun by the fact that you want to win," said Staring. 
Third-placed Maxwell was happy to score two podiums on which he deems to be his 'bogey' circuit.  
"Massive congrats to Mike and Bryan. They rode awesome," said Maxwell. 
"We'll go back, have a look at the drawing board and come back at some tracks that are a little more suited to us and the bike." 
Michelin Supersport
John Lytras (Yamaha YZF-R6) ran out to an early two-tenths of a second lead in Race One for Michelin Supersport, but couldn't hold on – eventually being usurped by Tom Edwards (Yamaha YZF-R6) to the honours in ahead of Scott Nicholson (Yamaha YZF-R6) and Lytras. Nominal Championship leader (With actual leader Senna Agius now overseas) Tom Bramich crashed out of the race, giving him a challenge to work back into contention over the next six rounds.
Lytras would get the jump in Race Two, only to get pushed down to third in the first few corners by Olly Simpson and Tom Edwards. Tom Drane would make an impressive start to vault to fifth position. Edwards would eventually take two from two to lead the championship ahead of Lytras and Simpson.
Round Result
Dunlop Supersport 300
After two riders went down at turn two (including Saturday front-runner Taiyo Asksu), the Dunlop Supersport 300 Race Two was restarted with five laps remaining. At the restart, Cameron Dunker (Yamaha YZF-R3) and Glenn Nelson (Yamaha YZF-R3) immediately grabbed an early break on the opposition. They were never challenged, with Nelson capitalising on a last-corner error from Dunker to take victory with Jonatha Nahlous (Kawasaki Ninja) in third.
In Race Three, Nelson and Dunker would get an early break on the field, with Nahlous fending off the rest of the pack. Dunker would pull a late race challenge, but Nelson would close the gate to take victory with Henry Snell eventually sneaking through to pinch third place.
Yamaha Finance R3 Cup
With a number of riders missing the grid for Race Two of the Yamaha Finance R3 Cup, a large contingent would e forced to start from pit-lane. Cameron Dunker (Yamaha YZF-R3) got the early jump but would be challenged by both Glenn Nelson (Yamaha YZF-R3) and Henry Snell (Yamaha YZF-R3).
Nelson would survive a tight-fought battle to take victory in a thriller from Dunker and first-time podium placer Sam Pezzetta (Yamaha YZF-R3). Dunker would make amends to take the victory for Race Three ahead of Henry Snell and Glenn Nelson.
Round Results
bLU cRU Oceania Junior Cup
In Race Two of the bLU cRU Oceania Junior Cup, it was another tense battle between Cameron Rende, Ryan Larkin, Teerin Fleming and Hudson Thompson (all Yamaha YZF-R15), with the lead changing multiple times each lap.
After dropping as low as sixth, Rende would time his run perfectly to take the chequered ahead of Larkin and Harrison Watts by five-hundredths of a second. However, applied penalties saw an amended result of Cameron Rende, Sam Drane and Hudson Thompson on the final podium.
In Race Three, Hunter Corney would lead into turn one ahead of Thompson and Watts. With only 1.2 seconds covering the top eight riders, getting the timing right would be crucial on the run to the flag.
Rende would have no such luck after dropping out from third place, leaving Watts to take a narrow victory over a fast-closing Ryan Larkin and Hudson Thompson in third.
Horsell Australian Sidecar Championship
Completing an almost perfect weekend, Phillip Underwood and Tristan Vercoe win Race Three of the Horsell Australian Sidecar Championship with the Turner family fighting out the final spots – Neil and Danyon Turner taking second place ahead of Jamie and Shelbey Turner in third.
Round Three of the 2022 mi-bike Motorcycle Insurance Australian Superbike Championship presented by Motul (ASBK) continues at Wakefield Park on 22 – 24 April.
End-of-round press conference at Queensland Raceway
2022 mi-bike Motorcycle Insurance Australian Superbike Championship presented by Motul (ASBK)
Round 1 Phillip Island Grand Prix Circuit, VIC 25 – 27 February
SBK, SSPT, SS300, R3 Cup, OJC, SBK Masters   
Round 2 Queensland Raceway, Ipswich QLD 18 – 20 March 
SBK, SSPT, SS300, R3 Cup, OJC, Sidecars   
Round 3 Wakefield Park Raceway, Goulburn NSW 22 – 24 April 
SBK, SSPT, SS300, R3 Cup, OJC, Sidecars   
Round 4 Hidden Valley Raceway, Darwin NT 17 – 19 June 
* With Supercars – SBK Only   
Round 5 Morgan Park Raceway, Warwick QLD 5 – 7 August 
SBK, SSPT, SS300, R3 Cup, OJC   
Round 6 Symmons Plains Raceway – Launceston TAS 20 – 23 October 
SBK, SSPT, SS300, R3 Cup   
Round 7 Phillip Island Grand Prix Circuit, Cowes VIC TBA – November 
TBC   
Round 8 The Bend Motorsport Park, Tailem Bend SA 2 – 4 December 
SBK, SSPT, SS300, R3 Cup, OJC   
ASBK Night of Champions Dinner – The Bend 4 December