ASBK Round Five Preview – Morgan Park Raceway
There was a justified and extended build up to the Alpinestars Superbike-only round of the mi-bike Australian Superbike Championship (ASBK) in Darwin. At the time we speculated that this was the turn, this was the moment.
The ASBK Championship was there for the taking- would Mike Jones pour the first yard of cement to solidify his claim to the 2022 ASBK title? Or would someone- anyone else- be able to stop his seemingly inexorable run to the Championship? 
And as befits this occasionally ludicrous sport the answer was yes/no/maybe, but mostly yes.  
But also maybe. 
Every round that Jones pulls further ahead, it's one less round to catch him, and as the available points pool starts to run out, we're at this specific point of the season: the title is now his to lose. 
Thanks to a handy 40-point lead over main rival Wayne Maxwell and coming into a round at a circuit he likes- Morgan Park – the overwhelming feeling is that this is where he will really seal the deal. 
While Maxwell will be fast and up the front at The Island for round six and a likely repeat winner at The Bend in November, it might be for nowt and just end up a nice way to actually-for-real finish his career. 
But we never stop saying "it's a funny old game" and acknowledge that pressure can do weird things to a racer, so we'll come into Morgan Park with open hearts and minds. 
Leadership of the Championship aside, there's plenty happening elsewhere and while Jones might have a 40-point lead, there's just 31 points from second to sixth. There are also three riders in equal fourth on 136 points and two riders in equal 5th for the stats mad amongst us (Hi Russ!). 
While it's not full silly season for rides in 2023 just yet (and F1 has us covered for controversy!), a number of riders will really want to improve their position in the championship and with everything rather close, a solid weekend could see a particularly crazy game of snakes and ladders taking place.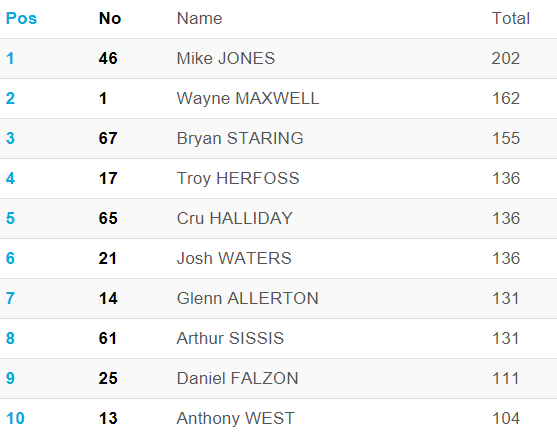 Michelin Supersport
It's been a few months between races for the Supersport 600 fraternity and some might need a quick look at the points before they roll out of pit lane this Friday to remind themselves; this is close! 
Early season form from Tom Bramich, Tom Drane, Olly Simpson and Tarbon Walker was somewhat collectively brought undone with DNS/DNFs at Wakefield, and *looks at remaining rounds* lads, there's no time for that sort of thing. 
Championship leader John Lytras has slowly but surely risen to the top after an ordinary round one (21 points). From there, his points hauls have risen to 46 at round two and a near-perfect 50 points at round three. He now leads the Championship by a healthy 17 points. 
Always mindful that in 2022, we've had a number of leaders fall off or fall away in Supersport, so Morgan Park will be a very good test of whether Lytras is ready to run away with things or offer up some sort of hope to the likes of second placed Ty Lynch who is perhaps the only rider within genuine striking distance. 
Like those outside the top few spots in Superbike, there is a log jam in Supersport as well with just 11 points separating third placed Scott Nicholson (82) and eight placed Tom Bramich (71). So while the battle at the top is warm, the battle for the remaining spots is white-hot. 

Dunlop Supersport 300
Cameron Dunker arrived at Wakefield thereabouts in the overall points situation (third), 12 points adrift of then leader Henry Snell, but left the Goulburn region a seemingly impossible 25 points in the lead in a perfect display of 300 racing, bagging the maximum 76 points on offer. 
With Snell unable to put his Yamaha anywhere near the front, he slipped to fourth overall, Jacobs stayed put in second and Glenn Nelson stepped up one spot into third overall. 
Taiyo Akso showed plenty of newfound pace at Wakefield and was second overall for the weekend, but from fifth in the championship race, it's a big task to bridge the 58-point deficit to Dunker. 
And so on to Morgan Park. Like their Supersport 600 brethren, it's been a while between bouts for the always entertaining 300 class and Morgan Park is a perfect arena for their particular brand of hand-to-hand combat racing. 
Until Dunker really stepped up at Wakefield, there's been no rider able to impress themselves upon the Championship. He now finds himself in the unenviable position of not only Championship leader, but no doubt "the-guy-to-follow" in every practice and qualifying session this weekend.  
They'll be waiting for you at the end of pit lane Cameron. 

Yamaha Finance R3 Cup
While there's a lot of form carry over from the Supersport 300 Championship, Glenn Nelson and Liam Waters were able to take wins at Wakefield Park on a weekend when Cameron Dunker won three races and snagged the extra point for pole in Dunlop Supersport 300. 
That said, Dunker took the overall R3 Cup honours at Wakefield and cut series leader Glenn Nelson's overall lead to just 10 points.  
With a sizeable gap back to third placed Hayden Nelson, the series looks likely to come down to a Glenn Nelson/Dunker battle. 
bLU cRU Oceania Junior Cup
After the most exciting announcement of the year- that the OJC crew will be a support category at the MotoGP event- it would be easy to gloss over the importance of the overall situation and this event. 
Harrison Watts and Hudson Thompson have been in an arm wrestle all season and after receiving equal points at Wakefield after three races, they are looking more like Siamese twins than fierce rivals. 
Round one winner Cameron Rende is still well in the hunt, and this round will again be very close as the OJC riders shape up for the back half of season 2022. 

Live Broadcast Information:
SBS, Stan Sport and Sky Sport NZ
ASBK Livestream
Sunday 7 August

9:55AM – 12:40PM
4PM – 4:30PM
Check the Event Program and your local guides for exact times.
Tickets still available here!