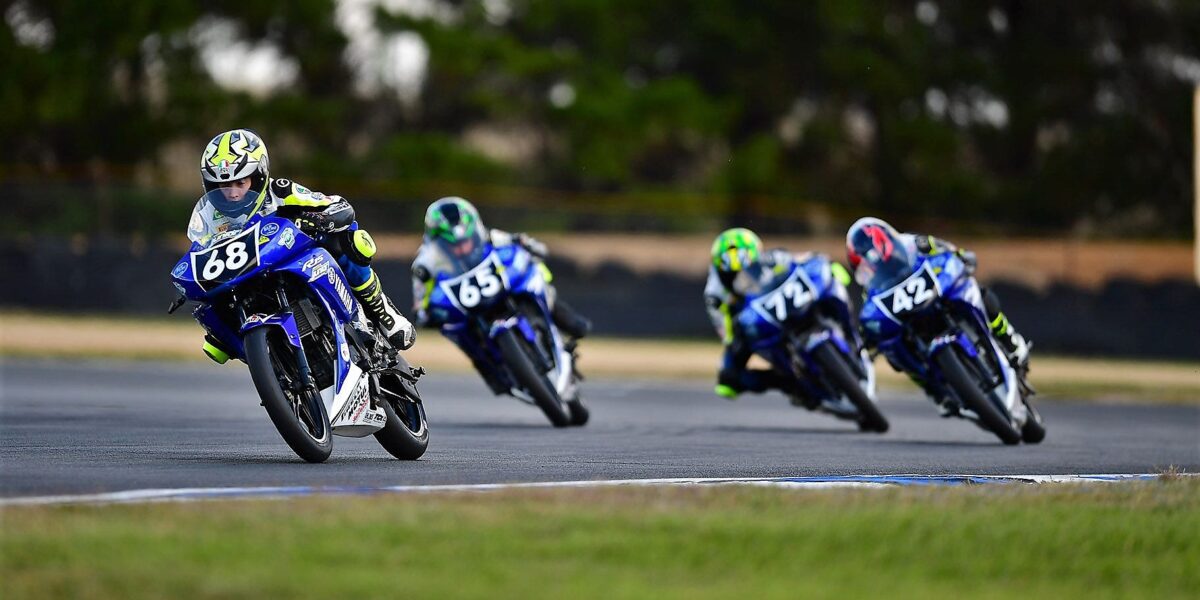 Larkin Explodes Into Oceania Junior Cup
Having never raced a motorcycle before 2021, one would expect Ryan Larkin to slowly feel his way into the bLU cRU Oceania Junior Cup, yet he blasted into the competition from the first race and finds himself sitting in 4th place overall after scoring a double podium at the last round of the mi-bike Motorcycle Insurance Australian Superbike Championship presented by Motul.
The 14-year-old from the small Victorian country town of Gonn Crossing, near the NSW border, has socially ridden since the age of three where her started on a Yamaha PW50, and only competed in one dirt track event before joining the Oceania Junior Cup.
"It was just a hobby and something fun to do with my brother and sometimes with my dad," he said.
"I liked riding around in the wet and mud."
While his father had previously raced road bikes, Larkin had never really had an interest in racing until this year.
"I thought to myself I would be pretty good at it and give it a crack and have a go.
"I just hopped on the bike and went for it, and it all clicked, it felt so natural and like I had done it before."
From the first practice session at Round 2 of ASBK at Winton Motor Raceway, Larkin was on the pace setting the 4th fastest time.
His qualifying time put him back in the middle of the pack, but once the green light came on for race 1, he battled his way forward and scored a sensational 4th place in his first ever Oceania Junior Cup race.
Larkin would end his first weekend of racing in the Oceania Junior Cup with an 11th place in race 2 and a 4th in race 3, bagging 44 Championship points and placed 7th overall.
From his first flying lap in practice to his fastest lap from the weekend in race 3, Larkin would shave more than 8 and a half seconds from his times – a phenomenal result.
"I was expecting something like 10th place, I surprised myself," Larkin said.
"I was looking ahead and counting the bikes down and thinking geez I'm in 4th I'm doing well here."
When he crossed the finish line after scoring the 4th place Larkin admits he was "speechless and couldn't believe it".
"I'm still really happy with the result, that was my first race meeting.
"Dad and friends were saying well done to me and rewarding me and Dad said good job buddy you did really well.
"I think I did pretty good, I was happy and proud of myself."
At the two-day special Oceania Junior Cup training camp at Winton Motor Raceway Larkin said it was invaluable as he able to learn practice starts and hone his race techniques.
At Wakefield Park Raceway for Round 3, Larkin would again smash his lap times by more than 8 seconds from his first flying lap to his fastest lap time of the weekend in race 3.
Larkin would score not one, but two 2nd place podiums in races 1 and 3, having crashed out in race 2, scoring 40 points for the weekend and moved into 4th place overall and only 2 points from 3rd place.
"I was really happy with qualifying and once my Dad put the pit board out and it had third place I was really happy with that.
"With the podium I thought all my hard work has paid off for that day. That's the best feeling for me to go past the chequered flag and being on the podium."
Being his first year in competition, Larkin admits he just wanted to finish each race well, be consistent and try his best.
"I wasn't expecting a top 10, I just tried to go my hardest see what I could do.
"4th place overall feels pretty good, I reckon next time I can go really well."
Larkin said he "loves the competition" in the Oceania Junior Cup and being at the track with his friends former Oceania Junior Cup riders Angus Grenfell and Archie McDonald.
"I love that we are altogether and racing and going to the wall and watching the other ASBK racers fly past.
"It's so fun racing, rubbing handlebars and we are all on the same machinery.
"I want to get to the top and see how far Motorcycling Australia takes me and go from there. I just want to do my best."
Larkin hopes to follow in the footsteps of his heroes, riders Jack Miller, Marc Marquez and Fabio Quartararo, and make it to MotoGP.
For now, he is happy to race in the Oceania Junior Cup with the short-term goal to make it to the Asia Talent Cup.
Keep up to date with the latest news on the mi-bike Motorcycle Insurance Australian Superbike Championship, presented by Motul via www.asbk.com.au and following ASBK on Facebook and Instagram.  You can also join our ASBK mailing list at www.asbk.com.au
ASBK CHAMPIONSHIP CALENDAR
Round 7 & 8 – The Bend Motorsport Park, SA November 11 – 14 (Double Header Round)
Round 9 – Phillip Island Grand Prix Circuit, VIC December 3 – 5
Photos by ASBK/ Optikal and Andrew Gosling
Photos by ASBK/ Optikal and Andrew Gosling
Media Contact:
Adam Olive
Media Manager
Motorcycling Australia
PH: 0438 297 514
mediapr@ma.org.au
www.ma.org.au