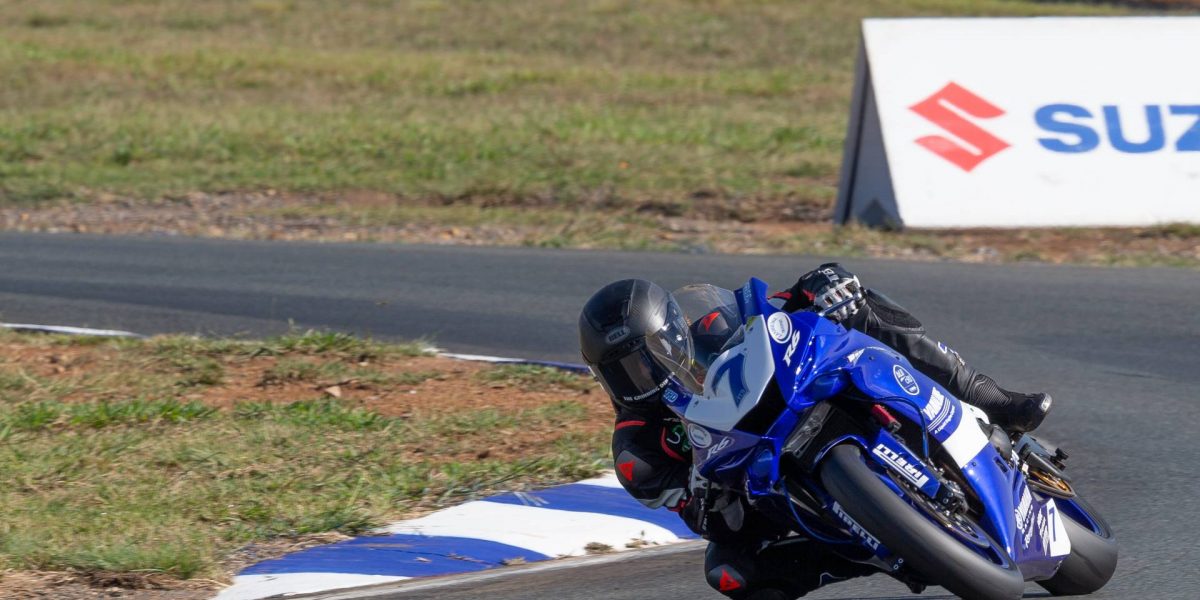 Goulburn Local Toparis Unbeatable at Wakefield Park
Tom Toparis (Landbridge Transport Yamaha YZF-R6) completed a clean-sweep of the Supersport class in his home race here at Wakefield Park in Goulburn for Round 2 of the 2019 Motul Pirelli Australian Superbike Championship. He won both Supersport races in dominant fashion, taking the round win with 51 points and extending his championship lead over Nic Limiton (Yamaha Motor Aust. Yamaha YZF-R6). 
Race 1
Toparis would begin the race from pole position ahead of Broc Pearson (Yamaha YZF-R6) and Reid Battye (Suzuki Ecstar Australia, Suzuki GSX-R,). Off the line Toparis was squeezed by a few of the frontrunners but found his way through to lead lap 1 ahead of Battye and Oli Bayliss (Cube Racing Yamaha YZF-R6).
Bayliss was looking for a way past Battye but couldn't get the move done, and Toparis took his opportunity to create a gap at the front while the other riders squabbled over second place. Lap five and Bayliss had managed to get past Battye and looked to bridge the gap to Toparis. Battye was now having problems defending from fourth-placed Broc Pearson, who found his way past and subsequently went after Bayliss in third on lap seven.
Halfway and Toparis was now a second and a half in front, from Bayliss, Pearson and Battye. Pearson snuck up the inside of Bayliss at turn 11 to regain second place, and managed to hold it despite Bayliss piling on the pressure.
Two laps to go and Ty Lynch (Russell Phillips Motorsports, Yamaha YZF-R6) attempted to take third from Battye, but lost the front and low-sided off the circuit. None of this mattered to Toparis, of course, who was running a time trial at the head of the field, taking victory at his home track by almost four seconds from Pearson, Bayliss and Battye. Liminton was fifth and Aidan Hayes (Hayes Johnston Pty. Ltd. Yamaha YZF-R6) sixth.
Race 2
As the field got away from the start Battye and Toparis got too close for comfort, and on the run to turn three Toparis was shuffled back to second behind Battye and almost fell to third behind Bayliss. Coming into turn 11 Toparis coolly slipped past Battye and resumed the lead. Battye and third placed Pearson managed to hang with Toparis after Bayliss fell to fifth behind Lynch, both making it past Toparis at turn eight on lap two. Toparis drafted past Pearson on the front straight, but Battye managed to hang onto the lead. Toparis then passed for the lead once again as the field started lap five, however it seemed that Toparis was not having as easy a time with the bike than he had enjoyed earlier in the weekend.
Pearson was now within attacking distance of Battye, and neither of the two allowed Toparis to get away at the front. As the field hit the halfway mark it was Toparis in first only three tenths clear of Battye, then Pearson in third. Bayliss, now fourth, was the first of the chasing group 1.7 seconds back, with Lynch and Liminton in fifth and sixth.
By lap 10 Toparis had finally started to pull out the lead that we had been accustomed to seeing across the weekend, amassing seven tenths on Battye and Pearson. Pearson then claimed second spot through turns one and two, sneaking underneath Battye as the riders tipped in. Pearson then built up a gap ahead of Battye, who was in turn three seconds in front of Bayliss. Further back in the pack a great battle was building between Lynch and Liminton, with Liminton dancing the rear end around under brakes as he claimed fifth spot from Lynch.
Toparis had now built up over a second's worth of gap as he crossed the line to start the final lap. He took the win ahead of Pearson and Battye, with Bayliss fourth and Liminton fifth.
Toparis was thrilled to take the win in front of a massive home crowd. "That was a crazy weekend, I'm so happy that it went as well as it did" said round winner Toparis. "It was great to see so many people out here, it's a weekend I won't forget for ages."
Round 3 of the Motul Pirelli Australian Superbike Championship heads to The Bend Motorsport Park, SA, 26-28 April.

To keep up to date with all the news from the ASBK, head to ASBK.com.au. Follow all the ASBK action from Wakefield Park on Facebook and Instagram.
Overall Round Points, Round 2:
1 Tom TOPARIS (Landbridge Transport Yamaha YZF-R6, 51)
2 Broc PEARSON (Yamaha YZF-R6, 40)
3 Reid BATTYE (Suzuki Ecstar Australia, Suzuki GSX-R, 35)
4 Oli BAYLISS (Cube Racing Yamaha YZF-R6, 35)
5 Nicholas LIMINTON (Yamaha Motor Aust. Yamaha YZF-R6, 32)
6 Aidan HAYES (Hayes Johnston Pty. Ltd. Yamaha YZF-R6, 29)
7 Dallas SKEER (Penrite Oils, Suzuki GSX-R, 27)
8 Chris QUINN (Coopers Dry, Yamaha YZF-R6, 23)
9 Rhys BELLING (LXI Racing, Yamaha YZF-R6, 23)
10 John QUINN, (SC Project Oceania, Triumph Daytona, 20)
Images courtesy of Andrew Gosling – tbg sport