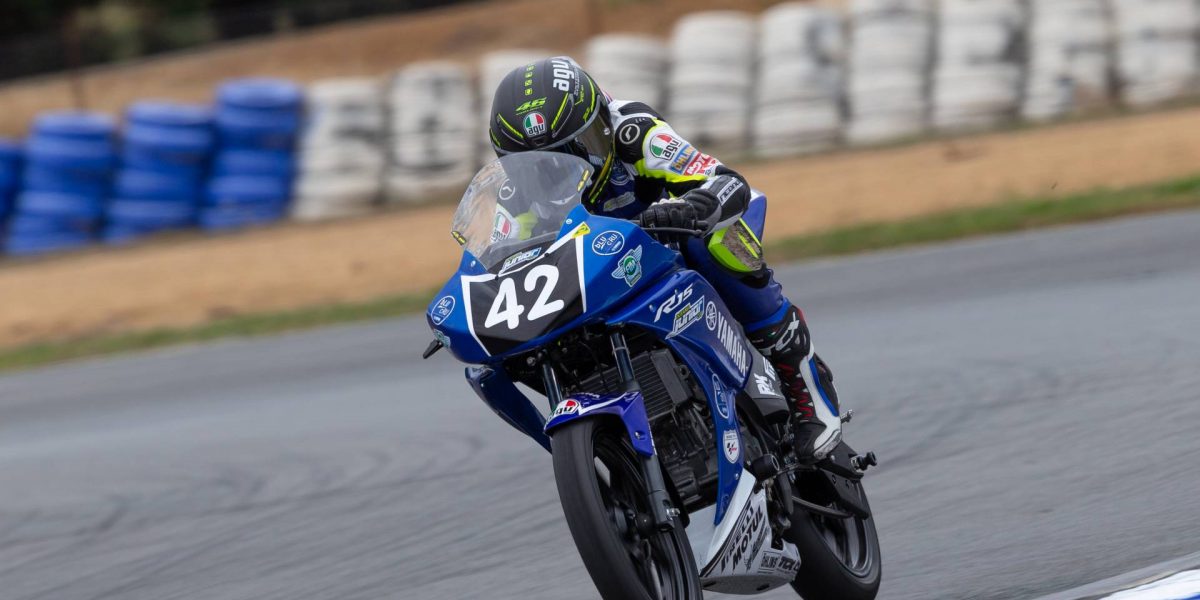 Francis Fastest as Inaugural Round of the Oceania Junior Cup Gets Underway at Wakefield Park
The first-ever round of the bLU cRU Oceania Junior Cup (March 22-24) began today as part of Round 2 of the Motul Pirelli Australian Superbike Championship at Wakefield Park, Goulburn NSW. A field of 25 youngsters riding identical Yamaha R15 bikes took part in the series' first two Free Practice sessions of the inaugural season, beginning their year-long competition to be crowned Australia and New Zealand's best junior road racer.
New South Wales' Cros Francis clocked the fastest time out of the two sessions, with a planned third session having to be cancelled due to inclement weather. Francis was the only rider to post a time in the 1:16s during the day, a 1:16.569 ensuring he took the top spot on the leaderboard. Second-placed Carter Thompson was half a second further back, recording a 1:17.053. Jacob Roulstone had the third fastest time of the day, a 1:17.425.
Angus Grenfell (1:18.366) finished fourth ahead of Reece Oughtred, who was fastest in the first Free Practice session but couldn't match the times posted in the second session to finish the day fifth fastest. Queenslander Max Gibbons, fastest in February's ASBK Official Test at Phillip Island in Victoria, rounded out the top six with a 1:18.241.
The Oceania Junior Cup steps up a notch tomorrow, with the series' first-ever qualifying sessions sure to provide close competition, and on Sunday the first-ever Oceania Junior Cup round winner will climb to the top step of the podium.
The action from Wakefield Park continues tomorrow with Round 2 of the Motul Pirelli Australian Superbike Championship taking place this weekend (March 22-24). Tickets are still available, head to ASBK.com.au for information, or to purchase.

Follow all the ASBK action from Wakefield Park on Facebook and Instagram.

Watch live coverage of the ASBK on Fox Sports and SBS, check your local guides for details. For live, online extended coverage available worldwide, head to ASBK.com.au.
Combined Practice Results:
1 Cros FRANCIS (bLU cRU, Yamaha YZF-R15 1:16.569)
2 Carter THOMPSON (bLU cRU, Yamaha YZF-R15 1:17.043)
3 Jacob ROULSTONE (bLU cRU, Yamaha YZF-R15 1:17.425)
4 Angus GRENFELL (bLU cRU, Yamaha YZF-R15 1:18.097)
5 Reece OUGHTRED (bLU cRU, Yamaha YZF-R15 1:18.154)
6 Max GIBBONS (bLU cRU, Yamaha YZF-R15 1:18.241)
7 Archie McDONALD (bLU cRU, Yamaha YZF-R15 1:18.528)
8 Lincoln KNIGHT (bLU cRU, Yamaha YZF-R15 1:18.541)
9 Marianos NIKOLIS (bLU cRU, Yamaha YZF-R15 1:18.563)
10 Zak PETTENDY (bLU cRU, Yamaha YZF-R15 1:18.840)