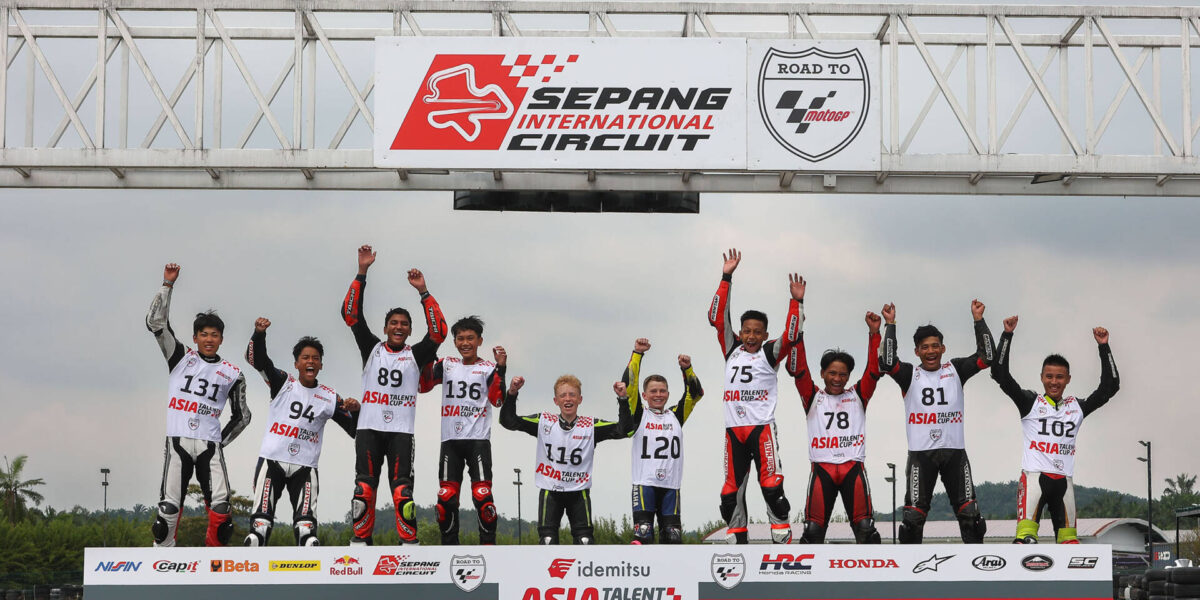 Three Oceania Junior Cup riders selected for 2024 Asia Talent Cup
In yet another nod to the extraordinary pathway provided by Australia's elite road racing academy, the bLU cRU Oceania Junior Cup, three past and present riders have been selected to compete in the 2024 Idemitsu Asia Talent Cup (ATC).
The selection event for the 2024 ATC, held in Sepang, Malaysia, saw 14-year-old South Australians Archie Schmidt and Rikki Henry selected as permanent riders for next year's fixture, while New South Welshman Hudson Thompson, also 14, was given the green light as one of 10 reserve riders. A total of 89 ATC hopefuls, including 14 Australians, began the selection process on November 8, with a team of experts on hand to assess the riders, led by Dorna talent promotion director Alberto Puig and 2009 250GP world champion Hiroshi Aoyama.
The number of riders was whittled down after every cut-throat session, with the Aussie triumvirate surviving until the very end. In 2024, the ATC roster – 10 permanent and 10 reserve riders – will come from nine countries: Australia, China, Chinese Taipei, India, Indonesia, Malaysia, the Philippines, Thailand and Vietnam.
All riders will be aboard identical Honda NSF250Rs.
The Oceania Junior Cup (OJC) and ATC are both integral pillars of Dorna's official Road to MotoGP program. Past winners of the ATC include Kaito Tabo, Ayumu Sasaki, Somkiat Chantra and Deniz Oncu, who are now all competing across the Moto3 and Moto2 world titles, while Australian Billy van Eerde was victorious in 2017.
Schmidt heads into the final round of the 2023 OJC at The Bend (SA) from December 1-3 with a slender 1pt lead over Bodie Paige, setting up a nail-biting finale. Meanwhile, Thompson finished second in the 2022 OJC, and Henry made his class debut in the final round of 2022 at The Bend and was an immediate presence inside the top 10.
FIM Oceania President Peter Doyle:"Congratulations to Archie, Rikki and Hudson for their 2024 Asia Talent Cup selection, as well as all 16 riders from Oceania who took part in the selection event. "We are very proud of the continued success of the Oceania Junior Cup, and to see them take the next step in their road racing journeys via the Asia Talent Cup is not only immensely satisfying but a vindication that our academy is doing great things."Dorna External Talent Promotion Director Alberto Puig:"After many years of doing this, we know the successful format! But it's not just lap times: that is a priority in this sport but it's also meeting the riders and seeing and understanding them. Age, too, and nationality because we have to create a balance. "If you're not selected this year, it doesn't mean you cannot continue to follow your dream of being a motorbike rider. We encourage you to keep on trying, and the doors of the Asia Talent Cup are always open for all those who want to try again in the future. And we'll be very pleased to assist you in future."