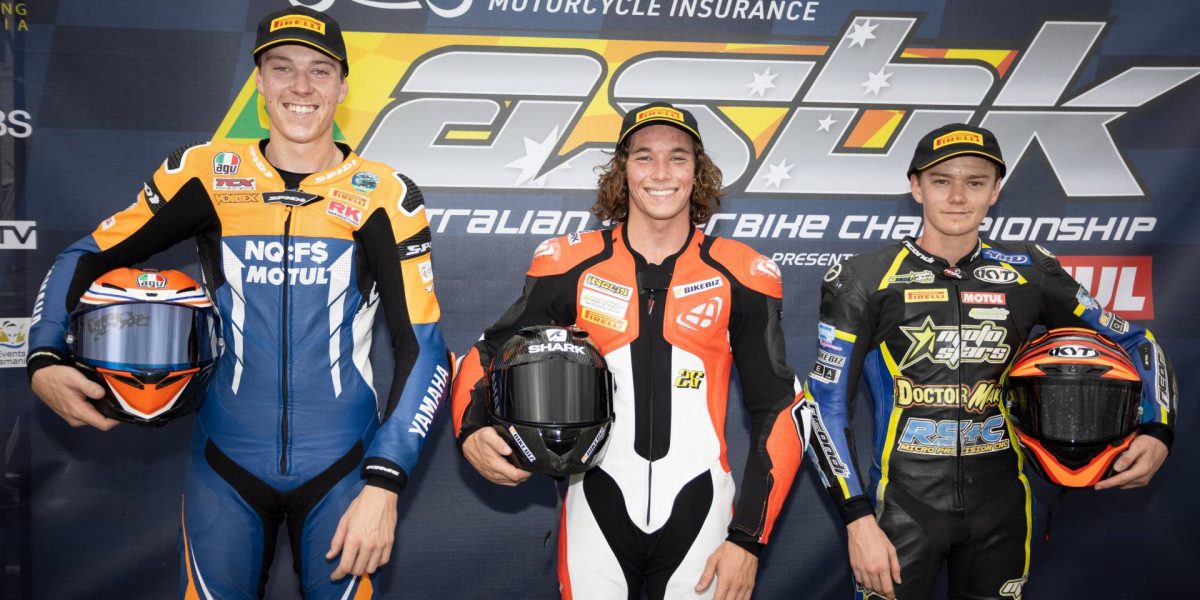 Edwards Victorious In Motorsports TV Supersport Class
Tom Edwards has claimed the round win in the Motorsports TV Supersport class after an epic battle with Broc Pearson at round 2 of the mi-bike Motorcycle Insurance Australian Superbike Championship, presented by Motul.
Edwards aboard the Bikebiz Yamaha led from the front in race 1 with City2Surf Locksmith's Pearson nipping at his heals all the way to the chequered flag.
Pearson maintained the pressure but was unable to pass him and Traction Control M-Sport rider Scott Nicholson managed to get past GTR Motostars young gun Max Stauffer to claim 3rd.
In race 2 Pearson was determined to hit the front early and he did smashing the lap record several times, but continually checked where Edwards was each time he entered the main straight.
Pearson's new race lap record is 1:22.336.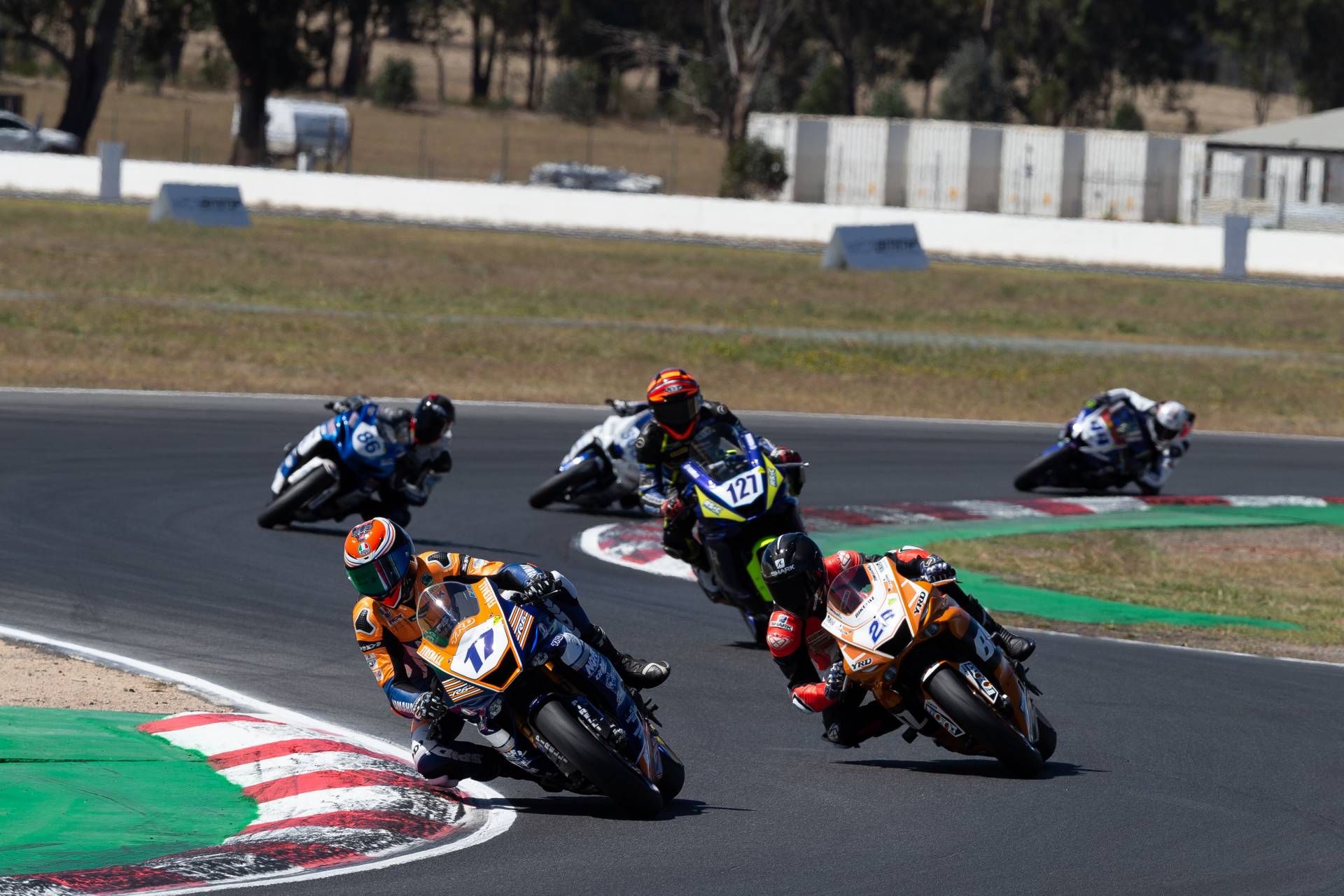 Edwards stayed close waiting for a mistake which didn't eventuate, finishing 2nd with Stauffer again finishing 3rd.
Edwards was all smiles after the race and happy with the round win "having an advantage at the start of the season".
"It was really a really fun race, Broc and I have always raced together but I couldn't overtake him.
"I was waiting for him to make a mistake but it didn't happen.
Broc was ecstatic to get the race 2 win.
"That race I just had to get out, get in front and lead the way and put in consistent laps.
"Congratulations to him for the overall, but I'm stoked to have grabbed that race win.
"This is awesome to knockout straight away."
Stauffer was happy to be on the podium for race 2 and and claim 3rd for the round.
"That was such a hard race. I had nothing on the two boys out front, so I have a bit of work to do before Wakefield."
Thompson Dominates Dunlop Supersport 300
Carter Thompson, Ben Baker and Tom Drane made it a clean sweep finishing 1st, second and third respectively in the Dunlop Supersport 300 class at Winton.The Motostars rider, Thompson, seems to tackle the Winton track with ease busting out lap records in race two and three with a new record set now at 1:30.604.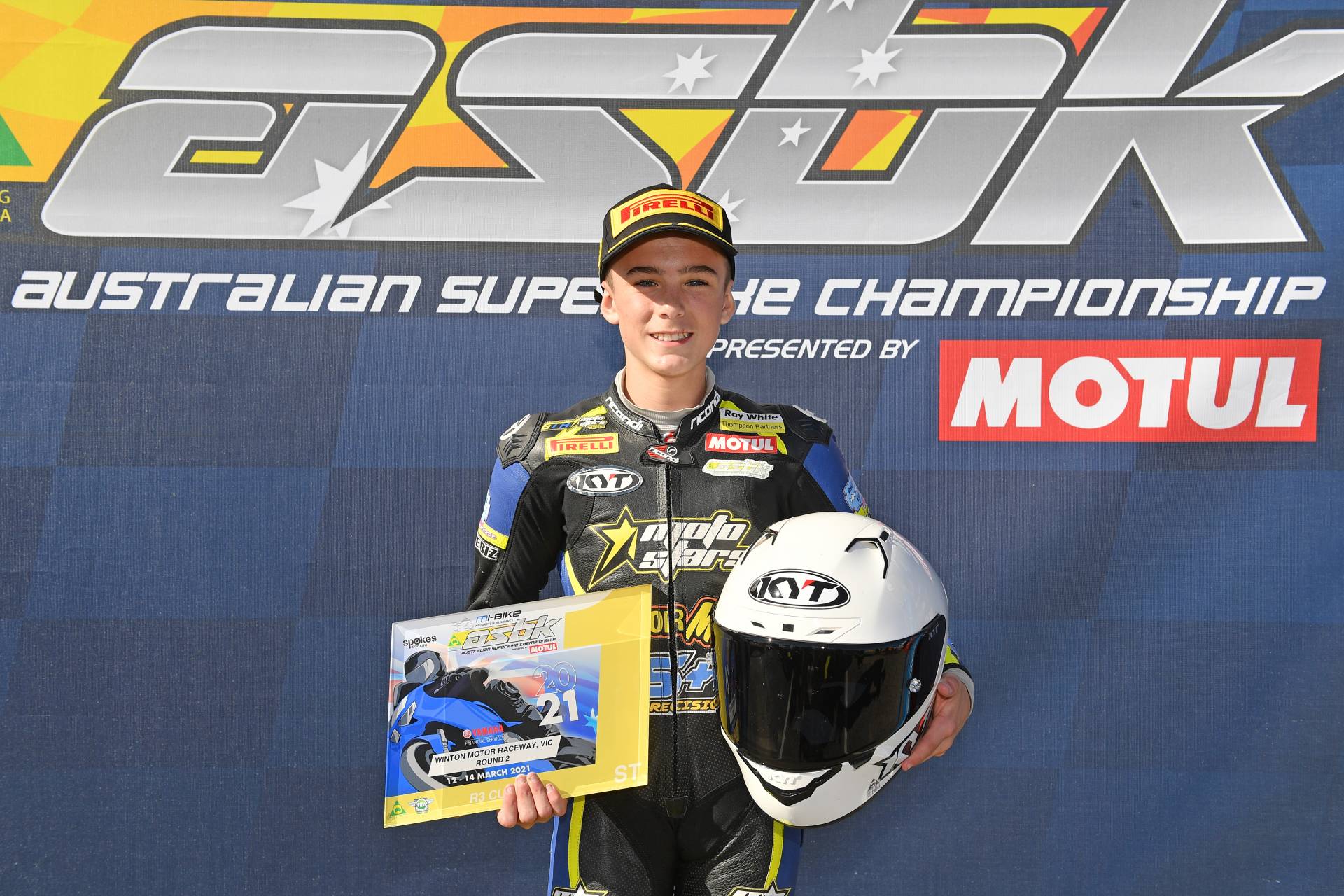 YRD backed Baker and Construction Supply specialists Ton Drane battled extensively throughout each and every race but it was Baker who would come out on top.
For Thompson the this weekends results give him confidence for his assault on the Asia Talent Cup which he leaves for tomorrow, with Tom Drane.
"The weekend was perfect as I will be flying out tomorrow with Tom to compete in the Asia Talent Cup."
For Baker, who only scraped together a bike at the last minute, it was a fantastic result.
"This is the best start I've had to a year. It's good to get three second places for the start of the championship, and thanks to every one who helped me get a bike for this round, it's awesome."
Thompson Takes The Yamaha Finances R3 Cup Round Win
Carter Thompson took the round win at Winton after two victories and a second placing in the Yamaha Finances R3 Cup to top off a magnificent weekend in the mi-bike Motorcycle Insurance Australian Superbike Championship, presented by Motul.In race 2 today Thompson finished second behind Ben Baker with Brandon Demmery claiming third.In the final race of the day there was a three way battle at the front between Thompson, Baker, and Drane, before Thompson managed to open a sizeable gap taking the win.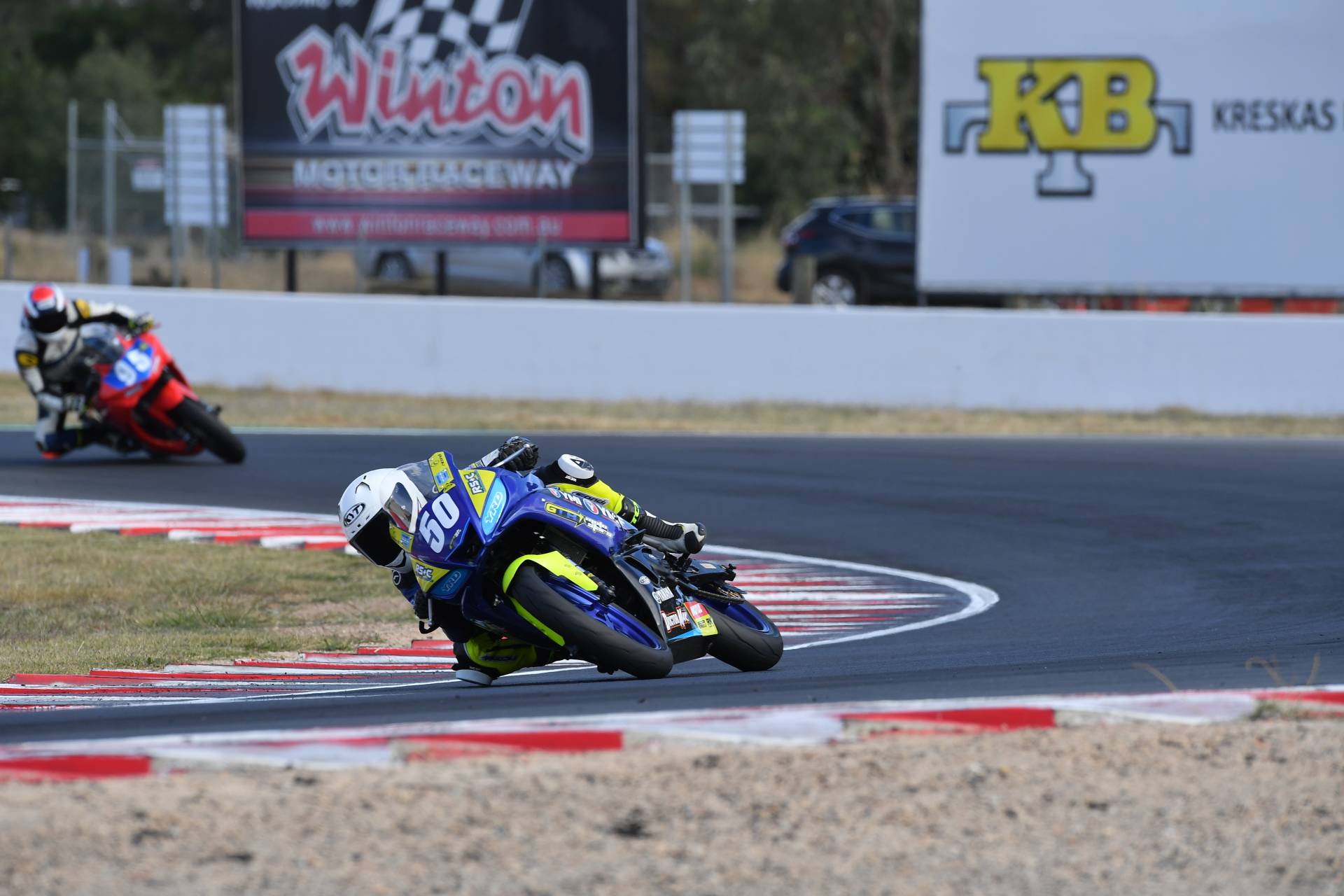 Baker managed to remain in second place, while a mistake by Drane late in the race saw Motostars Cameron Dunker capitalise.
For Thompson it had been the perfect weekend.
"It's been a great weekend , I've got to thank Yamaha, Pirelli and Motul and the team."
Swain's Clean Sweep In The bLU cRU Oceania Junior Cup
Cameron Swain dominated the weekend in the bLU Oceania Junior Cup taking three from three wins in the bLU cRU Oceania Junior Cup.While it main have looked easy for Swain he had to work hard for the victories.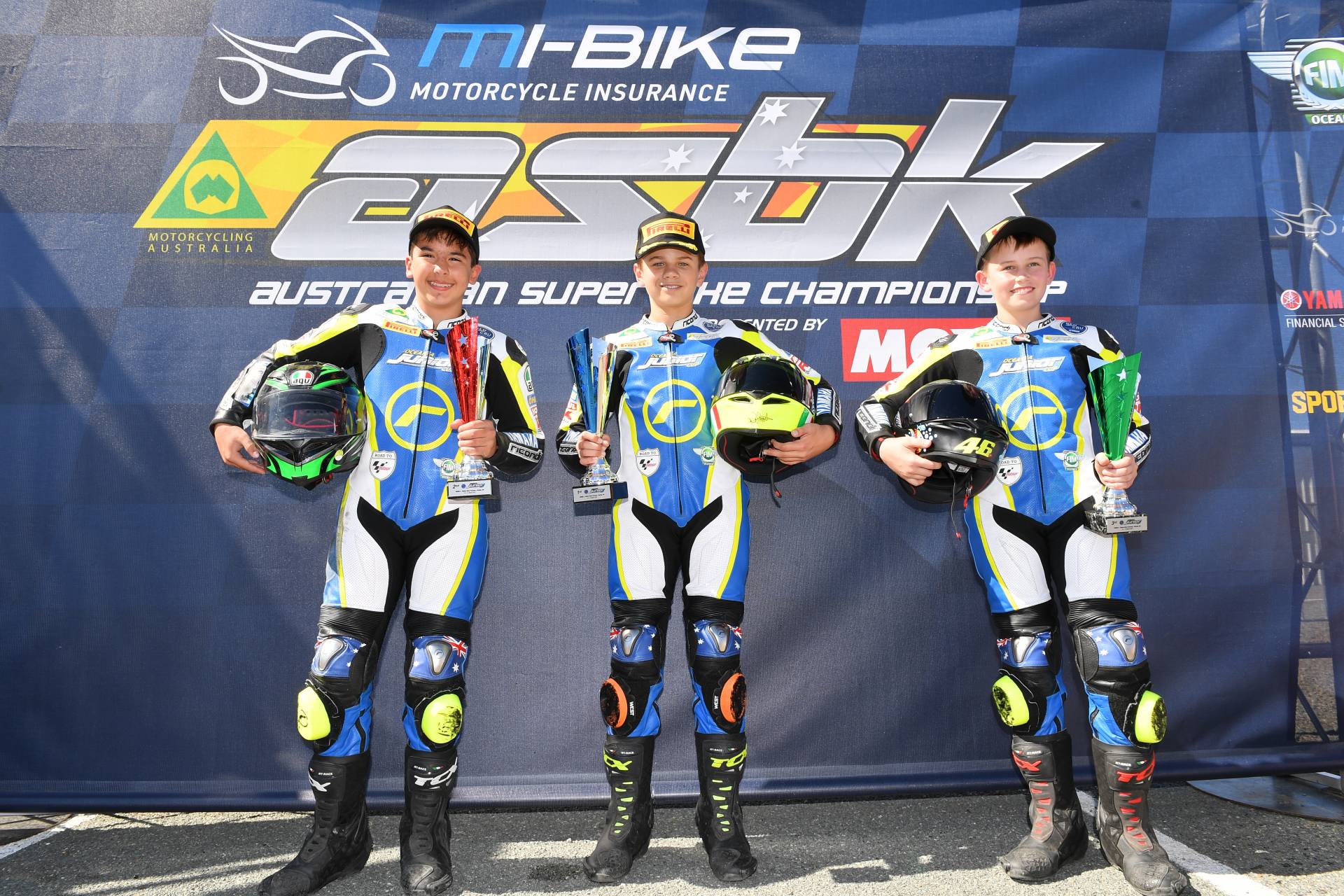 With 13 new riders in the class this year, there was significant improvement by all over the weekend.
Nate O'Nell and Riley Nauta were the biggest threats to Swain finishing second and third in the second and third races.
Swain was ecstatic with his results.
"I've had so much fun here this weekend with the OJC crew, I would just like to thank all the sponsors once again, Ricondi, Pirelli, AGV, Ohlins, TCX, and Yamaha, without everyone we couldn't do this without them."
Turner Brothers Blast Into Sidecar History Books
Corey and Danyon Turner blasted into the Australian F1 and F2 Sidecar Championship history books this weekend breaking the lap record at Winton, which had been held for more than 10 years as well as wrapping up the round victory in the F1 classThey recorded the new lap record yesterday, with a time of  1:29.112 beating the 2010 time of Darrin Treloar and Justin Plaisted of 1:30.056.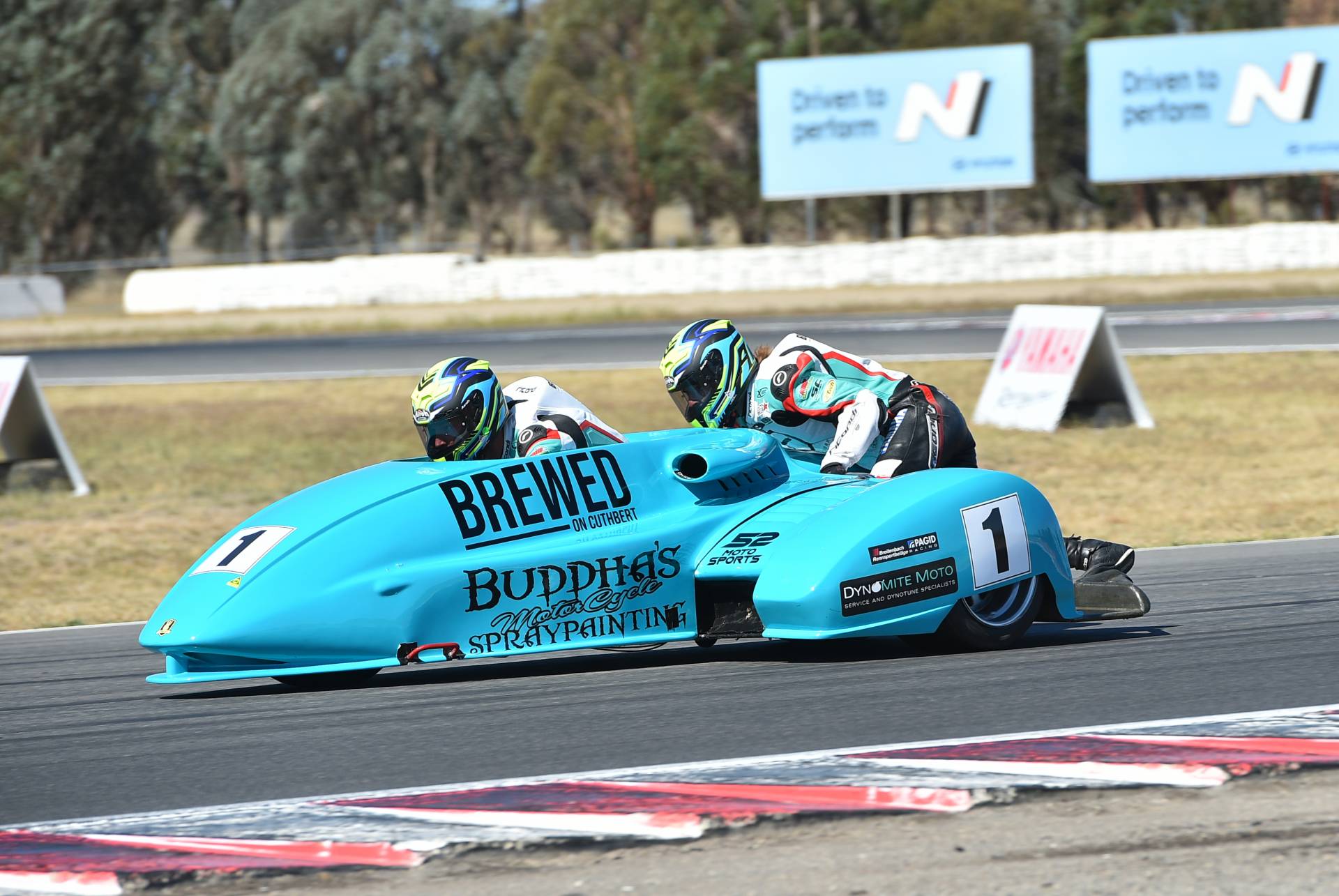 "It's pretty good to get a race win yesterday and unfortunately in race two we had a roll over in the wet, but it is what it is, and it was good to come back today and show we are fast out there and its good to get a win," said Corey.
Danyon said: "we just get down and do our job, being brothers is awesome, we know each others job, and we just go out there and do our thing.".
In the F2 Sidecars it was Patrick Clancy and Steve Bonney who took the win and they were wrapped after a difficult Saturday.
"It was a good ride and we just played it safe and made sure to bring it home for the win. We didn't have a great start yesterday, we've come out and done the right thing today," they said.
Keep up to date with the latest news on the mi-bike Motorcycle Insurance Australian Superbike Championship, presented by Motul via www.asbk.com.au and following ASBK on Facebook and Instagram. You can also join our ASBK mailing list at www.asbk.com.au
ASBK Championship Calendar
Round 1 Phillip Island Grand Prix Circuit, VIC February 18-21 Postponed
Round 2 Winton Motor Raceway, Benalla, VIC March 12-14
Round 3 Wakefield Park Raceway, Goulburn, NSW April 16-18
Round 4 Hidden Valley Raceway, NT – Supercars 2+4 (Superbikes only) June 18-20
Round 5 Morgan Park Raceway, QLD August 20-22
Round 6 The Bend Motorsport Park, Tailem Bend, SA September 23-26
Round 7 Symmons Plains Raceway, TAS November 4-7Photos by Andrew Gosling and Karl Phillipson/Optikal