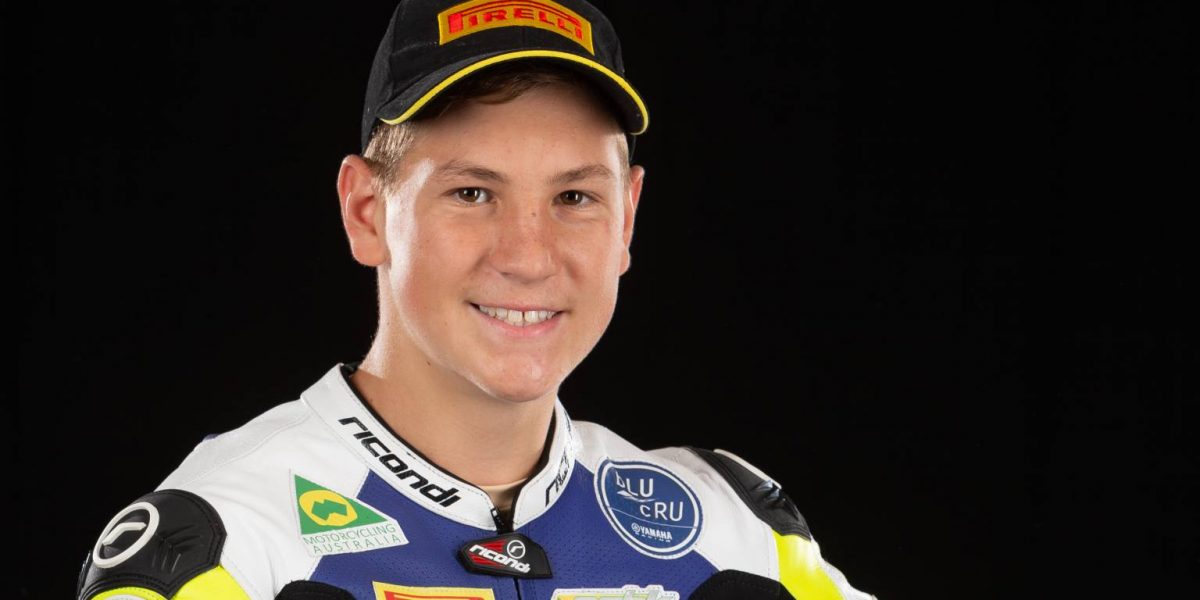 bLU cRU Oceania Junior Cup Profile: Patrick Bognar
Hailing from Cheltenham in Victoria is this weekend's bLU cRU Oceania Junior Cup rider, Patrick Bognar. When he's not astride his Oceania Junior Cup Yamaha R15, you'll find the 15 year old on two wheels of a very different kind; hurtling over the jumps and berms of BMX tracks around the world.
A world-class BMX racer, Pat finished second in his age group at the 2015 BMX World Championships, and now he's trying to find the same success in motorcycling as he competes in the Oceania Junior Cup, resulting in a busy schedule for 2019 as he combines motorcycling with BMX commitments, training, and schooling. Racing under number 37, he lists his favourite track as Phillip Island, and describes himself as energetic, focussed, and relaxed.
---
Tell us about where your love for motorcycle racing began and why?
My dad used to take me on the back of his bike when I was young. I used to love watching a lot of MotoGP, and I used to ride a lot of motorbikes in my mates' backyard, which was really fun.
I just love how fast you can go, and just love having fun with every other rider, the community of riders is just amazing.
Tell us about the first time you hopped on a motorcycle.
I was very nervous, very nervous. I didn't really know what to do, but when I got to learn what to do it was really fun, and I was very excited to learn more.
I didn't do any other motorcycle racing before I started road racing. I actually come from BMX, which I still compete in. I'm going to Manchester after Morgan Park (ASBK Round 4) to compete in BMX.
Thinking back, tell us about one of your favourite memories growing up when it comes to motorcycling?
The first race I did I was really nervous, but it was really good. It's just really fun to compete with other riders and I was really excited; I had a massive smile on my face! The race itself was mad: some people crashed out in front of me and I gained a few positions. I was very excited. Mum was like "stop smiling, it's annoying!"
What career do you hope to end up in? For example, WSBK or MotoGP racer?
I want to try and get into Moto3 for the moment, but that's a very big step up. At the moment I just have to keep training and keep riding. I'll be doing the YMF R3 Cup next year, and trying to progress that way.
Tell us who your sporting idol is. How have they impacted you and your love for motorcycling?
I do like Daniel Ricciardo (F1 driver), it's amazing what he does. He always has a massive smile on his face. For bikes it's Darryn Binder from Moto3. I like the way he rides, he has such a good style and I want to ride like him.
What have you learnt from the bLU cRU Oceania Junior Cup?
I've learnt a lot in the Oceania Junior Cup, about riding the whole bike, leaning over, and putting my knee down because I never knew how to do that. Race starts as well, I know how to do them pretty well now. I've learnt a lot.
All the information sessions they run are really interesting, the one that Öhlins did on suspension was great. I liked the way how they talked about suspension, about what the difference was when it was softer or harder.
Tell us about your bike, helmet, leathers, gloves and boots. How are you adjusting to the new bike? How do you find the products that have been chosen specially for you?I'm finding the bike very good. It is small for me, but it's really fun and really smooth. Different to other bikes. The Oceania Junior Cup was one of the first times I've ridden one of those bikes.
The leathers are nice and comfortable, and I like the AGV helmets. The boots are actually really comfortable- I have to watch out because my Dad is the same size as me so I have to keep them under tight security! Gloves are great too.
The protective gear's a bit different from BMX! A bit heavier than the BMX ones which are really light- you haven't got much protection there, just a jersey and pants on! You feel a lot more protected with the leathers on, you almost feel like a robot! But it feels pretty good when you start to move around in them.
---
We will release profiles from the class of 2019 each week, so be sure to stay tuned on your favourite star by heading to ASBK.com.au and following the bLU cRU Oceania Junior Cup Facebook page!

Images courtesy of tbg sport