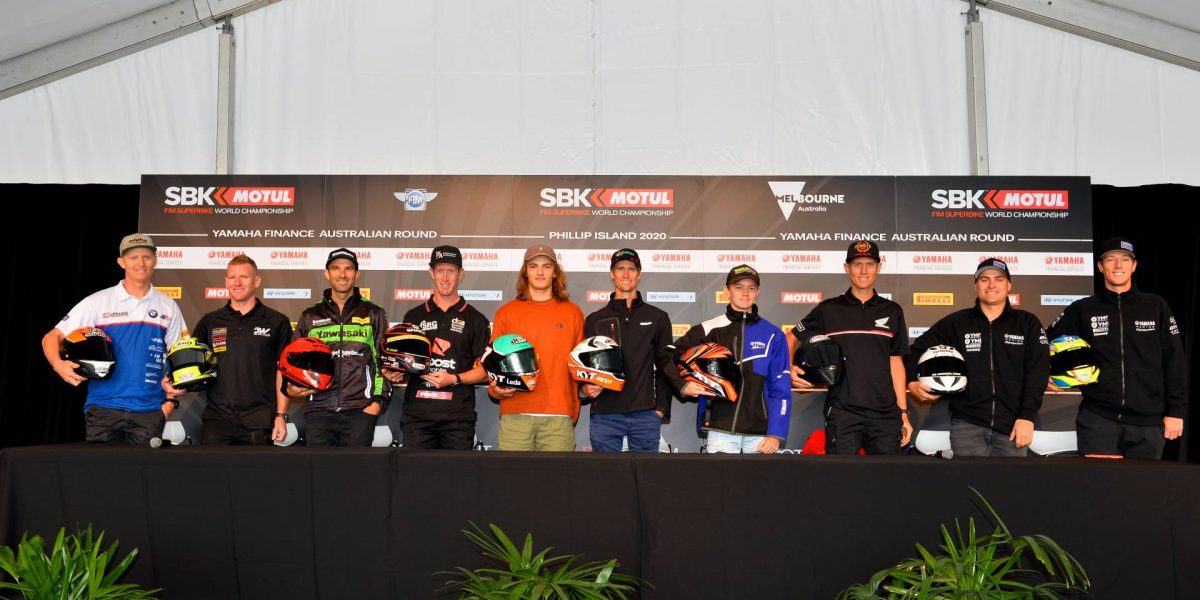 mi-bike Motorcycle Insurance Australian Superbike Championship, presented by Motul, Fires Into Action
The 2020 mi-bike Motorcycle Insurance Australian Superbike Championship, presented by Motul, was officially launched today as part of the Motul FIM Superbike World Championship Paddock Show hosted by Michael Hill.
Motorcycling Australia CEO Peter Doyle, joined ASBK riders onstage stating 2020 was going to be a massive season with worldwide exposure through Fox Sports Australia Fox Asia and SBS HD.
"I think the TV platform that is there now is probably the best it has ever been as far as exposure and the reach into the US, Asia and Europe."
ASBK Championship sponsor, mi-bike Motorcycle Insurance, Australian Motorcycle and Marine Finance , General Manager, Andrew Eldridge, was excited about the launch of the season.
"I think this year there will be high level racing right through all of the classes in ASBK."
2019 ASBK Champion DesmoSport Ducati Mike Jones said he was "really excited and looking forward to get off the race weekend here".
"The competition is obviously going to be strong for us. I feel like the racing is going to be just as hectic and intense as they were last year."
2019 ASBK Supersport Champion Tom Toparis, who will on race this round only and GTR Motostars Team's Max Stauffer, who will ride 600s this season after stepping up from 300s, said they were looking forward to the weekend and getting the championship under way.
2018 ASBK Champion Penrite Honda's Troy Herfoss said it was going to be an "exciting season", despite not starting round one on the 2020 Honda.
Yamaha Racing Team Aiden Wagner and Cru Halliday said they were both feeling good and believed their 2020 Yamaha's was heading in the right direction and expected to be up the front.
Boost Mobile Ducati Wayne Maxwell said his team had done a fantastic job and his bike was "really fast, the way it accelerate is a lot faster" which "suit my still".
Kawasaki BC Performance Bryan Staring said 2020 would be very competitive and he hoped to come away with some points to start the season this weekend.
Josh Waters onboard a Suzuki said the competition in 2020 would be hard but competitive while also running his own team this year.
Maxima BMW Glenn Allerton said "Phillip Island can throw anything up, it It could rain for every race for us, so, you have to be in it to win it."
On track ASBK action continues tomorrow with qualifying and Oceania Junior Cup qualifying and racing.
Round 1: WorldSBK – Phillip Island, VIC February 27-March 1
Round 2: Wakefield Park, NSW March 27-29
Round 3: The Bend, SA May 7-10
Round 4: Barbagallo Raceway, WA May 15-17
Official ASBK Test – Morgan Park, QLD July 28-29
Round 5: Morgan Park, QLD August 7-9
Round 6: Winton, Vic September 11-13
Round 7: Phillip Island GP Circuit, VIC October 2-4
Head to www.asbk.com.au for more info about the mi-bike Motorcycle Insurance Australian Superbike Championship, presented by Motul. For the latest updates from the ASBK, follow us on Facebook and Instagram.
 . Photo By Russell Colvin