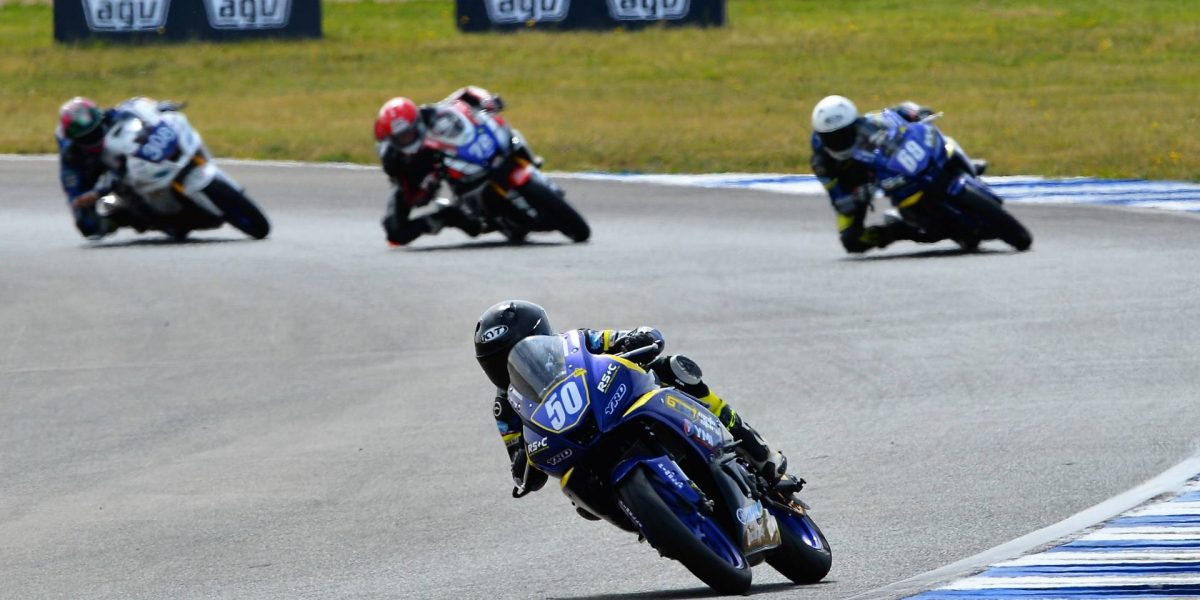 No Rest For This ASBK Champ In 2021
Two-time champion, Carter Thompson, is not prepared to rest in 2021! Instead, he is determined to win not just one, but two titles this year in the mi-bike Motorcycle Insurance Australian Superbike Championship, presented by Motul (ASBK).
Thompson, the 2019 bLU Oceania Junior Cup Champion and 2020 R3 Cup Champion, was meant to be racing in the Asia Talent Cup last year, but as the season was cancelled due to COVID-19, he was left without a ride, until the ASBK Grand Finale at Wakefield Park Raceway last December.
Phone calls between Thompson and GTR MotoStars owner Damian Cudlin came together at the last minute and the young 13 year did not disappoint scoring three wins at Round 1 in the R3 Cup, a DNF in race 1 Round 2, and to win the Championship needed a race win in the last race of the weekend.
He won the final race securing the Championship by just over a second and by one championship point to John Lytras and by 7 points to team-mate Archie McDonald.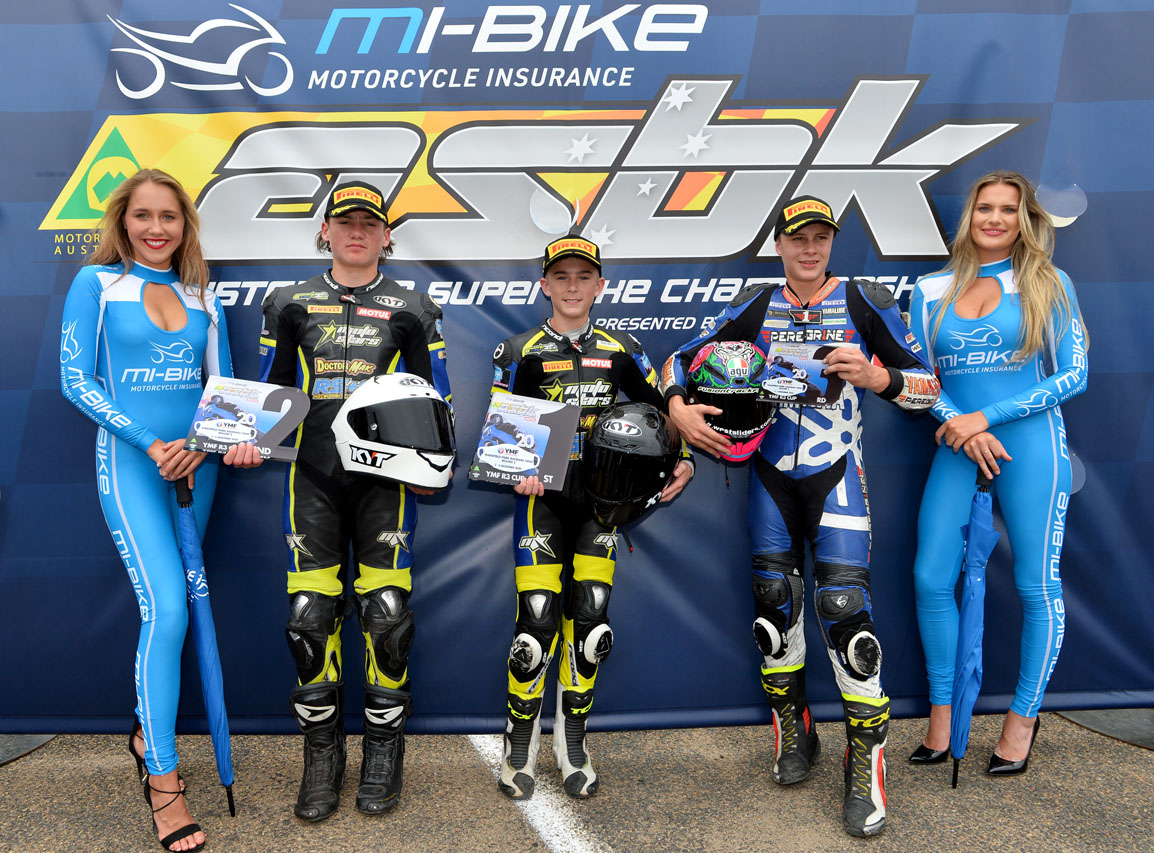 While he also competed in the Supersport 300 class, winning race 1 and 3, as well as scoring a 3rd in race 2, he crashed out on lap 4 of race 1 in Round 3 and in the final race scored a 15th after some troubles.
Such was his dominance over the weekend that he had the front runners in the YMI Supersport 300 class worried, many off their usual game plan because of Thompson's race skills.
In 2021, the extremely talented 13-year-old will compete in the Asia Talent Cup, the ASBK YMI Supersport 300 and YMF R3 Cup, following on from the YMF R3 Cup Championship win in 2020 he is still very proud of today.
"I didn't think I would be doing ASBK, I had been talking to Damo and his new team and they gave me an opportunity and I'm really grateful for that," said Thompson.
"I was hoping to win and go good, and I went a lot better than I could have imagined. It was a really good weekend.
"I didn't do a lot of riding prior, but I've always loved Wakefield and its one of my favourite tracks.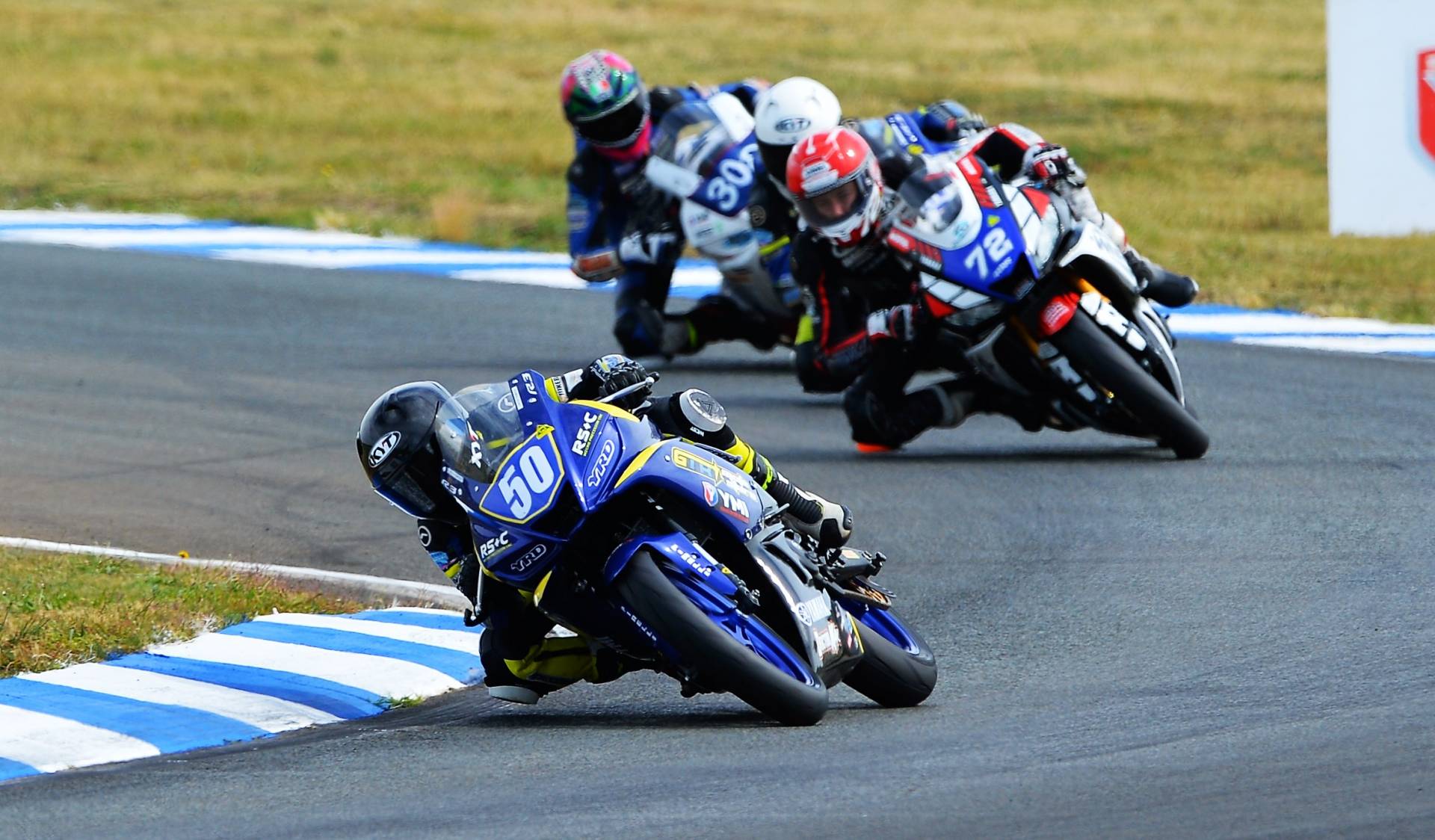 "After crashing in the Supersport class I knew we weren't in the hunt, so we worked on R3 as we were in the Championship hunt, but I had an incident in turn two and I had to win that last race.
"Damo talked to me prior to the last race and we had to win that race to win the Championship."
Thompson put in a phenomenal effort to win the final race, and while he made it look easy, he admitted it wasn't so.
"I was really excited and really happy as well. It was really good to claim my second ASBK Championship after OJC in 2019 and step up to the 300s last year. It was really good and I'm really happy about it."
This year, Thompson is carrying a lot of confidence heading into the Asia Talent Cup where he hopes to be up the front, win races and score podium positions, as well as dominate in ASBK.
"I want to try and win the Supersport 300 and the R3 Cup again and see how it goes.
"I have a really good team, and Damo coaching me as well, I can't wait."
Thompson is hopeful of positives results will see him rewarded with a Red Bull Rookies ride in 2022 as he makes it one step closer to his MotoGP dream.
Thompson also has not forgotten where his road racing career started and is thankful to the ASBK family for his opportunities,
"At OJC, all the people are very nice and its always great riding. OJC helped me learn how to pass better and slip stream, and corner better.
"It was a big jump up between the OJC and 300 bikes, but also good to have more power on the 300."
Carter Thompson will be one to watch this year as he comes up against a hungry field of very talented Supersport 300 riders and in the R3 Cup and obviously Australian will be cheering on the young Australian Champion when he heads to Asia for the Asia Talent Cup in March.
Round 1 of the 2021 mi-bike Motorcycle Insurance Australian Superbike Championship, presented by Motul, kicks off with the Australian All Wheels Race Fest, Phillip Island Grand Prix Circuit, Victoria, February 19-21.
Keep up to date with the latest news on the mi-bike Motorcycle Insurance Australian Superbike Championship, presented by Motul via www.asbk.com.au and following ASBK on Facebook and Instagram.
Pictures by Russell Colvin