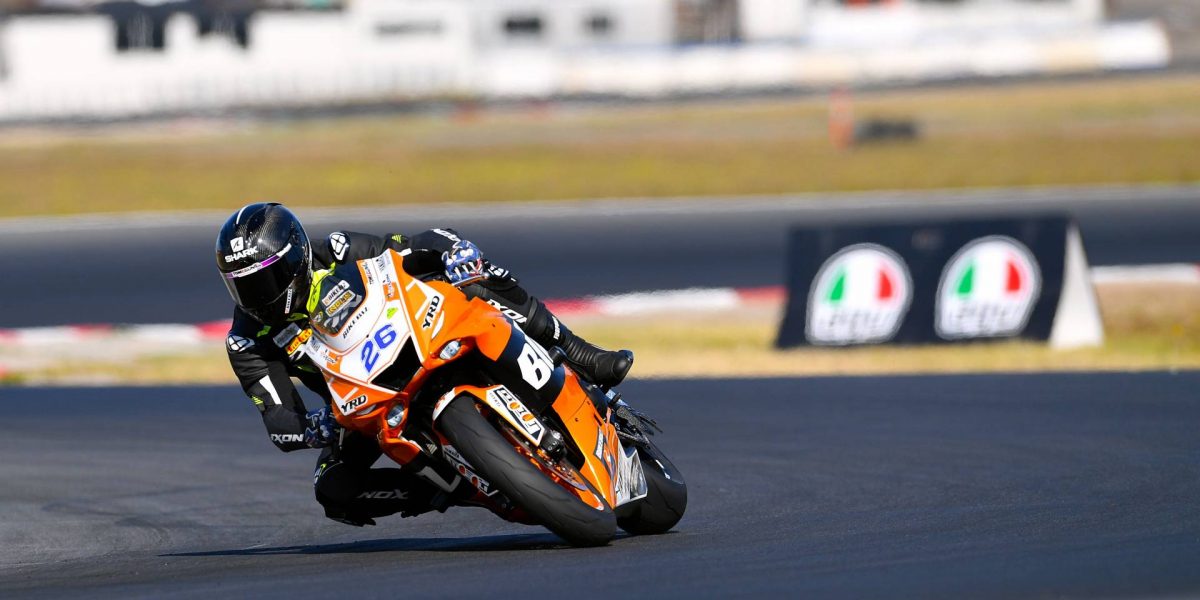 Edwards Scores First Pole Of 2021
Bikebiz Yamaha's Tom Edwards has taken pole for tomorrow's Motorsports TV Supersport race, by the tinniest margin, with City2Surf Locksmith's Broc Pearson 2nd and GTR Motorstars Team's Max Stauffer in third.
One second covers the top 4 riders with former World Supersport rider Tom Bramich in 4th and in 5th place is Metcher Motorsport's Ty Lynch.
The battle for pole all weekend has been between Edwards, Pearson, Stauffer, yet the rest of are within easy striking distance and no doubt will do plenty of work in the garages tonight.
Both Edwards and Pearson have been confident in their machinery all weekend and tomorrow's battle is sure to impress.
.
Rounding out the top ten was Metcher Motorsport's Ty Lynch, Traction Control Motorsport Scott Nicholson and, Penrite Oils Dallas Skeer, Proworx Luke Power, Caboolture Yamaha John Lytras, and Jack Hyde aboard the SSS Developments Yamaha.
Thompson Claims First Victory
MotoStars Carter Thompson claimed his first victory in the 2021 Dunlop Supersport 300 class today.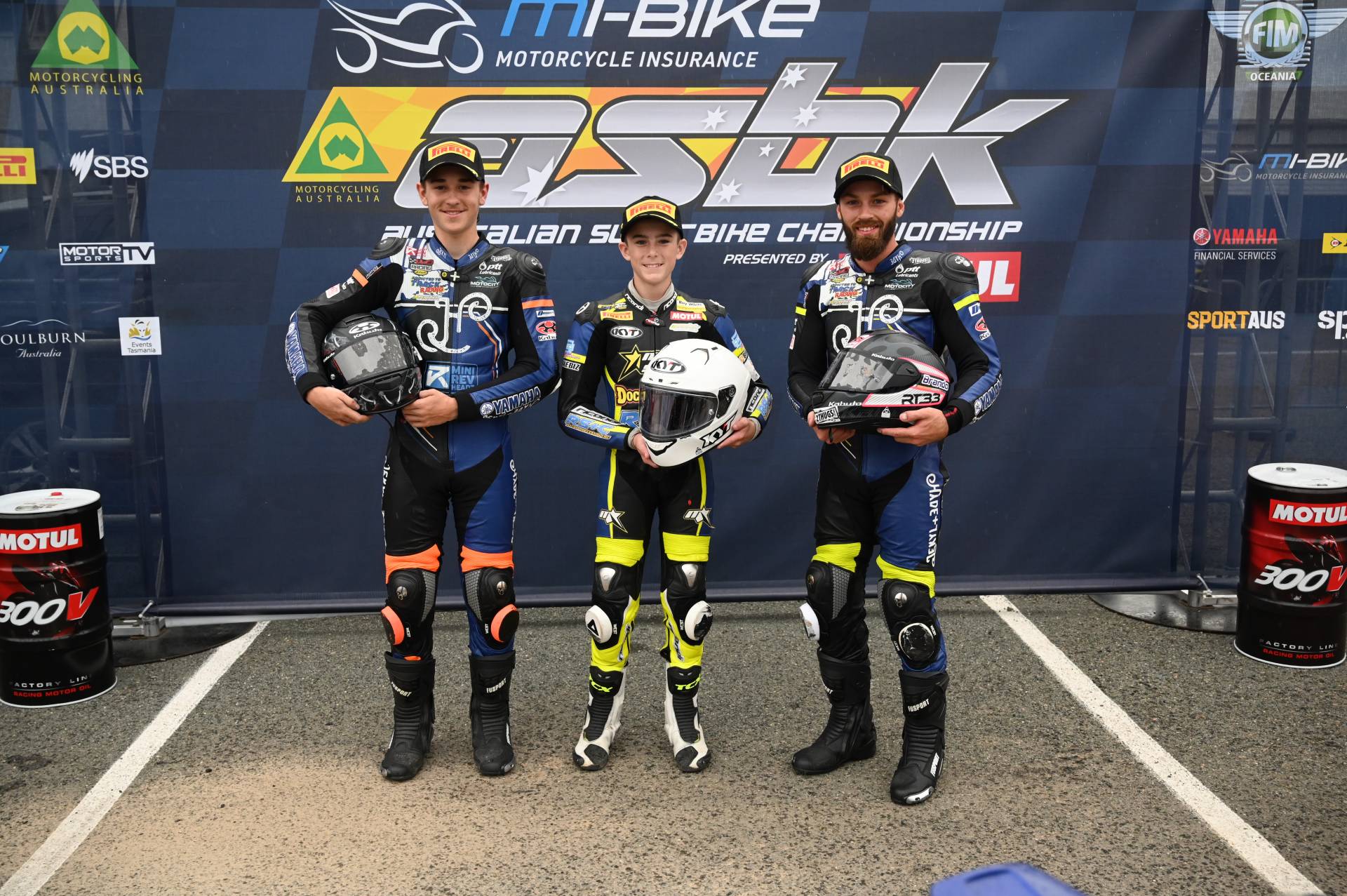 The MotoStars youngster aboard his Yamaha YZF-R3 didn't have the easiest of starts and was forced to work hard for the victory.
During the final laps YRD YMI's Ben Baker and Construction Supply Specialists Tom Drane tussled for position allowing Thompson to concentrate and set a rhythm.
Thompson was able to punch out a new lap record time of 1:30.879 – 2019 record was 1:31.325.
"It's been a great weekend so far and the win just helps me with confidence," the young star said. "it wasn't the best of starts and I knew I had to catch up."
The Dunlop Supersport 300 hit the track tomorrow morning for warm up before race 2 at 10.35am.
Carter Wins Yamaha Finance R3 Cup
MotoStars Carter Thompson added another win today this time in the Yamaha Finance R3 Cup.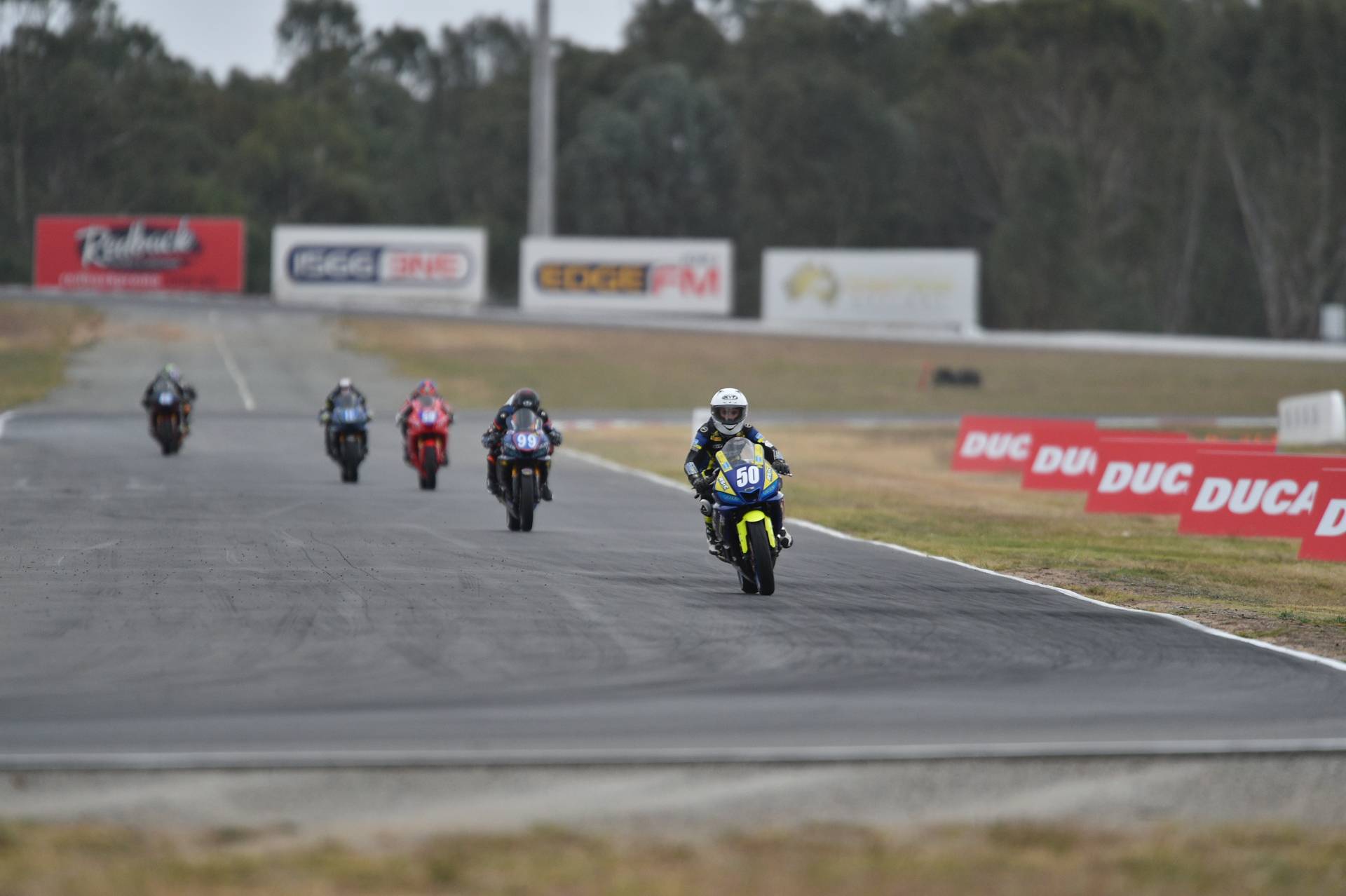 However he didn't have it all his own way with Jekyl and Hyde's Jacob Hatch and Mini Rev Heads Brandon Demmery right on his tail and challenging right to the end.
"It was a good start but then i backed off a bit as I couldn't get any rear grip, then they were right behind so I went faster and I did it.
"It's been a great weekend."
.
Swain Scores OJC Victory
Queensland Cameron Swain took has taken victory in race 1 of the bLU cRU Oceania Junior Cup.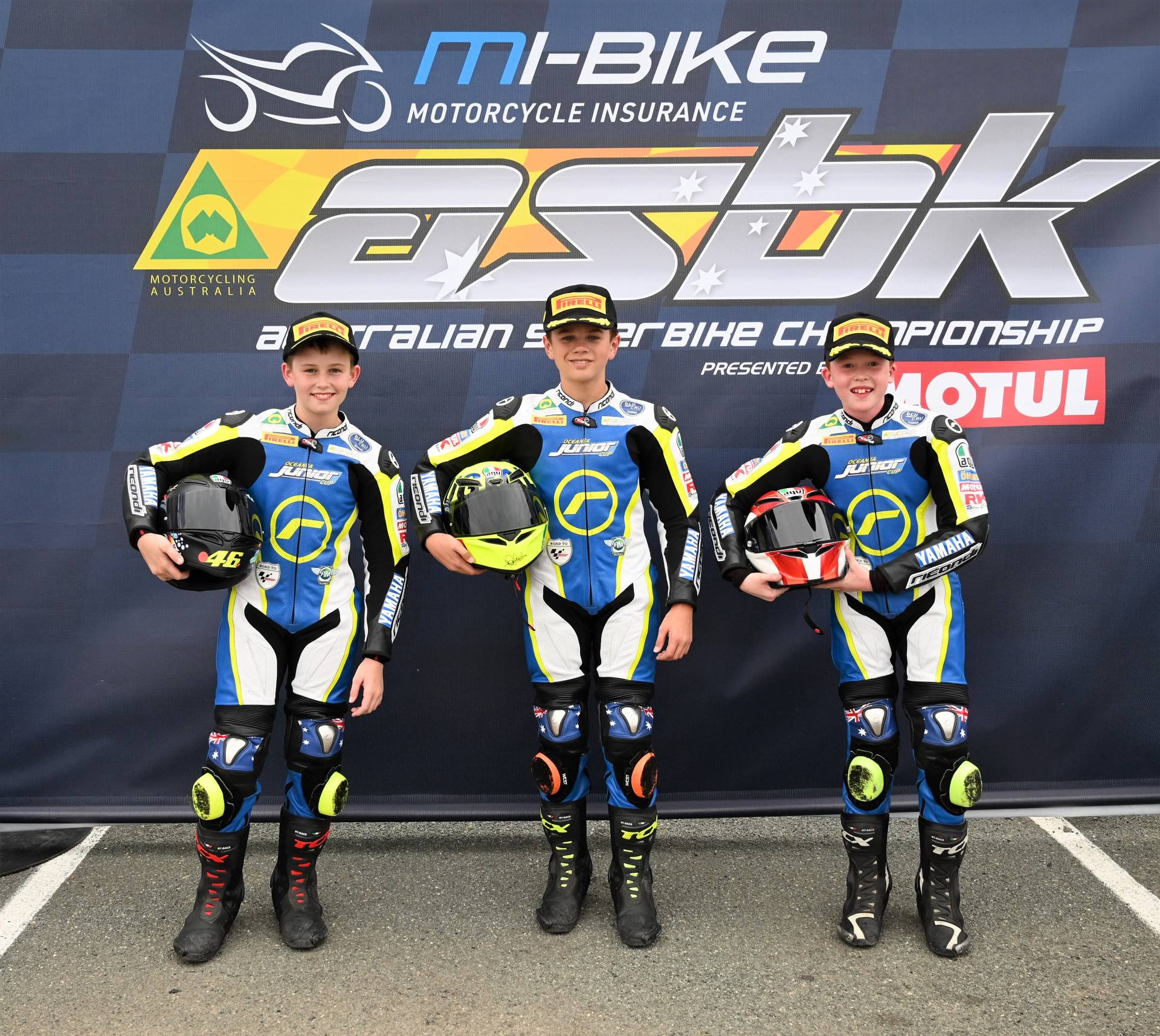 In what was a debut race for 13 new competitors in the Motorcycling Australia junior road race academy, there was fierce battles right throughout the field, until the race was red flagged after Hayden Nelson came to grief.
On the restart with only three laps to run Swain was only challenged by fellow Queensland Harrison Watts and NSW Levi Russo.
"Hayden and I were pushing at the front and unfortunately Hayden tucked the front at turn 11. I hope he gets better after the crash.
"I want to thank my Mum and Dad for bring me, all the OJC supporters and staff and and all the sponsors."
Turner's Takes Win And Lap Record In Sidecars
Cory and Danyon Turner turned on the afterburners in a dominating race 1 of the Australian F1 and F2 Sidecar Championship, smashing the old lap record in the process.
They brothers were never challenged easily winning the race and were ecstatic with the result after the race.
Steven Bayliss/Charles White finished second and Bruce Collins/Peter Deangelis third.
Race two tested the limits of machine, rider, and passenger as the heavens opened up and the sidecars skated around the track.
It was Steve Bayliss/Steven White who claimed victory after brothers Cory and Danyon Turner went off track but still managed to finish second with Darryl Rayner/Kathryn Warne finished third in very wet conditions.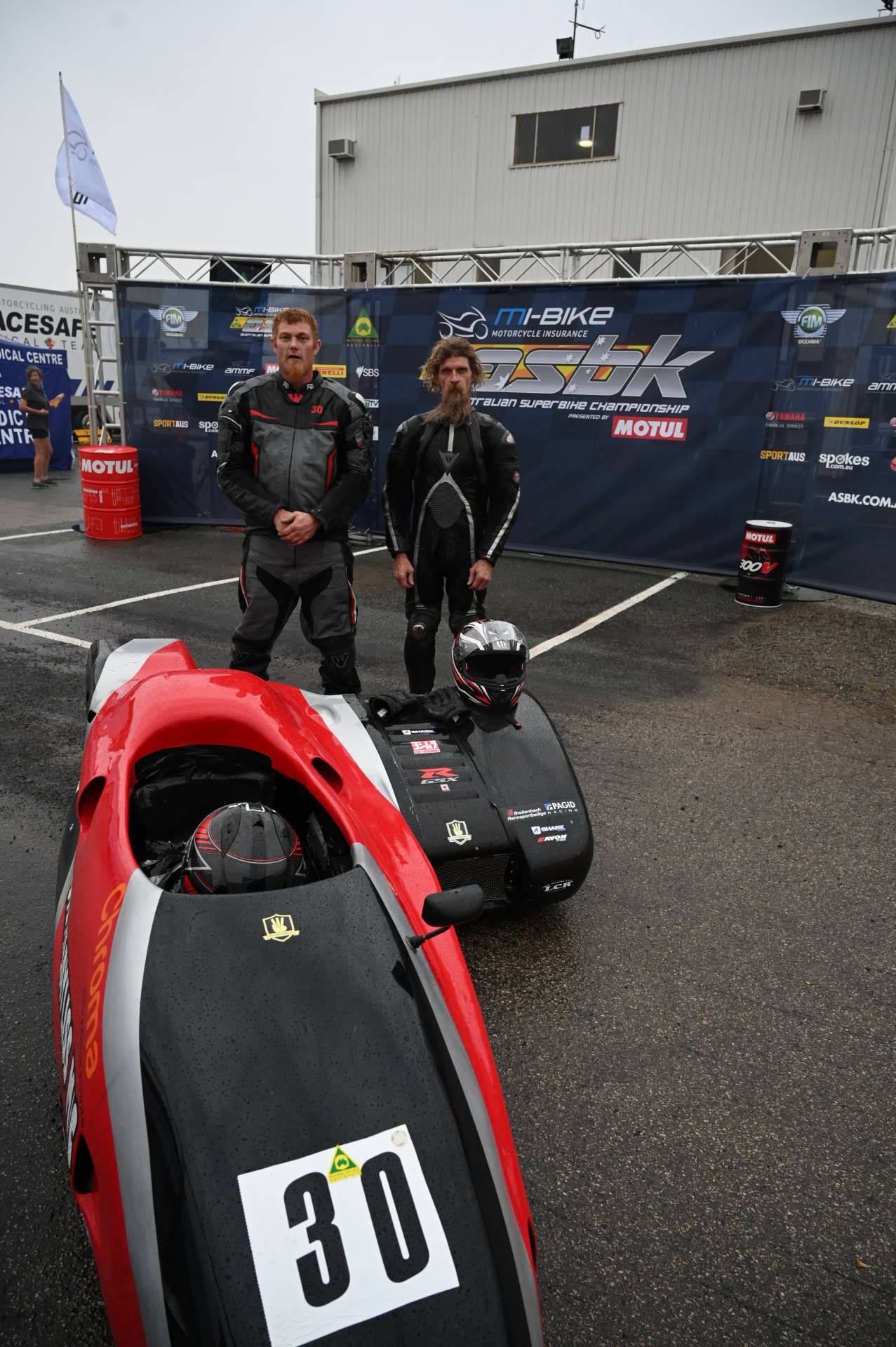 Tickets are very limited for this weekend's Round 2, mi-bike Motorcycle Insurance Australian Superbike Championship, presented by Motul, at Winton Motor Raceway, Benalla, and only available online via www.asbk.com.au
If you can't get track side, ASBK has you covered via our official TV partners SBS Australia, Fox Sports Australia, Fox Sports Asia and through ASBK TV Live Streaming.
Coverage begins Sunday on SBS Vicelands or Fox Sports Channel 507 from Midday to 3pm, and the ASBK TV Live Stream coverage runs all day from 9.30am to 4.20pm via www.asbk.com.au
Keep up to date with the latest news on the mi-bike Motorcycle Insurance Australian Superbike Championship, presented by Motul via www.asbk.com.au and following ASBK on Facebook and Instagram. You can also join our ASBK mailing list at www.asbk.com.au
ASBK Championship Calendar
Round 1 Phillip Island Grand Prix Circuit, VIC February 18-21 Postponed
Round 2 Winton Motor Raceway, Benalla, VIC March 12-14
Round 3 Wakefield Park Raceway, Goulburn, NSW April 16-18
Round 4 Hidden Valley Raceway, NT – Supercars 2+4 (Superbikes only) June 18-20
Round 5 Morgan Park Raceway, QLD August 20-22
Round 6 The Bend Motorsport Park, Tailem Bend, SA September 23-26
Round 7 Symmons Plains Raceway, TAS November 4-7
Pictures by Andrew Gosling and Karl Phillipson