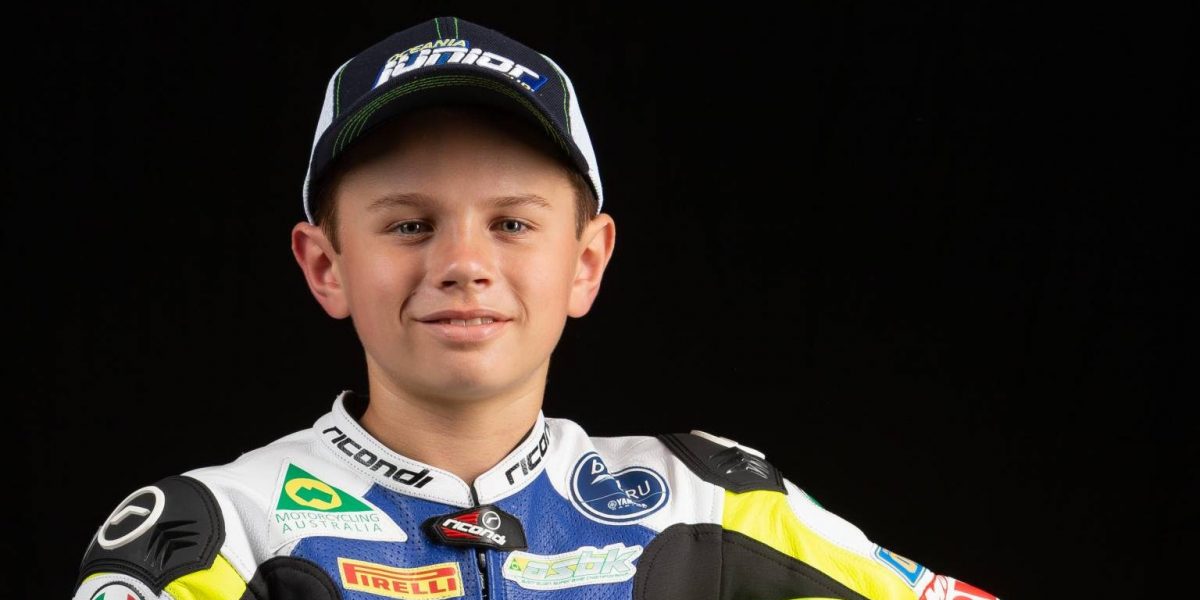 Rider Profile – Cameron Swain
Friday, May 1, 2020
bLU cRU Oceania Junior Cup 2020 debutant, Queenslander Cameron Swain, may be the youngest competitor in the mi-bike Motorcycle Insurance Australian Superbike Championship presented by Motul, but he's up the front battling with the front runners and has big plans for the future.
The talented 11-year-old from Warner, Queensland, may be relatively new to road racing but he is already making an impact, mixing it with the front runners at round 1 at Phillip Island, Victoria earlier this year and sits 6th on the Oceania Junior Cup Championship leader board.
In his first official Oceania Junior Cup (OJC) race, Swain diced with the leaders crossing the line in 6th place and only 4.532 seconds behind the winner, Lucas Quinn, who went on to win all three races over the weekend.
In race two, Swain placed 4th only .203 behind the leader in a pack of 11 riders battling for the win.
Race three saw an epic battle with 15 riders crossing the line within a second of the leader and Swain scored some vital points finishing 8th, only .294 seconds off winner Quinn.
Having raced against some of his OJC competitors at a round of the Victorian Road Racing Championships in late 2019, Swain was very happy with his first hit-out in the Oceania Junior Cup in front of the Superbike World Championship crowd.
"It was pretty intense, the OJC was another level up," he said.
"I was happy that I was fighting with the front group, but I was hoping to get top five overall for the weekend.
"It was pretty exciting getting to be with world superbikes and being able to go into the pits and see all the riders and teams."
So where did the motorcycle journey begin for Swain, a Year 6 student and school captain at Aspley State School?
"My first bike was a Yamaha PW 50 when I was 4-years-old, Dad (Jason) took me out to this little paddock, but it was really gravelly and I had a crash and I was took scared to get on the PW again until I was 7," said Swain.
"One of my friends came across the road and saw the bike and said can he have a go on it, and when I saw him riding it, I wanted to go out and have a go and from there I've been riding every day after school."

Swain quickly mastered the PW50 before moving onto a KTM SX50 and riding at Queensland Moto Park and Caboolture Friday Night Bikes with his Dad and friends.
"It was fun and casual, and as I got faster, I was getting more confidence," Swain said.
His Dad – Jason – fondly remembers Cameron's nervousness and lack of confidence on his first dirt track ride.
"When we got there he would say 'Dad I'll never be as fast as those kids' and by the time we left he was smashing them, he was the fastest kid there, sliding the front wheel into and out of corners," Jason said proudly.
Swain never really thought about road racing, he was happy casually riding with his mates in the dirt.
"We got a KTM 65 and I started getting really fast and Dad said one day if I wanted to have a go on at road racing and I said 'is there such a thing as that', I was 8-years-old."
Swain had his first taste of road bikes at the Queensland Mini Moto at Lakeside Driver Training Track on a pocket bike a short time later and he was hooked.
"My first go was a Honda NSF100 and after that day I said to Dad 'it was the best day of my life' and I kept on bugging him can we go back.
"After that we brought a Metrakit 80 and I was pretty nervous as it was a two-stroke race boke but as I was getting better and better, I started going faster."
Swain attended a practice day at North Coast Road Racers at Grafton and was fast out of the gate and kept up with the front runners, later upgrading to a Kayo 150 and joined the MotoStars Racing Series taking out third place in his first year.
He purchased Honda NSF 100, which although slower than the Kayo, actually helped him with his corner entry and exit speeds as he had to push harder to keep up with the other riders which then launched him into the OJC.
While racing is now a normal part of life for Swain, his school friends have mixed views on how hard it is.
"My friends normally say it's pretty cool, but a lot of the kids say motorbike racing isn't a sport and you are just sitting on a seat and that they could beat me," Swain said laughing.
His sporting idols are World MotoGP Champion Marc Marquez and former Honda rider Daniel Pedrosa.
"Marques because he is just insane on the track and has broken so many records and is the youngest ever winner.
"Pedrosa was really fast, I watched a movie called 'Hitting The Apex' and it had Pedrosa in it, and how he was battling with Lorenzo in 2012 and he almost won the championship but got taken out.
"He is so small and only a couple of centimetres taller than me and to be able to ride a MotoGP bike that, well that is pretty cool I think."
With COVID-19 restrictions, Swain hasn't stood still training every day, but is desperately itching to get back racing.
"It's all I think about, and obviously when we get back, I'd like to get a top 3 or at least a top five for the year.
"Training I just go out for mountain bike rides all the time, it's pretty boring not getting to ride my motorbike," he said.
"I do weights and a little bit of running and skipping, but find running is a little boring and I also do online training as well."
Swain has big dreams and plans for the future and is determined to make them a reality.
"Long term goal is MotoGP, I want to get there one day, but first another year in OJC as I'm too young to do 300s.
"Year after that we will do ASBK 300s, try for Asian Talent Cup selection and see where we go from there."
While the bLU cRU Oceania Junior Cup and ASBK is currently in a pit stop due to COVID-19, make sure to stay up to date with the latest news on the mi-bike Motorcycle Insurance Australian Superbike Championship, presented by Motul at www.asbk.com.au as well as Facebook and Instagram