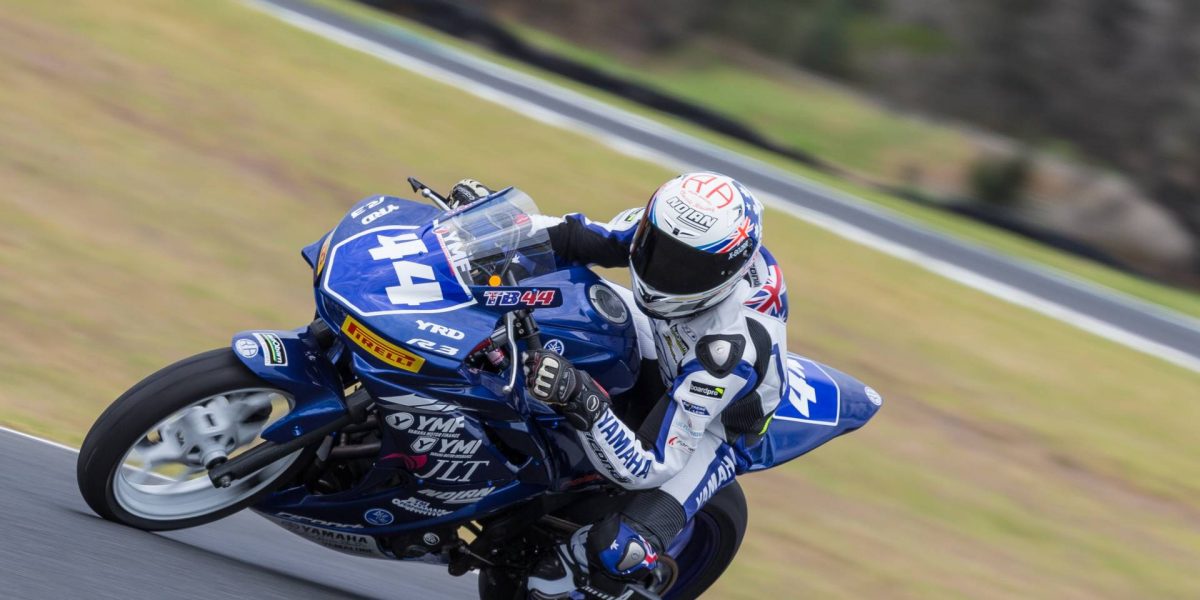 Australian Supersport 300 Set for Championship Showdown
The Australian Supersport 300 is set for a final round decider this weekend at the Spokes.com.au presents Round 7 Phillip Island Grand Prix Circuit. This class has delivered arguably the most exciting and thrilling racing in the Yamaha Motor Finance Australian Superbike Championship presented by Motul Pirelli (ASBK) and it will be exciting to see who comes out on top.
With overtakes at nearly ever corner of every lap, Australian Supersport 300 has had fans out of their seats all year. The class has featured racing akin to the Moto3 World Championship with riders slipstreaming and dicing their way to victory. Previous racers in this class such as Billy Van Eerde and Tom Edwards have gone on to race in the Asia Talent Cup and WorldSSP 300, showing the level of talent this class is brewing.
As it stands, Tom Bramich (YRT, YZF-R3) is the odds on favourite to secure the title with his 37 point lead. Despite his substantial points gap, anything can happen in this class and he won't be taking it easy. It will be tough to beat Bramich's consistency however, he's already chalked up five wins, 14 podiums and a pole position. Even when he does not take a win, he's almost always on the podium.
Bramich sharing; "We have to treat this as a normal weekend, there's only a 37 point gap so anything can still happen. I'm really looking forward to getting to 'The Island'. Its really hard to make a strategy there due to the groups of riders being so large. I just hope I'll be fighting towards the front."
The most likely contender to take the fight to Bramich will be Zac Levy (Puma RV's, Yamaha YZF-R3) but he will have to go all out for wins at Phillip Island. Levy has made a step forward for 2018, taking two wins and eight podiums. He won't be holding back and expect him to be aggressive from the outset.
'Podium Hunter' Ford (Hunter Ford, YRD, Yamaha YZF-R3) is also an outside chance to take the Championship, but a lot will have to go his way to have any hope of securing the title. When Ford is on fire, he's nearly unstoppable and his five wins this year has him amongst the big improvers this year. His consistency however has not been quite been up to par in comparison to Bramich with his eight podiums compared to 14.
Oli Bayliss (Cube Racing, Ninja 300) remains a mathematical chance to win the Championship, but being 69 points down on Bramich would require an absolute miracle. He has managed to also take 8 podiums for the season but a number of DNF's have cost him a proper crack at the title this year. His improvement on last year, shows he's tracking in the right direction.
Make sure to tune into the racing live on SBS and Fox Sports on Sunday October 14 from 1pm-3:30pm AEDT to see who takes out the Australian Supersport 300 Championship for 2018!
See the ASBK action Live Trackside!! Buy Your ASBK Round 7 Tickets Here 
Stay up to date with all the latest news and updates from ASBK by liking ASBK on Facebook, following the @asbk on Instagram and checking out the ASBK website here. To purchase your tickets for ASBK head to asbk.com.au.
Remaining 2018 ASBK Calendar Rounds
Round 7- Phillip Island Grand Prix Circuit, VIC                                  October 12 – 14
Photos courtesy of Andrew Gosling – tbg sport