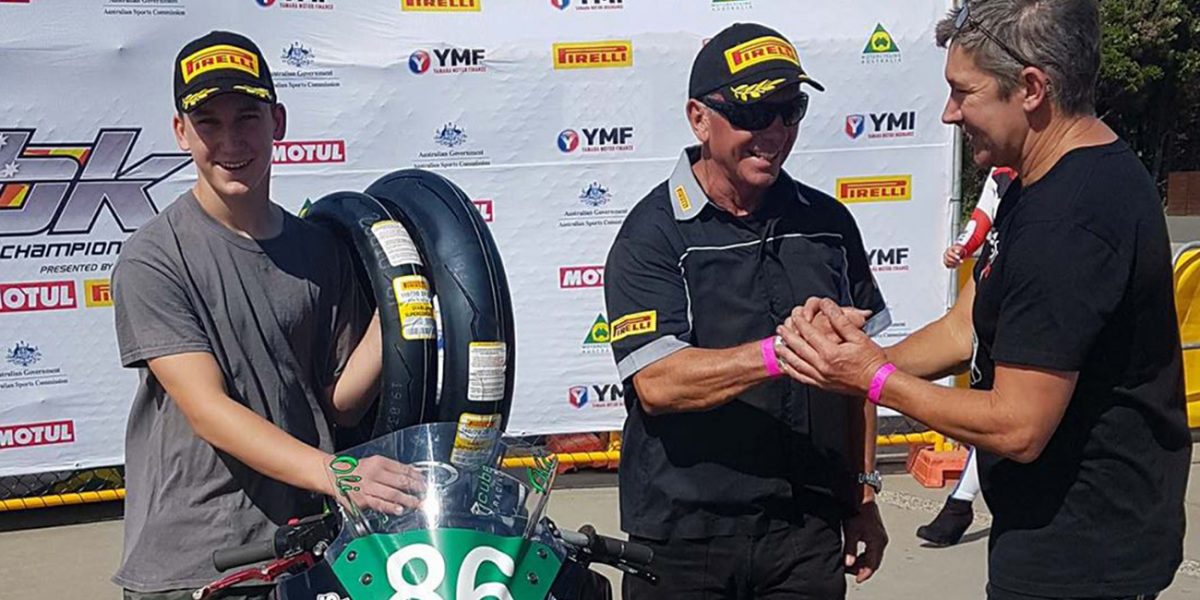 Oli Bayliss Wins Pirelli's 'Rider of the Round Award'
Link International has awarded a set of brand new Pirelli Tyres to a lucky Hi-Tec Batteries Supersport 300 rider at several rounds of the 2017 Yamaha Motor Finance Australian Superbike Championship presented by Motul Pirelli (ASBK) in an initiative that rewards riders on their attitude and spirit over a race weekend. Young gun, Oli Bayliss (Cube Racing, Kawasaki Ninja 300) has won the Pirelli 'Rider of the Round' for the Spokes.com.au presents Round 7 Phillip Island Grand Prix Circuit.
Pirelli designed the award to reward privateer riders in the Hi-Tec Batteries Supersport 300 classes who represent the brand well, look after the appearance of their bike and perform at a pace beyond the norm.
The Hi-Tec Batteries Supersport 300 class was chosen to showcase the award, as it is made up of predominately privateer family operated teams. It also provides Pirelli a great opportunity to work with riders with all sorts of experience levels. To watch them grow and develop as they learn their craft is what it's all about. Pirelli enjoys the one on one interaction with the teams and riders.
Pirelli rider, Bayliss was extremely impressive throughout the weekend, sharing; "I've tried really hard this weekend. Race One was really good for me and I was riding really strongly We took the win and second overall. I struggled a lot in Race Two and even had a crash, but I got up and finished. We managed to fight back for Race Three!
"The new set of Pirelli's are such a bonus for us, because they work so well on the Kawasaki. I usually tear up tyres pretty well and this set we will be using at MotoGP support races for sure! Massive thanks to Pirelli!"
Pirelli's Dave Fuller described the selection process; "We don't want to just promote riders based on points, but reward them for the manner in which they carry themselves, regardless of their race result. We're looking for a good role model for other kids coming up the ranks to look up to for support and guidance."
"We chose Oli as the Pirelli Rider of the Round here at Phillip Island for Round 7 for a number of reasons. The Bayliss family has been a mainstay of the sport for many decades now and are fantastic ambassadors of the sport.
"It's been a great year for Oli, he has the same courage and tenacity as his Dad, he always goes about his business and holds his head up when things get a bit hard. He's a great little rider and is only improving. His overall positive attitude and big smile around the paddock is what it's all about and we are very proud to award Oli the Rider of the Round rubber," Fuller finished.
Link International are known throughout the industry as suppliers of motoring essentials and represent some of the world's top brands. Link's product range includes Motul Motorcycle Oil and Maintenance Products, Pirelli Motorcycle Tyres, RK Takasago Chains, Arrow Exhausts, Ferodo Brake Pads, Polisport Plastics, Ariete Grips and Accessories, BMC Air Filters, Vortex Racing Products plus many more as well as a line of related workshop products.
For more information on Link International and its products visit http://www.linkint.com.au/.
Follow Us: Keep up with regular trackside updates via the ASBK  Facebook  and Instagram pages.
Photo Two courtesy of Andrew Gosling TBG Photography
-Oli Bayliss at Phillip Island Grand Prix Circuit
As always, stay up to date with all the latest news and updates from the ASBK by liking ASBK on Facebook, following the @asbk on Instagram and checking out the ASBK website here.